Garment Product safety is the ability of a product to be safe for intended use with comfort, as determined when evaluated against a set of established rules. Responsibility of the manufacturer and distributor to prevent hazardous products to reach the market. Product safety is to comply with product safety regulations, make sure products contain no hazardous substances, and the responsibility of the manufacturer and distributor to prevent hazardous products to reach the market. An unsafe product is totally Health & Safety hazard to humans or the environment, and damage the reputation of the wholesaler and retailer, sometimes consumer goes to court for any harm happening to them.
What are General Product Safety Criteria in Garments Industry?
To ensure that Raw materials used are meet International Standards and free from restricted chemicals/substances or as required by buyer/customer and Needle and Metal Contamination control ensures that products manufactured at Tal App are free of any broken needle or unwanted sharp metal parts. Garment Testing/Button Pull Test – ensure that products made meet the buyer requirements on product safety. Required Physical & Chemical Tests done at Internal Lab or external 3rd party lab – buyer has international lab international standards to test Physical & Chemical Tests to verify product safety. C-TPAT: Customs-Trade Partnership Against Terrorism – strictly following C-TPAT rules and regulations to ensure that goods shipped out are free from any threats.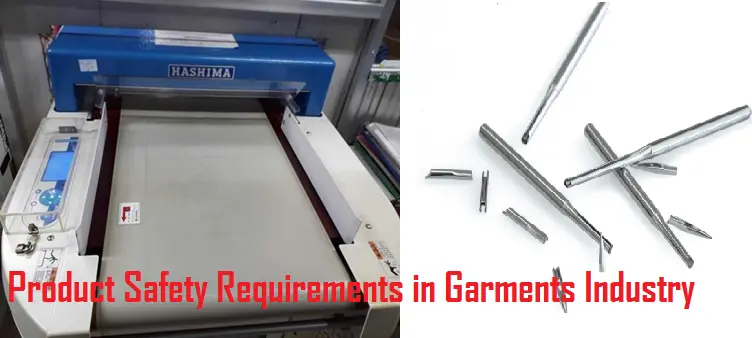 Needle Control
Designated staff for issuing needles. Separate-Closed Needle storage area. New needles issue only after receiving an old needle. No additional needle in the operator's possession. Recover all fragments of broken needles and assemble to ensure. If all fragments are not found, destroy the garment. If not found, quarantine a 2 sq m area & check all garments. Incident recording and action documentation.
Metal Detection Process
Test metal diameter 1.0 mm. (It may vary from customer to customer). 9-point celebration per 1 hr & quarantine garment for that time. The latest stage of production before packaging. All garments must pass through Metal Detector. Tunnel of Metal detector only entrances to the packaging area. Fail garments must quarantine in the red box, outside of the packing area. The packing area must be restricted, entry is registered. Daily calibration record and documentation for auditing purposes.
Control All Sharp Tools Used in Garments
Records of all sharp tool's quantity
Supply necessary sharp tools starting of the working day & take this back end of the day.
Make sure any single number of tools is not lost
Keep section-wise stock management report
During the work, all sharp tools are tied up with elastic to hand or table
Staples should not use anywhere, staples threaten safety.
Any metal or machine additional part is not allowed to keep in the workplace
If during working any sharp tools lost department head & manager compliance are informed & CAP issued to relevant person & investigate the root cause
Mechanical Safety: Components, Materials, and Construction
Features and components of garments that may present a hazard of choking, aspiration, or ingestion; cuts and piercing, etc. Such features include small parts, security of attachment of "components" (buttons, press fasteners, rivets, sequins, etc.), sharp edges, and points. Foreign objects, that is items that should not be present that present a hazard such as needles, pins, loose components, etc. Components and manufacturing processes present, or can introduce, hazards such as choking, aspiration or ingestion, cuts, piercing, etc. in garments and related products. These hazards are included but are not limited to small components of the garment or other types of sharp points or sharp edges reachable by the user.
Garments Testing (Physical and Chemical)
Testing is a big part to check product safety. RSL (Restricted Substance List) test is an important test to see if any restricted substances in garments products or not. A few other important tests are:
Nickel release
Organotin compound
Organochlorinated compound(COC)
Fiber composition
Colorfastness to water
Colorfastness to rubbing(dry &  wet)
Colorfastness to perspiration
Colorfastness to saliva(for the baby item)
Flammability
Sharp point
Sharp edge
Small parts
Tension test
Torque test
Azo
Formaldehyde
Allergenic disperse dyes
Chlorinated phenol
Phthalates
pH value
Lead
Cadmium
Chromium(VI)
Product Safety Requirements in Garments Industry