Introduction
In this world, there are thousands of Fabric Materials. Let's learn about a very special Fabric material in this article. Scuba crepe fabric is a double-knit fabric that is made from a blend of polyester and spandex fibers. Here we present What is Scuba Crepe Fabric; Its Meaning, Definition, and different uses in clothing and Fashion.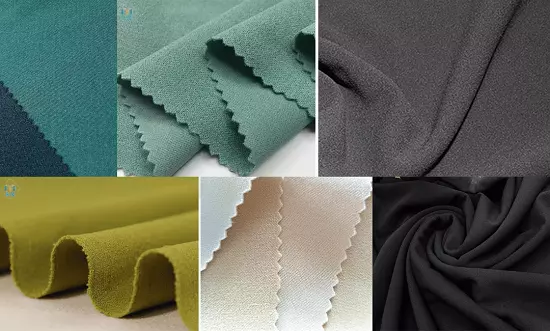 What is Scuba Crepe Fabric?
Scuba crepe fabric is basically a textile fabric made of a combination of scuba knit and crepe texture, it is very popular for this combination. So it is Knit Fabric, also known as Scuba Crepe Knit.
It is a synthetic blend fabric. It is usually composed of polyester and spandex, which provides a smooth and stretchy feel similar to neoprene. As a result, many compare it to or mistake it for neoprene fabric. Scuba crepe fabric is a lightweight stretch fabric with a soft, grainy, crinkle on one side ( crepe texture) and the other side is springy, smooth, and soft, woven texture (scuba knit).
Scuba crepe is often used in the fashion world for high-quality clothing. Generally used for garments that require a flexible and comfortable fit with a touch of texture and structure.
what is a scuba fit dress what is a scuba skirt what is a scuba dress what are scuba suits made of is scuba fabric good for summer what does scuba mean in clothing
Uses of Scuba Crepe Fabric
Scuba crepe is used for different clothing such as Women's dresses mostly skirts, and pants. This Knit fabric's stretch and elongation recovery properties make it ideal for creating fitted and form-fitting garments that move with the body. The crepe texture of the fabric gives it a soft and fluid drape, making it suitable for flowing styles such as maxi dresses and skirts.
In addition to clothing, scuba crepe can also be used for other projects such as accessories and home decor. The fabric's unique texture and durability make it a great choice for creating bags, purses, and other accessories. Its ability to hold its shape also makes it a suitable option for creating curtains and other home decor items.
FAQ's
What is the difference between Scuba Crepe and Crepe Fabric?
Crepe Fabric made of polyester, that is polyester crepe; Scuba crepe is a type of polyester crepe that contains a small percentage of spandex. So it's a blending of Polyester and Spandex.
Is Scuba Crepe Fabric Stretchy?
Yes, this fabric is stretchy having spandex fiber blending on it with polyester. It has very good stretch recovery properties. So this Fabric is Stretchy without having any doubt.
What is Scuba Crepe Fabric: Definition and Uses