Compliance and Housekeeping
As a compliance factory, there is some responsibility to follow for every garments industry to comply with compliance and Housekeeping requirements. So every garments industry follows a checklist for following up factory compliance and housekeeping. These are the most important things to do export garments manufacturing business.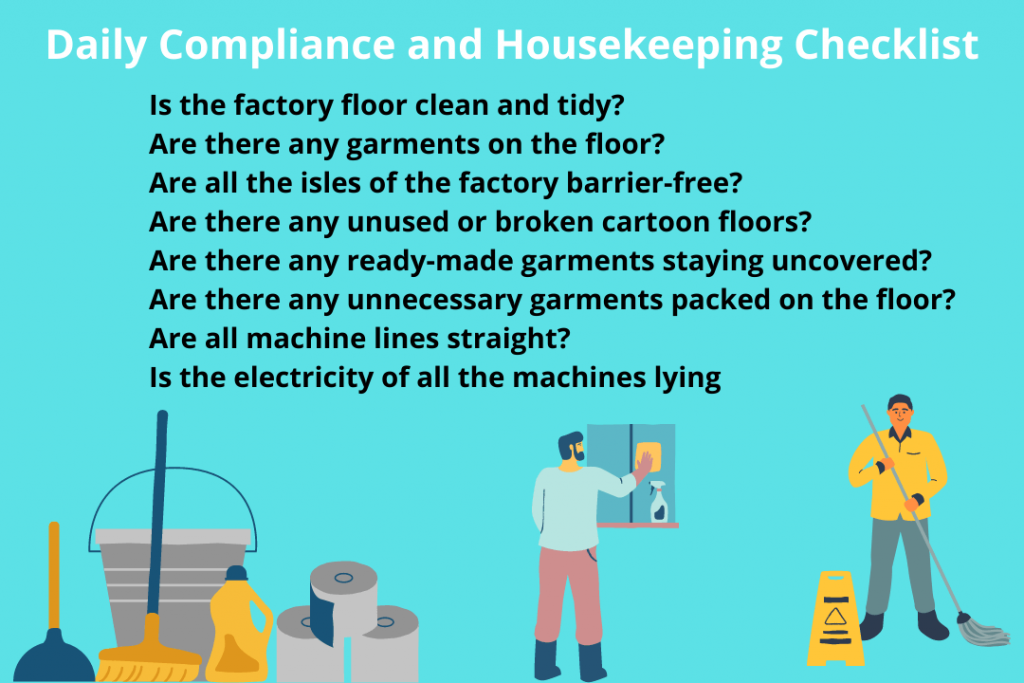 Daily Compliance and Housekeeping Checklist of Garments Industry
1. Is the factory floor clean and tidy?
2. Are there any garments on the floor?
3. Are all the isles of the factory barrier-free?
4. Are there any unused or broken cartoon floors?
5. Are there any ready-made garments staying uncovered?
6. Are there any unnecessary garments packed on the floor?
7. Are all machine lines straight?
8. Is the electricity of all the machines lying on its floor?
9. Is it ok to install a needle guard on all machines?
10. Is it ok to install an eye guard on all machines?
11. Are all machine pulley guards okay?
12. Do all machines have paddle mats?
13. Do all machines have pea pulley covers?
14. Is there Doors and stairs are unobstructed for the safe exit of workers?
15. Are women workers using scarves?
16. Are the women workers wearing their veils?
16. Are all scissors, cutters tied?
16. Are the firefighting team, rescue workers, first aid team wearing their uniforms?
19. Is there a necessary letter in the first aid box?
20. Are all first aid kits clean and tidy?
21. Are all extinguishers have been regularly inspected and signed? Are adequate fire extinguishers in working condition?
22. All fire extinguishers/hose reels are buckled by something Is there?
23. Are all fire extinguishers have a validity date?
24. Are there rules for the use of all fire extinguishers?
25. Are all-electric panel boards covered?
26. Every outbound early warning switch is working
26. Is there an open electric wire somewhere?
26. Is there a rubber mat under each electric box?
29. Is there any pair of electrical wires, broken and open?
30. Broken socket, plug on electric board, do they have a switch?
31. Are all the workers in the factory using face masks?
32. Emergency lights, exit lights are marked?
33. Emergency lights, exit lights, and checklists Are there?
34. All circuit boards, main switches tested after floor closure every day?
35. Are all the exit doors open?
36. Are all the lights on the floor, OK and adequate lighting Is there an arrangement?
37. Is their dining hall is clean and tidy, with drinking water and soap available?
38. Is the complaint box okay?
39. Is the toilet cleaning checklist being recorded in time? And Are there all exhaust fans okay?
40. Is Spot room staff wear masks, glasses, gloves?
41. Does the factory have a pipe jacket and iron shoes in a steam iron?
42. Do Ironmen have rubber mats?
43. Is there a pallet under packed cartons?
44. All bathroom basins, soap, sandals are clean, tidy, and odorless?
45. Is the child care room clean and tidy?
46. Is the smoke detector OK?
47. Are the speakers on the floor OK?
48. Are the store records marked in the store? Does the factory have pallets under the fabrics?
49. Swatch board of current order, inventory record, do factory have a record of accessories?
50. Are all Cutter Man Wear Metal gloves in the cutting section?
51. All pressures and temperatures of boilers, generators Does the indicator work?
52. Are all the exit lights on? Is the exhaust fan in the 53 generator room OK?
54. Have all the worker's worn ID cards?
55. All registers, time cards, production reports Do you have the required documents?
57. Is the drinking water supply OK?
57. Are there any food bowls in the packing area?
57. Is there a broken needle on the floor?
59. Is Needle Issue man giving Needle in the right way?
57. Do all bartack machines have eye guards or goggles?
59. Is the boiler room exhaust fan OK?
60. Do all workers have ID cards?
63. Operator and it's during the generator operation People around are using air plugs/sizes What are you doing?
64. Does each exit have markings with zebra crossings?
65. Is every exit door open?
66. Is every exit marked in such a way that it can be seen?
67. Is there adequate ventilation?
68. Is there an emergency light at every exit?
69. Adequate points for fire pumps, generators, adequate water for firefighting, and fire service.
70. Are fire alarm switches installed at various required places including every exit?
71. Is there any random storage?
72. Are all the machines clean?
73. Is there a maintenance card in the machine?
74. Is there a separate register for broken needles and used needles?
75. Is there a concerned eye-guard / needle guard/safety guard?
76. Have all the newly hired workers been provided with Handbook, Service book, ID Card, Scarf, Mask, Cutter, scissor?
77. Do all workers have personal files?
78. Whether all the formalities including medical, orientation, attendance of all the newly hired workers are properly complied with?
79. Is there a specific place to keep food?
80. Whether the list of trained firefighters has been displayed and whether any of the firefighters displayed on the board have left the factory?
81. Whether access to the packing section is reserved and whether anyone other than the authorized person shown in front is working in the packing section?
82. Can 30% of workers sit and eat at the same time?
83. Is there enough basin according to the number of workers?
84. Is there a pure water supply system?
85. Is there enough light and air?
86. Is there an evacuation plan?
87. Are all the machines clean?
88. Is there any record of the smoke detector test?
89. Does an unauthorized person enter the room of substation, generator, boiler, and compressor?
90. Are the names and pictures of the members of the firefighter displayed in the factory?
91. Does the factory have MSDS?
92. Is the water drum properly filled, adequate fire extinguisher equipment, and at least 4 buckets in the stand?
93. Whether shelves are used and specific products are neatly arranged according to specific shelf rules?
94. Is there any kind of excessive combustible material like cloth, oil, wood, jute, etc. in the substation, generator, boiler, and compressor room?
95. Does all workmen have the necessary PPE for their specific work?
Daily Compliance and Housekeeping checklist of Garments Industry