When we talk about textile apparel, we talk about fabric first. When we talk about fabric, we talk about fabric quality and price. There are 4 aspects of fabric from the technological point of view, construction, weave, visual defects, and shade before and after the wash stage. We cannot skip one point when you handle export garments orders. Problematic fabrics need compensation from the supplier, a technical person can raise and ask for compensation in a professional manner. You need a fabric specialist to handle all fabric functions and procedures.  That's all things can do well and manage by a fabric technologist. As these are the job description, the fabric technologist is responsible for bulk fabric quality and any issues found before and after the washing stages. This article is about the role and responsibilities of a Fabric Technologist.
A fabric technologist is a person who can understand fabric construction, weave type, weaving tension, weaving faults width, GSM, cover factor, crimp, looms, dyeing, and fabric finish types. Technologists should have complete knowledge of maintaining Yarn and Fabric process details by collecting information on fibers (origin, composition, length, micronair value, strength, trash), yarn (spinning method, count, quality, ply, TPI, twist direction), grey fabric production (construction, GSM, stitch length, yarn tension, machine gauge, no of feeders-needles, take down tension for knit fabric and for a woven fabric: construction, weave type, width, weight, cover factor, crimp, looms) and wet processing (pre-treatment and dyeing to finishing). A knowledgeable person on fabric, it's manufacturing, dyeing, printing, and finishing process. Job roles, responsibilities, or job descriptions whatever we can call a fabric technologist given in below.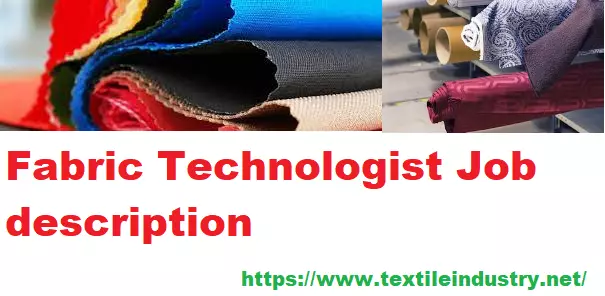 Fabric Technologist Job description in the Textile and Apparel Industry
Support on any fabric issue, starting from sourcing, development, sampling, base test, lab-dip/strike-off/handloom, bulk testing, appearance, handle and color approval, garment washing, garment dyeing, etc.
Reviewing and analyzing Supplier quality performance in aspects of suppliers and products and 3rd party testing lab of fabrics.
Analysis test reports from Fabric Mill, 3rdParty lab, and buyer in-house lab to follow up with supplier for performance and take appropriate action for the low performer.
Knitting parameters are changing on the test report, previous data analysis, and potential risk for any specific knit fabric if required (e.g. GSM, Spirality, Shrinkage, etc).
Give a specific report format where the supplier's QA team record all information for knitting quality (m/c gauge, stitch length, yarn count, feeders)
For woven, denim: Follow up Weaving to finishing (Washing, chemical finishing) Audit the potential mills/spinners/dye houses prior to "approval" as fabric/yarn suppliers.
Manage, develop and lead the fabric quality team and give them all types of support as required.
Conducting technical training and presentation for suppliers and internal colleagues on quality and process.
Giving technical support to the fabric scouring team and merchandiser and helping them to develop fabric suppliers.
Train and develop fabric suppliers for good quality fabrics in the garment factory. And from time to time update the supplier on quality results.
Claim fabric replacement for quality failure in formal documents through the factory merchandiser and the buying house.
Responsible for proper documentation and reporting of fabric inspection, shrinkage, shade, and washing appearances.
Fabric Technologist Job
The job role of a Fabric Technologist is available in the Textile industry, apparel industry, and in a garments-buying house where you can work for a retailer to develop suppliers and coordinate between fabric suppliers and garments manufacturers. This job role is also called fabric technician in some places. A Textile Engineering degree is preferred for this job. Additionally, employees must be good at communicating both written and verbally. Growth and career opportunities are high in this job.
Job Responsibilities of Fabric Technologist in Apparel Industry