Textile Industry
We call as Textile Industry what is manufactures textile products fiber, yarn, sewing thread, fabric, dyeing process, and clothing. The Textile Industry does not only involve the process of weaving but also the process of designing in which first. We design a product whether we are going to manufacture some kind of fabric or we are going to develop some kind of puppet and what else first we have to design and then we go towards the developmental process to develop some raw materials and the mechanical parts which are required for the manufacturing of those materials and after that development of the required tools then we actually go towards the manufacturing process of those textile products and after we develop these products the next and the one of the most important process is the distribution or marketing and delivering those textile products from taking from the industry and giving it to the end-user and these are processes including the research design development manufacturing and distribution of different textiles including fabrics or clothing's or carpets whatever so these are all included in the textile industry. Here I present an Overview of the Global Textile Industry.
Overview of the Global Textile Industry
The global textile industry comprises textile manufacturing, refining, and retailing clothing. The worldwide textile business has an impact on almost everyone on the planet. The global textile business is a multibillion-dollar manufacturing sector that comprises the production, refining, and sale of synthetic and natural fibers utilized in thousands of sectors.
The textile sector is thriving and increasing at breakneck speed in today's world. The fundamental purpose of the textile or garment industry is to create and manufacture modern, stylish fiber, yarn, fabrics, garments, and apparel, as well as to supply and distribute them. We've compiled a list of some of the most well-known and reputable textile businesses from around the world. You can sort them by country and gain access to statistics on the worldwide textile sector. The apparel and garment industry has a considerable number of suppliers from China, the United States, the United Kingdom, the United Arab Emirates, South Africa, Canada, and other Asian countries. Textile raw material suppliers and exporters, yarn producers, garment merchants and wholesalers, textile machinery traders, and so on.
The apparel industry plays a vital portion in creating a country's economy in terms of pay era and is a major GDP donor and a key player in the creation of work. The industry is encountering a broad insurgency due to worldwide sourcing and an intemperate level of cost competition. Beneficial statistic flow, increment in expendable earnings, adjustment in customer behavior, and a critical swing towards branded attire have created a manner towards positive development within the worldwide attire advertisement. Worldwide export of apparel which was 108 billion USD in 1990, expanded essentially to 600 billion USD in 2014, which is a hopeful increment by 150% within the past long time. Industry front-runners expect an increment of 1000 billion USD by 2023 which ensures a potential showcase for productive makers.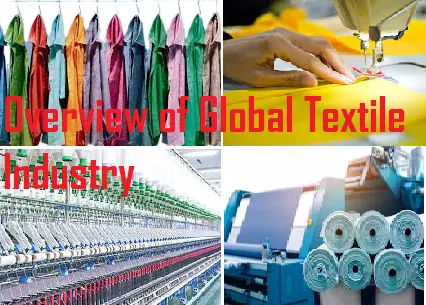 Asian countries contribute 70% of the entire global apparel exports. The apparel industry is mostly more labor-intensive. So, according to the World Health Organization square measure a lot of dowered with plethoric labor-power, includes a favorable future for its sustained growth, particularly for labor plethoric developing countries. In the global textile industry, China is the world's largest exporter and producer of textiles and apparel garments. According to World Bank Trade Data, China has a $263353.18 million export market share of 33.69%, Germany has a $263353.18 million export sector contribution of 33.69%, Italy has a $36662.55 million export share of 4.69%, India has a $36544.45 million exports market percentage of 4.67%, and Vietnam has a $31779.09 million exports sector contribution of 4.06%.
In the global textile and clothing business, the United States is the major importer, followed by Germany, Japan, the United Kingdom, and China. The following are the top five global textile importers. Around $119482.18 million with a 16.55% import share, Germany around $55827.97 million with a 7.73% import share, Japan around $37749.46 million with a 5.23%import share, the UK around $32842.99 million with a 4.55% import share, and China around $31737.92 million with a 4.4% import share.
India is ranked second in the textile industry, and it, like China and other nations, is reaping its advantages. India's textile sector contributes to the country's economic stability. The textile sector contributes 35% to India's economy, accounting for at least one-third of the total contribution from all other sectors, implying that India's textile sector serves as the country's backbone. India has developed its textile sector by prioritizing it above other sectors because it understands the market. The Indian government also encourages the textile industry to expand as much as possible. India is not only a player in the domestic market, but it is also a name in the international arena. India has gained more than any other country, and its currency has gained some value in the international market. The Indian government took several attempts to strengthen the textile business, launching both modest and large-scale projects. There is no question that India's textile industry has a bright future ahead of it, and the country has numerous opportunities. There is no question that the future of the Indian textile industry is bright, and India has a good possibility of being the number one country in the world.
Bangladesh likewise is developing at a rapid pace, and it has established itself as the textile industry's master planner. If we look at Bangladesh's history and current status, the textile sector has become the country's backbone. Tea and jute were the biggest export-oriented sectors in Bangladesh's history following its founding. However, a rival known as the flood was a major opponent of Bangladesh, reducing jute production in the country. This industry employed 3 million people, with women accounting for 90% of the workforce. Bangladesh was impoverished, and he had no clue what he had done or what he needed to do in this scenario. Textile was a new field at the time, and they came up with the notion of hiring those workers in the textile industry. Bangladesh grew and established a market position after adopting this strategy. Bangladesh was in a scenario of a textile commercial agreement with foreign nations from 1995 to 2005. In the year 2003, Bangladesh imported 31 million dollars worth of textile machinery.
After achieving success in 2007, the company invested 41 million euros in new gear. Germany's exports to nations such as China, Pakistan, and India have decreased since Bangladesh's admission. Rather than Germany, Bangladesh exports. After taking a closer look at Bangladesh's textile industry, the government decided to assist and began investing in the sector. The government has put a significant amount of money into this industry to acquire machinery.
Apparel producers are now focusing more on product marketing and branding. In the market, a branded product sells itself. Promoting a branded product requires less work because the current customer tendency is to buy branded things. Some businesses attempt to merge with other businesses to stay competitive. Aside from production, some companies expand into other areas such as warehousing, retailing, and so on. Computer-assisted design technologies have also aided in the dissemination of new and current fashions around the world. The apparel industries' technological improvements and adaptable tactics enable them to meet the increased competition and deliver trendy products at a reasonable price.
The apparel business is a vibrant part of the global economy. In the garment business, Asia-Pacific countries such as China, India, Hong Kong, the Philippines, Indonesia, and Bangladesh have excelled. China is the world's largest garment maker and exporter. Since the removal of restrictions, India's garment export sector has developed significantly. Turkey, South Korea, and Mexico are being considered alternatives to China by global exporters. The Indonesian market is growing at a robust rate, thanks to a resurgence in FDI. Despite competition from China and India, Bangladesh's performance in the post-quota period is notable. The United States is a good market for Philippine garment exports. Economies of scale can be achieved by consolidation through mergers and acquisitions. Modern media such as television and the Internet keep consumers informed about current fashion trends. Apparel makers are implementing new business tactics to boost trade. From a worldwide viewpoint, the industry is predicted to grow by leaps and bounds, generating a significant amount of revenue and jobs.
In conclusion, as investment in the textile and garment industries grows, numerous emerging nations are poised to crack or climb this list soon. In recent years, countries including Pakistan, Sri Lanka, Samoa, Bangladesh, and several South American countries have witnessed significant expansion in their textile markets. As China transitions to a service-based economy and labor costs rise, it's reasonable to predict that many garment manufacturers will relocate to underdeveloped countries where labor is cheap and plentiful. That is an Overview of the Global Textile Industry.
Overview of the Global Textile Industry