Among the variation of clothing lines medical textile is a little bit different, sensitive & way too much innovative; because this is not just only focused on apparel based; in the general sense most commonly used in the protection of healthcare professionals & patients from containment fluids. The major requirements for medical textiles are that they should be biocompatible and should be comfortable. Additionally; in general terms, the fashionable trends differ from time to time, but in the case of medical outfits the styles remain constant for a long while. Medical textiles are worn by the patient directly against the skin as socks, pajama top, and bottom, underpants, undershirts, and gloves; these are knitted 100% cotton items with interlock structure.
Medical textiles have used the protection for healthcare professionals from contaminated fluids. The major requirement for medical textiles is that they should be biocompatible and should be comfortable. Medical textiles are those fabrics that are specially designed for medical purposes. To prevent spreading bacteria and other toxic viruses proper use of medical textile can help. Medical textiles are made of various fibers. Primarily, the fibers are made of commodity fibers and specialty fibers.
Fibers used in Medical Textile
Different types of fiber are used in medical textiles, as per the area of applications like specialty fiber and commodity fibers. The first one is specialty fiber, these types of fibers include cheetosin, chitin, collagen, and calcium alginate fibers. The next one is commodity fibers; commodity fibers are further classified into two categories, natural fibers, and synthetic fibers. Natural fiber includes silk, cotton, and viscose which are used as non-implantable materials and for hygiene products. The synthetic fiber includes polyamide, polypropylene, PTFE, and carbon. The next one is biodegradable fibers, these fibers can be absorbed by the body. Commodity fibers contain materials like cotton, polyester, or nylon. Specialty fibers are like their name, special. These fibers are different from commodity fibers. Specialty fibers are specifically designed for a wide range of technical uses. These fibers are high strength, chemical, and heat resistant. Also, there are biodegradable and non-biodegradable fibers as well. Group-wise medical textiles have different fabrics keeping in mind that they will only be used for medical purposes. These fabrics are usually 70% disposable and 30% reusable. However, few companies are making eco-friendly medical textiles as well to support the global warming issue. The medical textile should be non-toxic, non-allergic, non-carcinogenic, and antimicrobial.
Important characteristics of Medical Textile materials
Mechanical properties: Durability strength and elasticity of the fiber used in the materials
Non-toxicity: This is the most important property considered during the production of medical textiles it is ensured that the material used should be non-toxic in nature.
Ability to sterilize: This property deals with the cleanability of the material as it may be contaminated with bacteria, biocompatibility, and optical properties the material used should be bio-inert and bioactive also. It should possess optical properties for contact length purposes specifically
Diffusion property: It is an essential property for controlling the drug delivery system and membranes like in the artificial kidneys.
Classification of Medical Textile
Medical textiles are classified under four main categories:
Healthcare and hygiene products: include the bedding cloths surgical gowns wipes clothes etc.
Implantable materials include sutures artificial joints artificial ligaments and vascular grafts etc.
Non-implantable materials this include wound racing plasters bandages etc.
Extracorporeal devices include artificial lungs liver and kidneys.
Healthcare and hygiene products
Bedsheets, surgical gowns, masks, gloves, and wipe clothes are widely used in the healthcare/hygiene category. Healthcare and hygiene products are a rising sector in the field of medicine and surgery. The range of products available is vast, but typically they are used either in the operating theatre (OT) or on the hospital ward for the hygiene, care, and safety of staff and patients.
Implantable materials
Implantable textiles are mostly used in artificial joints or ligaments. For example, if someone gets a fracture or any internal injury, implantable textiles can be used to help the injured place heal.
Non-implantable materials.
Non-implantable textiles are widely used in wound dressing, plaster, and bandages. These materials use in external applications on the body and may or may not make contact with the skin.
Extracorporeal devices
Extracorporeal devices are usually used in emergency cases when a particular part of the body isn't functioning properly. Artificial lungs, kidneys, and livers are made of extracorporeal devices.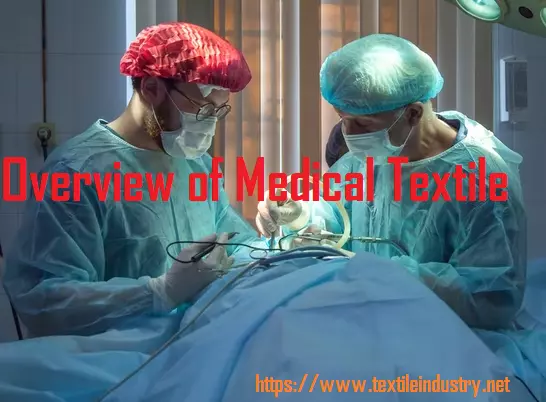 Medical textiles decrease the chance of the growth of bacteria. Proper knowledge of using medical textiles can prevent the spreading of deadly viruses. Surgeons must wear masks and gloves in the operation theatre or while examining a patient. Hospitals and clinics carry most bacteria as a lot of people come to these places with various diseases. Nurses and other caregivers in hospitals should also use adequate medical textiles.
If the fabrics are disposable, they should be disposed of soon after using them. If the fabrics are reusable, proper cleaning is needed. Bedsheets, surgical gowns, and head caps should be sun-dried to kill the bacteria properly. If the fabrics have lost their durability, they should be disposed of as well.
Textiles are expanding more and more in the global market. Maintaining the quality and exporting to the countries not only make
the economy grow but also helps get recognized in the industry. Microbiologists, researchers, and textile scientists are continuously working in this field to bring more sustainable technologies to invent better medical textiles.
Overview of Medical Textile