A Human Resources (HR) Manager is responsible for planning, implementing, and evaluating employee relations and human resources policies, programs, and practices in the garments industry. They ensure that the organization's policies, procedures, and programs are in compliance with all local regulations of government and trade unions and that they are consistent with the organization's mission, values, and goals. This includes recruiting and hiring employees, managing employee benefits and compensation, overseeing employee training and development, and handling employee relations issues. Additionally, they also are responsible for developing and implementing diversity and inclusion strategies, and managing employee relations and engagement programs. Their job is very challenging as the garments industry has lots of workmen, and handling them in a good manner is not an easy job. Ultimately, the HR Manager plays a vital role in the overall success of the garments industry by managing and developing its most valuable asset: its employees. HR Manager is taking care of overall administration, hiring, firing, and other company law that employees are bound to abide by. A person is very important for the business of the garments industry. HR managers can deliver many things to a company's business. Here I am writing about the Responsibilities of an HR Manager in the Garments Industry.
A garment industry can have up to 12000 employees, and every sewing machine needs an individual operator. HR is always under pressure in the hiring process and keeps employee Turnover as minimal as possible. In this case, the HR department needs to do counseling and other proper support as applicable.HR manager executes all HR functions from recruitment to separation. Handle Employee Resignation, Exit Interview, Clearance, and Final settlement. Training and Development, Compliance issues, Leave Management, Benefits Management & Performance appraisal. They maintain all kinds of disciplinary issues, office maintenance, office administration, legal affairs, workplace safety, security, store maintaining & management.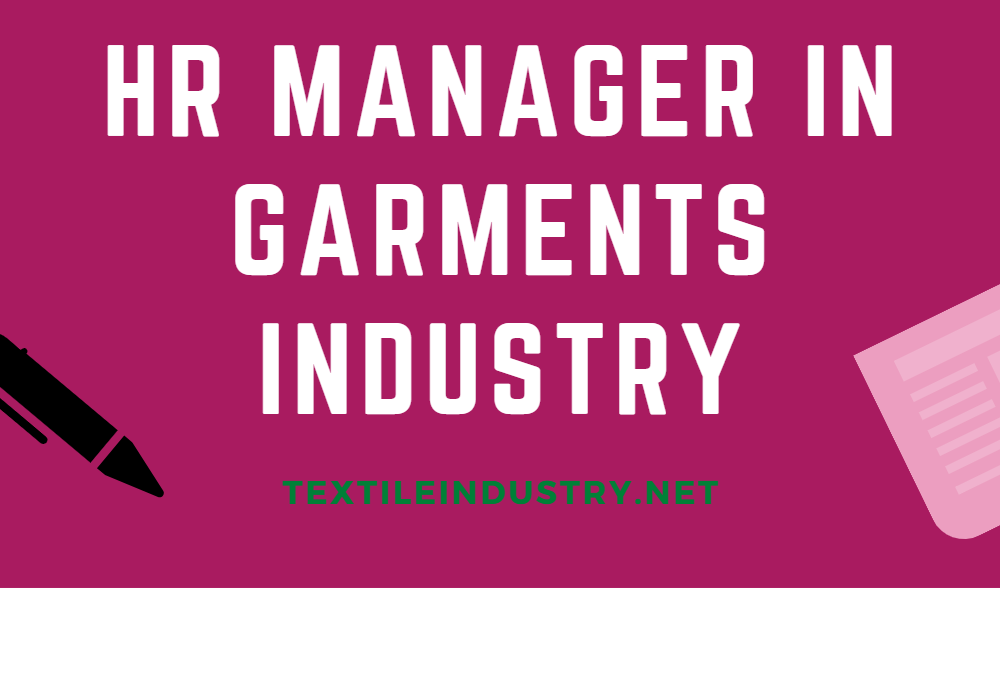 Job Description of HR Manager of Garments Industry
Business of Company: Take HR initiatives and strategies for the overall business of the apparel industry. Minimize the gap between management and employees in relation to requests, grievances, or other social issues.
Employee Management: Handle Employee hiring process; interview, job offer negotiation, Resignation, Exit Interviews, Clearance, and Final settlement.
Benefits and Facility: Employee's replacement, transfer, rearrangement, confirmation, extension, increment, promotion & benefits management, keeping employee's records.
Disciplinary Actions: Prepare & issuing office notices, office orders, circulars, announcements, show causes, warnings, terminate, confirmations, extensions, increments & promotion letters.
Rules and Policy: Develop and update administrative policies, rules, and regulations & implement them in the company. Develop and monitor overall HR Strategies and Systems.
Leadership: Oversee and supervise subordinate and support staff of the HR department.
Social Compliance: Follow and monitor daily Compliance and Housekeeping requirements. HR manager is committed to complying with workplace safety, good housekeeping, healthy environment for all workers.
Training and Development: They are responsible for the proper training and development of employees irrespective of job roles. HR helps to get the proper training to new employees.
Confirmation after the probation period: The HR Manager in the garments industry review performances of new employees and does an evaluation. If management becomes satisfied with the performance, the HR manager issues a confirmation letter to new employees after the probation period.
Take over Human Resource Management (HRM): There might have HR GM, and director; but the HR manager is taking over the overall Human Resource Management (HRM) of the garments industry, always keeping busy himself in action.
Qualifications and Skills for an HR Manager job in the Garments Industry
The HR manager job in human resource management (HRM) is more about leadership to handle a large number of manpower than academic qualifications and soft skills. MBA in HRM is preferable for this job. Lots of reports have to make holding this position, and so reporting skill is important here after handling workmen. Should be an expert in reporting, it helps top management and manpower.
Responsibilities of HR Manager in Garments Industry