Spinning Machinery Manufacturers For Spinning Mill of Textile Industry
Yarn is the start of the Textile products manufacturing process. To make Fabric, Apparel Fashion, the yarn comes first. The yarn manufacturing process is called spinning. Where the yearns are manufacturing, we call a spinning mill. The whole spinning is process a machine manufacturing process, human just provides the feed material. So good machine quality brings good material. There are not too many company manufacturing spinning machines. I present here Top 6 Spinning Machinery Manufacturers for Textile Industry below.
Textile fiber converts to yarn in the spinning mill. The processes start from the blow room and end with the auto cone winding machine. These machines are very highly expensive and the machines give production. Workmen just give all the required support to the machine.
Top 6 Spinning Machinery Manufacturers Around the World
Rieter
Truetzschler
Lakshmi Machine Works (LMW)
Saurer
Murata Machinery Ltd.
Savio Macchine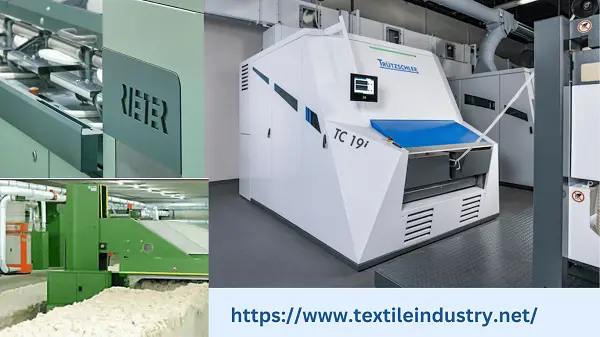 Details Description 6 Spinning Machine/ Machinery Manufacturers for Spinning Mill
Rieter
Rieter, a Swiss-based company founded in 1795, boasts a long and illustrious history of spinning machinery manufacturing. Their spinning machinery ranges from traditional ring-spinning machines to innovative rotor spinning and air-jet spinning technologies. Rieter's focus on precision engineering and sustainability has earned them a reputation for delivering high-performance solutions that optimize productivity while minimizing environmental impact. Blowroom machine, Carding machine, Drawframe machine, Lap former, Comber machine, Speed frame machine, Ring frame machine, Auto winder, and Open end rotor machine are the main machinery of Rieter.
Truetzschler
With over 130 years of experience, Truetzschler, headquartered in Germany, is a prominent name in the textile machinery market. Their spinning machinery lineup covers a wide range of processes, including blowroom, carding, drawing, and combing machines. truetzschler's commitment to research and development has resulted in cutting-edge technologies that cater to the specific needs of its global clientele. Truetzschler produces Blowroom machines,  Carding machines, Drawframe, and Comber machines for the spinning mill.
Lakshmi Machine Works (LMW)
Hailing from India, Lakshmi Machine Works (LMW) has been a driving force behind the country's textile industry for over six decades. LMW specializes in manufacturing various types of spinning machinery, such as ring-spinning machines and compact spinning systems. Their dedication to providing cost-effective solutions and localized support has helped them gain a significant presence not only in India but also in international markets.
Saurer
Saurer, another Switzerland-based company. It was founded in 1853 and has evolved into a multinational corporation known for its comprehensive range of textile machinery solutions. Their spinning machinery portfolio includes ring spinning systems, open-end rotor spinning machines, and compact spinning technologies. Saurer's continuous focus on research and development has resulted in intelligent and automated spinning solutions that streamline the manufacturing process.
Murata Machinery Ltd.
Murata Machinery, a Japanese company with a global footprint, has been a trailblazer in textile machinery manufacturing. Their signature offering, the Murata Vortex Spinning (MVS) technology, revolutionized the spinning process by producing yarns directly from staple fibers, eliminating the need for spinning frames and bobbins. This innovative approach has significantly reduced energy consumption and enhanced overall productivity in the industry.
Savio Macchine
It was founded in 1991, in Italy. It is famous for producing rotor spinning frames. Apart from this, they have Air-jet spinning, twisting, and winding machines. Savio produces very high-quality and efficient textile machinery.
Conclusion
These 6 manufacturers are supplying all the spinning machines all over the world. Most of the machines come from Switzerland.
As technology advances further, we can expect these companies, along with new entrants, to explore novel approaches and develop cutting-edge spinning machinery that further propels the textile industry into a more sustainable and prosperous future. From traditional ring spinning to state-of-the-art air-jet and vortex spinning technologies, these manufacturers have truly revolutionized fabric production, driving the textile industry forward.
You may love to read: Difference Between Yarn and Thread
Top 6 Spinning Machinery Manufacturers for Textile Industry