You may already know about the size and type of Fabrics. Fabric manufacturing is generally done in 2 different ways. The fabric made by one method is called woven fabric and the fabric made by another method is called knitted fabric. To make knitted fabric, interlocking of a series of loops made from one or more yarns and then processed by dyeing, printing, finishing, etc. Here I am present about the Knitting | Types of (Knitted) Knit Fabrics used in clothing process. We will also detail discuss some general concepts, use and Characteristics of some knitted fabrics.
What is knitting?
Knitting is the process of producing a piece of fabric by forming a series of connected loops from a series of yarn. In this method, the fabric is produced by intermeshing loops. Fabric knitting is done by inserting a loop/stitch (Loop/stitch) into another loop/stitch (A Loop within a loop) with the help of a knitting needle from yarn. These loops run horizontally (horizontally) or vertically (vertically) from one side of the fabric to the other. All knit fabrics are generally knitted in weft knit except for special types of knit (warp knit). So weft knit is very common, warp knit is less we can see in the industry. Knitted fabrics are made by intermeshing loops of yarn, and can be composed of any kind of fiber, yarn, stitches, or patterns for apparel, home-furnishing, and industrial end-users. Knitted fabrics can be divided into two general types: weft knitted and warp knitted.
Different Types of Knit (Knitted) Fabrics
According to the knitting method, the knitted fabric can be divided into 2 main types.
1. Wept Knit:
A horizontal row of loops can be made using one thread and the thread runs in the horizontal direction. In wept knit, the yarn runs transversely along the width of the yarn. Almost all fabrics of wept knit have stretch in both horizontal and vertical directions, but the horizontal stretch is more. This is again called circular knit. Because in that method, the cloth is knitted with the help of a circular needle-bed knitting machine. First, this cloth is made in tube form. After Nitong finished, he was cut open. The circular knit (wept knit) method is used to make most knit fabrics. Eg – jersey, interlock, terry, velour, etc. belong to this group of fabric.
2. Warp Knit:
Each loop in the horizontal direction is made from a different thread and the number of threads used to produce such a fabric is at least equal to the number. In warp knit, the yarn runs lengthwise on the long side of the fabric. A special type of knit fabric (vertical) is woven with warp yarns called "warp knit" fabric and very few knit fabrics are knitted in that manner. Tricot (Tricot) and Raschel (Raschel) fabric made in this type of weaving method like oven cloth have a very little stretch in this cloth and it feels like oven cloth to use (wear).
Different types of knitwear are available in the market under different names. Such as Jersey, Interlock, Rib, Pique, Terry, French Terry, Fleece Knit, Tricot, etc. There are also many different designs of knit fabric. Know some brief descriptions of the types of knitwear.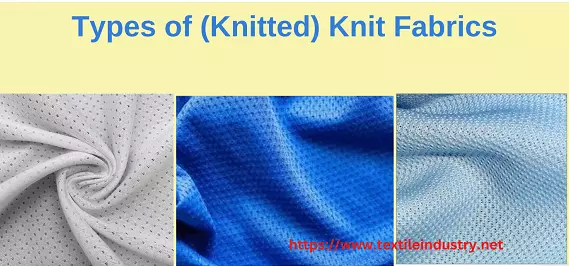 Some important knit Fabrics and their Characteristics
Jersey Knit:
Jersey knit is a plain stitch knitted fabric. The back side of the jersey knit fabric has a different shape than the front side. It is commonly known as single jersey fabric. The smooth side is called the face side. Both lengthwise and widthwise sides usually have the same stretch. Garments such as t-shirts, underwear, sportswear, etc. are made from jersey fabric. Characteristics of Jersey Knit fabric:
Curl easily at both ends.
Fairly elastic.
The smooth side is the front, while the back is rough.
Unravel readily from both ends
V-shaped loops are shown in the front, while semi-circular needle loops are shown in the back.
Interlock Knit
It is a double-faced knitted fabric with both front and back sides smooth and uniform in appearance. This fabric has less elasticity. Garments such as polo shirts, t-shirts, underwear, etc. are made of interlock fabric. Uses of interlock fabric Ladies' dresses, blouses, T-shirts, sweaters, outerwear, sportswear, and underwear. Characteristics of Interlock Knit fabric:
Better insulation.
Better stability in construction.
Can only be unraveled from the last end.
No tendency to ladder.
No tendency to curl when cut.
Smooth surface on both sides.
Rib Knit:
Rib is a double jersey knit fabric. Rib knit fabric has a distinct rib effect along the length and has more elasticity in the width direction. Different types of knitted rib fabric are produced, such as 1 × 1 Rib, 2 × 1 Rib, 2 × 2 Rib, 3 × 1 Rib, 3 ×3 Rib, 5×2 Rib, etc. Garments like t-shirts, polo shirts, etc are made from rib fabric. The 1 x 1 rib is the simplest rib fabric in which the structure includes alternate wales of plain and reversed plain stitches. Uses of Rib fabric Cuffs, collars, waistbands, sweaters, and garments. Characteristics of rib fabrics:
A broken stitch will cause laddering
Consume more quantity of yam than a plain fabric
Does not curl at both ends
Good stretchability in the widthwise direction
Flat Knit (Flat Knit):
Flat knit is a wept knit fabric but unlike circular knit fabric, it is not made in the form of a tube. The flatbed knitting frame machine is made of flat knit fabric. Knit shirt collars, cuffs, bottom, etc., and some jackets are made of flat knit fabric. Generally, collars, cuffs, bottoms, etc. are flat knitted to exact measurements for garments.
French Terry:
French terry is a woven fabric similar to a jersey, with loops on one side and a soft pile of yarn on the other. … It's comfortable, moisture-wicking, absorbent and keeps you cool. French terry is a popular woven fabric, with a smooth and looped face. It's a popular fabric for lightweight hoodies, joggers, and more! It can be 100% cotton or made from a variety of fibers, sometimes including spandex (also known as elastane or lycra). It is often woven and the term French Terry is used loosely for all woven terry. Uses of terry Robes, beachwear and fashion apparel. Characteristics of French Terry fabric:
A broken stitch will cause a run.
More flexible and more absorbent than woven terry cloth.
Not as durable as woven terry cloth
Apart from the list; few more fabrics are Tricot Knit Fabrics ,Jacquard Knit, Purl Knit common in the clothing process.
What is Knitting | Types of (Knitted) Knit Fabrics