What is sourcing?
In one word sourcing means to source something, but sourcing is a term in the supply chain process. Understanding a company's business for a material or product, Sourcing the right material selection from the right vendor, and buying goods from that specific vendor. So, Sourcing is a procurement Process and supplier management of selecting, assessing, and buying goods or services for business required. Different strategies follow for sourcing tasks. We are here to discuss Fabric Sourcing Factors for Apparel Business.
The fabric sourcing strategy of apparel is correct quality at a competitive price. Fabric sourcing is an important factor to do export garments ordered. Fabric sourcing is the industry's way of saying finding a supplier who has the fabric you need for sale. This is how fashion designers get their fabric materials.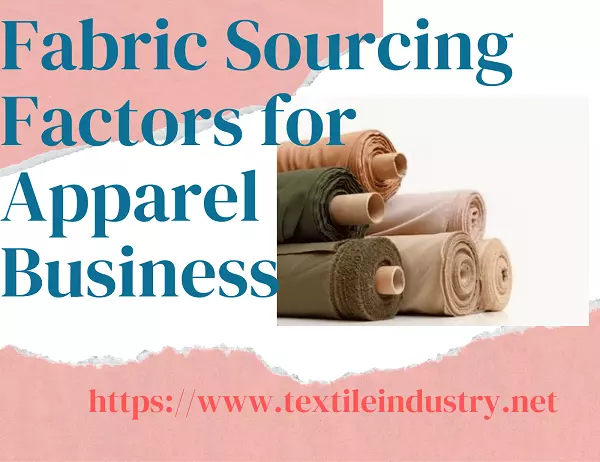 Why Fabric Sourcing is important for Apparel Manufacturing?
Only very few Apparel manufacturers have their own fabric manufacturing mill, as they focus on garment making only. To get export garments orders, you have to arrange the fabric as per the customer's fabric specification. If you want to make readymade garments, you have to source the main raw material fabric first.
Fabric Sourcing Factors for Apparel business
Insourcing Option from own factory or sister concern- This is the best sourcing option to check factory can source fabric internally.
Market Evaluation and research- Market price, distance from vendor, and vendor's reputation in the apparel industry is a big thing.
Develop local vendors- It's easy to get fabric from local vendors with less lead time. The best thing about the local vendor is to get rid of the logistic hassle. So, the sourcing team's priority is to develop local vendors.
Formulate a sourcing strategy- Every factory has its own strategy for sourcing.
Evaluate the supplier's market- What are suppliers' business with other fabric buyers, and how much they are supplying to the reputed apparel industry and apparel retailer? These data will give a clear idea to the fabric sourcing team.
Good Quality at a competitive price– Beyond everything, if the fabric meets the required quality, the first vendor is qualified. So what is the market rate for the same quality fabric?
Timely delivery Performance- Garments manufacturers are committed to their customers for on-time delivery.
Process suppliers are the following- Payment, delivery and other commercial processes should match between two parties supplier and customer.
Problem suppliers are facing- vendors are able to send goods to suppliers or is there any other issue in the transit?
Specifications of your product- Suppliers are capable to maintain fabric specifications.
Minimum order quantity (MOQ)- Recent fashion trends have so many colors, sizes, and designs. So the order is not in the big volume most of the time.
Lab test report and Quality Data: A fabric lot requires many tests to see if speciations are met. We always cannot rely on the vendor's own lab test data. The supplier can send samples to 3rd party lab for test results. And, the visual quality results in 4 point inspection system are a big factor for the fabric sourcing team deciding about the quality.
Supplier Capability and support in an urgent situation– How much production capacity vs customer demand? Suppliers should give support to their customers in some urgent situations beyond lead time and other issues.
Quick corrective actions- Actions should be very quick for any quality issues.
Compensation for Quality Failure– The garment maker would ask the supplier to give compensation for problematic fabrics.
Finally, the apparel business depends on fabric availability, so fabric sourcing is a big thing for apparel manufacturers and apparel buyers. Above these are the key factors to the fabric sourcing department and merchandiser.
Fabric Sourcing Factors for Apparel Business