From the beginning of time, lace fabric has been used to enhance clothing items, accessories, and decor in homes with a touch of elegance and sophistication. It is a delicate and attractive material. It is a preferred choice for formal events like proms and weddings because of its elaborate designs and light, openwork style. This article is about What is Lace Fabric and 20 Different Types of Lace Fabric with detailed descriptions.
Lace is an open work fabric consisting of a network of yarns formed into intricate designs. This piece will discuss the definition of lace fabric, its background, and the various varieties that are now on the market.
Lace fabric is mainly used in the fashion industry for creating elegant and feminine dresses such as wedding dresses, lingerie, and evening gowns. Its lightweight and airy nature makes it a popular choice for adding a touch of sophistication to any outfit. Additionally, lace fabrics can also be found in home decor items like curtains, tablecloths, and doilies, adding a touch of elegance to interior spaces.
What is Lace Fabric?
Lace fabric is a delicate and ornamental textile that is known for its intricate, openwork patterns. There are many types of lace, some made in weaving and some made in knitting threads together to create these decorative designs. It is characterized by its transparency, lightweight nature, and the presence of open areas within the fabric. Lace is used in fashion trims and accessories, bridal wear, lingerie, home decor, and crafts to add a touch of elegance and beauty to various items. It is renowned for its timeless and romantic appeal, making it a popular choice for a wide range of applications.
The History of Lace Fabric
Lace has a long and rich history back centuries. During the 16th century, Lace had great significance through the Renaissance and was frequently used as a status and wealth symbol. Lace's elaborate patterns and fine craftsmanship won its popularity among the nobles and aristocracy, resulting in its widespread use throughout Europe.
As lace became more accessible, it began to be used in various applications, such as clothing, home decor, and even religious ceremonies. Its popularity grew rapidly, and soon lace became a symbol of elegance and sophistication across different cultures and social classes.
20 Different Types of Lace Fabric 
Lace fabric comes in various types and styles. Here are some of the most popular types of lace fabric :
1. Chantilly Lace fabric
Chantilly lace is a special kind of lace fabric. It is well-known for its delicate and lovely designs. Sometimes, the patterns are like flowers. Chantilly lace is mostly available in white or black. It is frequently used to create elegant items like evening gowns, wedding dresses, and attractive undergarments.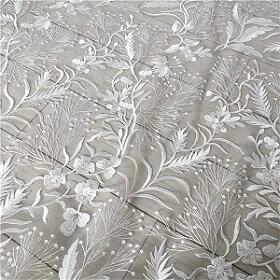 It has a sophisticated and attractive appearance. Therefore, chantilly lace could be a wonderful option if you want something that looks extremely elegant and sophisticated. Chantilly lace is renowned for having a delicate, airy quality that makes it comfortable to wear.
2. Alençon Lace
One highly rare kind of lace fabric is Alençon lace. It offers beautiful patterns that resemble flowers and other elaborate patterns. A lot of care and attention to detail went into making this lace fabric. It frequently has elevated patches that give it a rough texture to the touch. Alençon Lace is frequently used to create beautiful veils, wedding gowns, and other elegant clothing. It gives these gowns a sophisticated, beautiful appearance that makes them ideal for formal events like weddings.
3. Guipure Lace Fabric
A unique type of lace fabric that changes in appearance from standard lace is called guipure lace. It stands out due to its strong, elevated patterns. Guipure Lace is not net-backed, compared to certain other laces. Actually, it is made with thicker threads, and the outcome is in a strong and elegant pattern. Guipure lace is used to create elegant gowns and accessories such as headbands and belts. It gives the things it's used for a vibe of sophistication and style. Because of its striking and unique designs, people love it.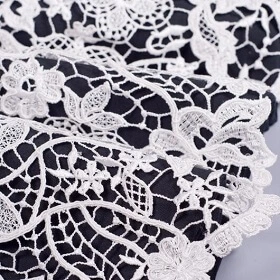 4. Venise Lace
One special kind of lace fabric is venise lace. Its complex designs reflect lovely flowers and shapes. Venise Lace is unique in that the patterns appear to stand out since it frequently has a 3D element. Thick cotton threads are used to make this lace. Venise lace is frequently used to create decorative pillows, curtains, and tablecloths for homes. It gives these objects a hint of elegance and charm, giving them a posh and unique appearance.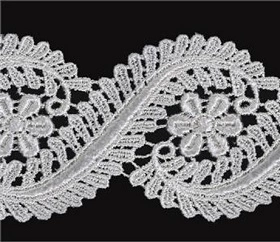 5. Crochet Lace
A crochet hook, working similarly to a special needle, is used to create the unique type of lace fabric known as crochet lace. It contains lovely patterns, many of which have small loops and forms. Crochet lace is extremely trendy due to its charming, retro look. Beautiful items like shawls, scarves, and beach cover-ups are made from it. It's also used by people to decorate things like doilies. Crochet lace offers a comfortable, handcrafted quality to whatever it is employed on. It's ideal for giving your clothes and house a dash of elegance and warmth.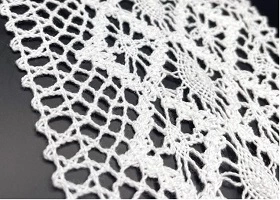 6. Tulle Lace :
One type of lace fabric that is extremely airy and light is called Tulle lace. It usually has a delicate, net-like background. This lace can be left basic or decorated with lovely patterns made with beads or embroidery. Brides often use tulle lace to create their unique headdresses for weddings, known as veils. Ballet tutus, the fluffy skirts used by ballerinas, also include this material. Tulle lace is popular because it gives unique clothes a dainty, refined touch. It's ideal for adding elegance and beauty to objects.
7. Raschel Lace :
A unique kind of lace material is called raschel lace. It is not created by hand but by machines. This lace appears a little different from other laces because of its large, significant patterns. Bras and bikinis are two examples of swimwear and undergarments that frequently use raschel lace. Its strength and stretchability, which are important for certain kinds of clothes, are what makes it popular. Raschel lace is therefore excellent for creating items that are both well-fitting and cozy. It gives our regular garments a lovely touch that we might not even notice!
8. Gothic Lace
Gothic lace is a special type of lace fabric with a specific design. It frequently has gloomy and interesting designs like skulls, crosses, and bats. Gothic Lace is used by those who enjoy gothic or alternative fashion, which differs little from what is usual. They use it to create dark and edgy-looking costumes, accessories, and clothing. Gothic lace contributes to the gloomy and stylish vibe of fashion. For those who wish to stand out and show off their individual style, it's perfect for them.
9. Knitted Lace
By name, it is understandable that knitted lace is made of knit fabric. Knit has elastic and stretchy properties. Creating holes according to fabric design makes this very special. Not an easy process to make it. It is also called stretch lace fabric.
10. Embroidered Net Lace
Embroidered net lace is a beautiful fabric with colorful designs. It looks very nice, a fine net with colorful patterns sewn into it. People usually use it to make pretty clothes, like dresses and curtains. It is a good choice for special occasions and adds a touch of style to everyday things.
11. Edging Lace
Edging Lace is a thin, fancy ribbon-type material. People use it to decorate clothes, tablecloths or handkerchiefs. It makes things look nice & more special. Edging lace comes in many colors.
12. Insertion Lace
Insertion lace is like a fancy ribbon with unique designs. People use it to look prettier. It is called insertion because they can put it between two pieces of fabric lace. This lace makes dresses more pretty.
13. Tatting Lace
Tatting lace is special because it is made by hand. It looks like tiny knots and loops. People use small needles to make it. They make patterns or designs after using those needles. It takes time and patience to make it.
14. Tassel Lace
Tassel lace has small hanging decorations called tassels. These tassels look like tiny strings with little balls in the end. People use tassel lace to add a fancy touch to curtains, clothes, and other decoration items.
15. Ribbon Pass Lace
Ribbon pass lace is a kind of lace with open spaces where you can fit the ribbon. People usually use it in gift decorations. It adds an extra charming look.
16. Elastic lace
It is a stretchy kind of lace. It is made with elastic, so it can stretch and go back to the original size. People use it in underwear, headbands, etc.
17. Smocked Lace
It is a special lace that is created by gathering the fabric in a way that makes little wrinkles. People use it to make unique designs on clothes, like dresses or blouses.
18. Ric Rac Lace
Ric rac lace has a zigzag pattern and it is used as an accent edge. It can be made of cotton, silk, or metallic fabric. It is pretty and decorative.
19. Beaded Lace Fabric
The lace has decorative beads to add glamour and elegance. This is a very expensive lace fabric. It is mostly used in wedding and party dresses in the clothing.
20. Gold lace fabric
The lace which made of gold wire or use gold silk to make it. The gold color gives it a gorgeous look.
Conclusion
Over time, lace fabric has developed into a timeless and elegant material. It is appropriate for a variety of uses, including home décor and bridal gowns, thanks to its delicate elegance, gorgeous designs, and a huge range of varieties. There is a type of lace fabric that will work for you, whether your style is unique and edgy or classic and exquisite. For people who value the beauty and craftsmanship that go into the production process, lace remains a popular option.
What is Lace Fabric? Different Types of Lace Fabric