What is the Stretch Fabric?
Stretch fabric is some sort of garment which can be stretchable in any shape. it can be folded in any form we want. It's comforting clothes. People of all ages need this for different purposes. Stretch fabric is very much popular in this generation around the world and it becomes part of our daily life. Generally, stretch fabric is stretchable to a certain length or percentage, and normal length is found in relaxed conditions.
Types of Stretch Fabric
Thus we can have the question occurrence in mind, Are there some kinds of stretch fabric? yes, there are 2 types of, these are 2 ways and 4 ways. 2-way stretch fabric can be expanded in one direction. Most often It's from fringe to fringe. oh! so there is another type which is 4-way stretch fabric which is most popular named spandex, expanded diagonally as well as straightaway.
The invention of Stretch Fabric
It was found as trade stretch fabrics such as spandex in 1958 to the market. The word 'stretch' belonging here was first invented by Kenner denys fisher and Hasbro in the united states in 1976. They invented stretch whose components were plastic, rubber, and gel. 'Fabric' is textile clothing that was found 27,000 years ago. Its original fragments from 7000 B.C were invented by archeologists.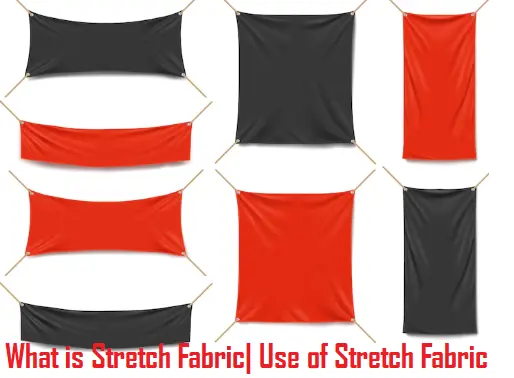 Different Types of Stretch Fabric
Spandex: It's commonly famous for Its flexibility. This means it can be stretchable like 5 to 8 times more than the relaxed conditions. Its main component is polyurethane. It's com forty to wear in summer too.

Polyester: Polyester is basically polymers that are polyethylene terephthalate. Its melting temperature is 250-265°c. Polyester is usable in pants, shirts, suits, bed shits, conveyor belt fabrics, seat belts, curtains, etc. These garments are most often washable. Its stain- resistance and durability are wishable. We can't wear it in summer because it's not worthy to absorb sweat at all. Polyester can be harmful to sensitive skin because it contains contagious chemicals. Those who have allergy issues are retainable from polyester. It can be a good choice in winter as Its plastic fiber, and lack of permeability can make the clothes warm and can be handy to use for a person, especially in winter.
Wool fabric: Wool can imbibe 30 percent of Its mass in moisture. It can prevent stink. It can keep you cool in summer too. Isn't it super cool? There are some types of it though those are Merino wool, cashmere wool, Mohair wool, Alpaca wool, camel wool, and virgin wool.
Silk fabric: Silk is known for Its glittering touch, It's origin from silkworms. Viscose is a semisynthetic fabric from wood pulp. It's a soft piece of clothes. Silk helps to retain heat in cold weather. It's used for various purposes as we use it as bridal attire, in the cover sheet of the bed, in parachutes, etc. Women and girls find it comforting to have chiffon dresses like three-piece or gowns which most knowingly silk.
Use of stretch fabric in day-to-day life
It's now used in every type of clothes we wear in our daily life. what's not! From our undergarments and sleeping clothes to sports attire. It's a unique property that can be beneficial to us. Nowadays sports like cricket and football in the young generation to any age. Thus people are being attracted towards these Jersey those are being followed by their liking sportsmen, so we can't negotiate its usage in these running days. Now Let's take a look at women's using stretch.
| | | |
| --- | --- | --- |
| Fabric name | Type of stretch | Uses |
| Stretch jersey knit | Can be either 2 or 4 way | dresses, skirts & tops |
| Cotton jersey knit | Usually, it is just 1 way | any types of clothing item |
| Stretch cotton poplin | 2 or 4 ways depending on the stretch fibers blended in | summer dresses, blouses, skirts, shirts |
| Stretch cotton | 1, 2 & 4 way | blouses, shirts, etc., with heavier weights for jackets and pants |
| Stretch cotton shirting | depends on construction | Shirts and dresses for any gender |
| Stretch cotton sateen | depends on construction | Blouses, formal dresses, with heavier weights for suits |
| Stretch cotton jacquard | depends on construction | jackets, skirts & dresses |
| Stretch viscose jacquard | depends on construction | tunics, tops, dresses, skirts, & blouses |
| Stretch silk satin | depends on construction | evening wear, lingerie, & more |
| Stretch silk crepe | depends on construction | dresses, pants, jackets, & skirts |
| Stretch silk lining | depends on the exterior material | all lining options |
| Stretch satin chiffon | depends on construction | blouses, skirts, dresses |
| Stretch wool | depends on construction | jackets, sweaters, pants, sweatshirts and more |
| Stretch wool crepe | depends on construction | jackets, skirts & dresses |
| Stretch velvet | depends on construction | sweatshirts, jackets, pants, skirts & dresses |
| Stretch lace | depends on construction | sleeves, lingerie, overlays, etc. |
| Stretch tulle | 4-way stretch | inserts, underlays, necklines, hems, and so on |
References: https://sewingiscool.com/types-of-stretch-fabric-names/
https://en.wikipedia.org/wiki/Stretch_fabric
What is Stretch Fabric| Use of Stretch Fabric