With the advent of the ultra-modern era, development has unveiled its multi dynamics. In the nineteenth century, the basic necessities of a common man were food, shelter, and clothing whereas now it has sub-stranded and divided between access to mobility, technology, healthcare, and whatnot. Consequently, if we focus back to clothing and forth to the healthcare sector, something that has boomed in the last decade is textile merchandising especially medical textile.  None the less to say that the medical and the healthcare sector has seen a major uplift in demand for medical textiles and their commodities. So, an interesting field to ponder about would be the root definition of medical textiles and their classifications. So, let's have a discussion on the classification of Medical textiles.
"Medical textile' incorporates a wide range of soft goods cast-off for medical and healthcare purposes, counting those for clinical, orthopedic, and dental uses. They vary from other types of fabrics in that they are intended with medicinal use in mind. As such, they have a number of CHARACTERISTICS that make them ideal for use in this sector.
Medical textiles have these particular features. They do not have any: toxic elements, carcinogens, allergens, or non-degradable particles which makes them safe and secure for the environment. Further to this, the basic element of medical textile products in the healthcare industry include materials such as woven, knitted, nonwoven, PTFE felts and mesh, fibers, etc.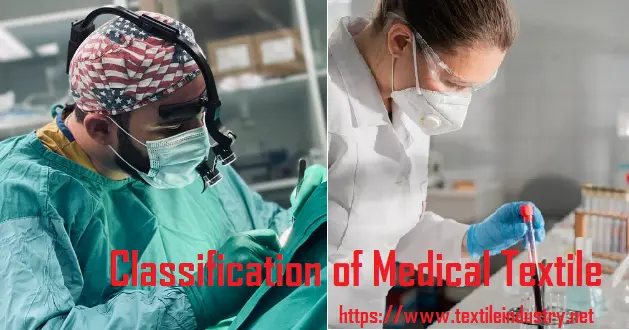 Classification of Medical Textile
To better understand the properties and uses, the medical textile field has been classified into four components.
Implantable products.
Non-implantable products.
Healthcare and Hygiene products.
Extracorporeal devices.
Getting into the intricacies of each one in detail gives us a better idea and opens up the wide spectrum of med tech and its possibilities also with an improved conception of these product applications. 
Exploring Implantable textiles
Implantable textiles are attuned and biologically designed to be used within the human body. They have extensive uses—for instance, they may be used to replace damaged blood vessels, suture wounds, stand in as artificial skin, or replace damaged heart valves. Resources that are accessible for use are stainless steel, cobalt chrome alloys, titanium and titanium alloys, pyrolytic carbon, thermoplastics, and bioceramics.
In what way do these constituents heal the human body?
History can be traced down to ancient China and Egypt as distant as 2000 B.C. when natural fibers such as linen, silk, bark, horsehair, and dried guts were used as suture materials for the closure of a wound. The initiation of steel wire and synthetic fibers such as polypropylene, nylon, and polyester through World War II propagated the first insurgency of medical textiles and significantly stretched the chemical configuration of textile-based biomaterials past regular sources.
Astoundingly, cotton, the utmost looked-for natural fiber has no part in this modern form possibly due to the absence of necessary organic and automated assets to match the standards of a highly secured state of the human body. Amongst the whole lot, silk is the one that is effectively accepted in the latest implantable field.
Textile structures
As a result of their specifically measured engineering procedures, with their unvarying and recouping qualities, artificial stringy biomaterials have established a boundless pact of responsiveness from the healthcare industry. However, the basic textile structures, such as braided, twisted, knitted, woven, and nonwoven, have not kept up with the pace of development and advancement of new materials other than the electrospun fibrous membranes. Most of the focus has been on recyclable materials.
The obtainability of the absorbable aliphatic polyester-based materials: Dexon and Vicryl, in the 1970s, was a major development mainly in wound patch-up, cardiovascular implants, body wall repair, and tissue engineering and regeneration.  Today, surgeons can choose among a large number of textile-based biomaterials with various chemical, physical, mechanical, textile structural, and biological properties for their specific clinical applications.
Unique and varied
The four most broadly used biomaterials are woven, knitted, nonwoven, and braided. Among each of these four classes, there are many other variations such as weft knit vs. warp knit.
Implantable medical textile products are also more acute than those one-use medical textile products used outside the human body. Furthermore, implantable medical textile products require greater complexity technically due to the biotic complexity of the human body, adding to the monitoring hurdles. Of the three areas of application, wound closure, cardiovascular implants, and surgical meshes, wound closure is the most important as they are used in almost all surgeries for the zipping of clinical grafts. Also, they have a historical tie to traditional ones for non-medical uses like silk, polyester, nylon, polypropylene, etc.
Three other categories
The three major classifications in patching up a wound are suture materials, tissue adhesives, and staplers.
Non-Implantable medical textiles
As we discussed, implantable medical textiles are internal. The non -implantable ones are applied and utilized for peripheral usage on the body which specifies that those used outside the human body to support the retrieval of injuries are called non-implantable medical textiles. Non-implantable merchandises are characteristically cast-off to offer safety against contagion, to solute or absorb blood as well as to stimulate cure. The word non-implantable is used commonly to show external wound management of different parts and medications for the human body.
Extra-Corporal Device
In this century, we have seen artificial cloning, body parts right from pacemakers to internal important organs organically made. Extra corporal devices are power-driven organs that are used for blood cleansing such as apheresis, hemodialysis, hemofiltration, plasmapheresis, or extracorporeal membrane oxygenation. Modern technology has made it possible to discover artificial kidneys, livers, and mechanical lungs. The manufacture of these devices involves accurate and detailed enterprise and production. Necessities needed for these procedures – anti-allergenic, anti-carcinogenic, resistant to micro-organisms, antibacterial, non-toxic, and the ability to be sterilized.
Healthcare/Hygiene Products
Medical treatments are very sensitive. All the products that are essential and associated with day-to-day cleanliness and antibacterial with safe and secure precautionary measures count under healthcare products. These include bedding, clothing, surgical gowns, gloves, and cloth wipes. All filaments used in this product must be non-toxic, non-allergenic, not non-carcinogenic, and must be able to be purified without conveying any change in their physical or chemical characteristics. The range of these products available is vast but typically they are used in the operating room theatre or on the hospital ward for the hygiene, care, and safety of staff and patients. Production of hygiene and medical textiles is on increase, as is the variety of applications in this important sector. In the initial twenty-first century, hygiene and medical textiles created a huge impact on the overall market.
In the coming times, this field is surely going to acquire high impetus in the global market.
Classification of Medical Textile