What is Fabric GSM?
GSM is grams per square meter (gm/m2), the fabric weight of every square meter, calculation value comes in grams. In order to assure the weight of the fabric which is going to be used in bulk production is as per the Buyer's acceptable Quality Standard and Requirement. GSM is one of the key fabric quality specifications in the Textile and Apparel Industry. And, foam GSM is also measured by a GSM cutter. Fabric GSM calculation is physical testing, GSM cutter is used all over the world in any textile and Apparel testing lab. GSM cutter is a circular cutting die that is 1 of 100 square meters in volume, which is available in the market of any country.
Advantages of Measuring Fabric GSM:
Easily understandable about fabric weight, and we can determine the thickness of the fabric.
Assure fabrics used in bulk production are at an acceptable quality level.
Minimize garments rejection due to fabric weight
We can claim supplier for defective fabric.
It is a very easy testing process, and acceptable anywhere in the world.
Any type of fabric like denim, cotton twill, or knit can be measured by a GSM cutter.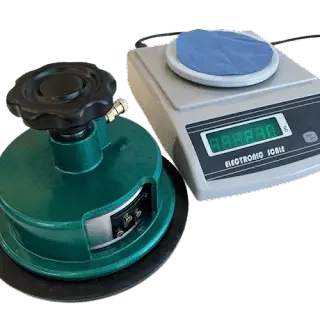 Calculate Fabric GSM by GSM cutter in Apparel industry
Fabric QI shall determine the required fabric weight from the fabric booking sheet which is approved by the buyer.
If we cannot find the fabric weight from any document of this PO/Style, then select 5 rolls randomly and cut 1 yd. × 1 yd. from each roll and take the weight and make the average weight. This is the fabric weight of this PO/Style.
Fabric QI will select for knit 100% & for woven 10% of the total no. of rolls and cut fabric pieces from the rolls to calculate the GSM. This is not limited to any other special fabric which may require a specific % for weight test.
Fabric QI will cut the fabric using the GSM cutter and measures the weight-by-weight m/c.
QI will record the GSM of the fabric and report to QC Manager.
Acceptable fabric weight tolerance is -5% and +10%
If within 10% inspection any roll fails the criteria, then another 20% inspection is done. If 20% inspection fails, then it shall go for 50% inspection. If 50% inspection fails, then inspection is performed for 100% quantity of the total fabric to determine the percentage of rejects to inform the QC Manager.
QC Manager will notify the Merchandiser and GM to take necessary action.
All the rolls which have been passed in the inspection are to be stacked in a place marked "PASSED LOT". Any rejected rolls or lots are to be kept in the non-confirming raw materials area to avoid mix-up with other ok goods and should mark all rolls with "RED" stickers.
Fabric GSM Calculation
Example:
Let, the sample weight became 1.2 gm after cutting through the GSM cutter.
In this situation, we have to multiply the average cutting swatch weight by 100 to get the actual fabric GSM.
So,
Fabric GSM = Average cutting swatch weight × 100
= 1.2 × 100
= 120
Calculate Fabric GSM by GSM cutter