What is Denim?
Denim is incredible for its characteristics. Basically, to get some prior knowledge about denim, It is twilled cotton, blue color usually, durable, comfortable, easy to wash, and can be put on in any season. Denim was first introduced in France; the word denim came from the France term 'de nim' and later on became famous in the US in 1853. So, the procreation of denim isn't much hard. It is sewed and dyed in the same place. Cotton is the prime element of denim and cotton gets through a lot of inspection. Next is dying which is the most important as dyeing gives touch on denim popularity. Denim is well known for its astonishing color and indigo dye gives a touch of blue color. This dye needs to maintain the balance of pH, and sodium hydrosulfite besides non-indigo dye also providing color to denim. The Final is the knitting process which is accomplished with much vigilance. Denim is quite famous among youngsters as we can get varieties whether its jacket, skirts, pants, shorts, jeans, dresses, hats, jeggings, suits, sneakers, belts, trousers, helmets, bridal clothes, handbags, rucksacks, toilet seats, underwear, bikinis, bras, sunglasses, saree, curtains, shoes, boots, other types of footwear and so more we can add its basket. Due to its resistance power, its enduring is hard for a long time wearing.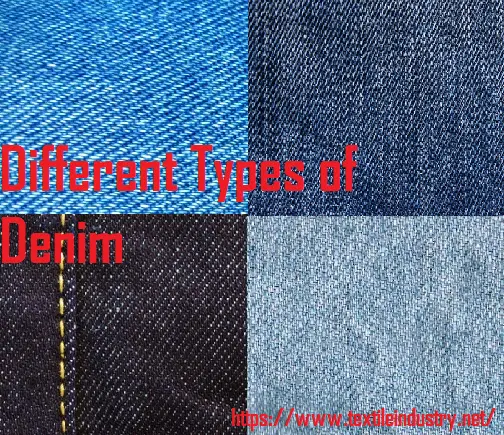 Different Types of Denim
RAW denim
An unwashed form of denim to make clothes. A fabric that remains unstable after dying. It contains chlorine and a pumice stone. This wear can last long and no need to wash often. Usually, it's one color and can be difficult to put on as it is stiff.
COLOR DYED denim
This fabric has a touch of multicolor like mustard, green, gray, red, pink, etc. because it bears Sulphur dye. So, it looks fashionable and likely to be liked by all generations especially women as they like colorful attire.
SELVAGE denim
Selvage denim refers to the term 'self-finished'. This denim indicates the terminal of the fabric. It can be multicolor, it's well known for twist quality, dyeing method, quality control, and design. Even if we put on normal jeans we're interested to give them a selvage touch. It has a better grasp over other denim for its overall quality parameter.
COTTON denim
Cotton denim is made of cotton worn in spring and summer seasons as it's less heavy and cool to wear which is fiber that comes from cotton tress, like soft being used in multinomial activities. Being used in jeans, shorts, pants, etc.
CRUSHED denim
By the name of it, this denim gives a touch of the ridge and is washable. This denim provides one a better fashionable look and such denim remains creased post washing too so there is no need to worry about its quality and weave system.
ECRU denim
Ecru denim symbolizes the term 'without pigment'. It can be white, cream, light gray, or brown color. It is cool, casual, and comfortable wear. One can design ecru with suede, shirt, t-shirt, etc. As its most common color indicates white it can be preferred by men to have it as common attire.
BULL denim
Its density is quite rich as its 3/1 measurement. It's famous for doing house design, made of fully coarse yarn, easy to clean, more resistance power.
TWILL WEAVE denim
Twill has weave fabric wrapped by threads, famous for jeans, chinos, furniture, and what's not! The blending of cotton and polyester is unique in its nature. We all know khaki pants which are one example of twill weave denim.
SANFORIZED denim
Denim that is diminished by 10% after the first wash is recognized as sanforized denim.
ROMIE COTTON denim
Provide shiny touch on the desired fabric, a mixture of 55% ramie,27% cotton,17% polyester, and 1% spandex gets better than linen.
Types of Denim based on the structure
Stretch Denim
This stretch comes from Lycra, elastane is the main element of stretch denim. Stretch clothes are well known for dancers because denim, can perform well, adding it is quite flexible to fit in different shapes of the body, like jeggings or skinny jeans. To take the best use of it recommended to wash and dry properly.
Selvage denim
A bit costly due to its fabrication and suggested to wear maximum time before washing it. People can hope to get 3-10% curving from their selvage pair. Denim containing fully cotton one can iron the jeans though it contains less productive efficiency. Its durability is fantastic and can be worn for a long time as it's made of weave despite its drawback is to fade away soon but in the context of being stand out, it got a better shot of all denim.
Coated denim
Now the gorgeous one, which leather pants may not be your casual attire like above but it has got royalty on its back. Such as for example denim shirts, black skinnies, court shoes, and blazers, One can try out these available options. To wash it, try wax or freezer cleaning.
What is Denim | Different Types of Denim