Types of Color Fastness Tests of Fabric In the Textile Industry
When it comes to textiles and clothing, the vibrancy and longevity of color are paramount. Nobody wants their favorite shirt to fade after just a few washes or their curtains to lose their luster from exposure to sunlight. This is where color fastness testing plays a crucial role. In this article, we will explore what color fastness testing is, why it is important, and how it is conducted. Here I present a comprehensive article on the Types of Color Fastness Tests of Textile Fabric, the testing method, and a detailed testing description.
AATCC has developed three scales that help visual comparison between the original color and color change and /or staining of the test specimen. These scales are gray scales for color change and staining and chromatic transference scales.
What is Color Fastness?
Color fastness test refers to the ability of a textile material, such as fabric, to retain its color when exposed to various environmental factors like water, light, rubbing, and perspiration. Essentially, it measures how well a fabric can resist fading, bleeding, or transferring its color under different conditions.
Why are Color Fastness Tests Important?
Customer Satisfaction: For consumers, color-fast fabrics are a mark of quality. Nobody wants clothes that lose their vibrant colors or have dye stains on their skin after a day of wear.
Durability: Color fastness is directly related to the longevity of textiles. A fabric that maintains its color is likely to last longer and remain visually appealing over time.
Cost Efficiency: For manufacturers, ensuring color fastness saves money. By producing fabrics that meet color fastness standards, they reduce the risk of costly returns and customer complaints.
Regulatory Compliance: In many countries, there are regulations and standards in place that dictate the minimum color fastness requirements for textiles, especially those used in items like children's clothing or home furnishings.
What are the Types of Color Fastness Tests done on Fabric in the Textile Industry?
Colorfastness to Washing
Colorfastness to Dry Cleaning
Colorfastness to Light
Colorfastness to Crocking
Colorfastness to Perspiration
Colorfastness to Abrasion
Colorfastness to Heat: Hot-pressing
Colorfastness to Burnt gas Fumes
Colorfastness to Ozone
Colorfastness test on seawater
Colorfastness to chlorinated water
Colorfastness to hot pressing
Colourfastness to dry cleaning
Colorfastness to heat treatments
Colorfastness to bleaching agents
Colorfastness to atmospheric contaminants
Colorfastness to potting
Colorfastness to democratizing
Colorfastness to steaming
Colorfastness to milling
Color Fastness to dye Bleeding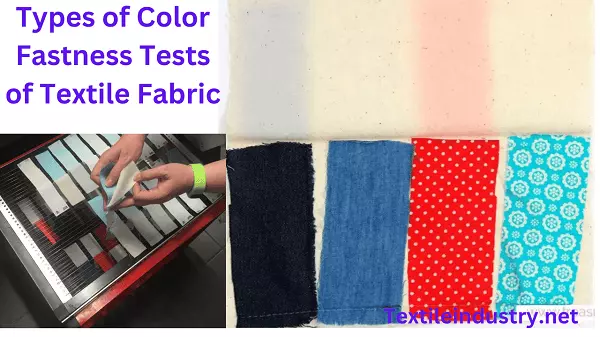 1. Colorfastness to Washing
The instrument used in this test method is called the Launderometer. A piece of multi-fiber fabric is attached to a test specimen of the size 5 X 10 cm. This specimen is then put in a steel jar filled with soap solution and several tiny steel balls. This jar is then placed in the launderometer which can accommodate up to 20 jars, one specimen per jar. These jars are then rotated for 45 minutes to create agitation action. Then the specimens are removed from the jars, rinsed under running water, and allowed to dry. Then the staining of the multifiber fabric is rated using either the grayscale for staining or the chromatic transparence scale, and the change in the original color /shade of the specimen is rated using the gray scale for color change. The rating should not be worse than class 3 or 4.
2. Colorfastness to Dry Cleaning
This test is done in the same way as colorfastness to washing, except that instead of using soap solution, a dry cleaning solution (perchloroethylene ) is used. Perchloroethylene is used in this test because It is as extensively used as the Stoddard solvent (petroleum solvent) in commercial dry-cleaning in the United States and It is more severe in solvent action than the Stoddard solvent. A color unaffected by perchloroethylene will not be affected by petroleum solvents, whereas the converse is not always true. If it is necessary to evaluate the effect of water spotting, solvent spotting, and steam pressing which are normally associated with commercial dry-cleaning, then it is best to send the fabric or garment for one or more repeated dry-cleaning. Then evaluate this sample compared to the original, non-dry-cleaned sample
3. Colorfastness to Light
The resistance to degradation of fabric dyes and prints due to light is an important requirement of a garment. The assessment of fastness to light necessitates the use of reference standards. Whether the exposure is made in actual sunlight or by accelerated means of utilizing an artificial light source. The test instrument used in the colorfastness of light test is called the Fadeometer and/or arthrometer. This instrument uses, as a light source, either a carbon or Xenon arc lamp. Artificial light Source: Consistent and speedy results but light source should simulate the effect of the natural Sunlight.
Carbon arc is stronger in the ultraviolet region and would be expected to produce a greater effect on colored Textiles, whereas Xenon arc exposure generally correlates more closely with sunlight.
4. Colorfastness to Crocking
The test is designed to determine the degree of color that may transfer from the surface of colored textiles to other surfaces by rubbing. A colored test specimen fastened to the base of a Crock meter is rubbed with a white test cloth and is assessed by comparison with the AATCC chromatic transference scale or grayscale for staining. Wet and dry both colorfastness to crocking are tested.
5. Colorfastness to Perspiration
A specimen of colored textile 6 X 6 cm is wet with a simulated perspiration solution, subjected to a fixed mechanical pressure in contact with a piece of multifiber test fabric, also wet with the simulated perspiration solution, and allowed to dry slowly at a slightly elevated temperature for 6 hours. The test specimen is evaluated for color change and staining on the multifiber test fabric with the help of the AATCC gray scale.
6. Colorfastness to Abrasion
Frosting is a change of color in a fabric caused by localized abrasive wear. It may be the result of differential wear, as in multicomponent blends in which the fibers do not match in shade, or of the abrasion of single-fiber construction in which there is variation in or incomplete penetration of dyestuff. There are two methods.
The Emery method: Suitable for color change over a long period of time. The test specimen is mounted over a diaphragm inflated under controlled air pressure and rubbed multidirectional against an emery abradant surface mounted on a weighted head for a specific number of rubs for a specified time. Any change in the color of the specimen is evaluated by comparison with the gray scale for color change.
The Screen wire method: Suitable for color change over a short period of time. The test specimen is mounted over a foam rubber cushion and rubbed multidirectionally against a wire screen mounted on a weighted head for a specific number of rubs or for a specified time. Any change in the color of the specimen is evaluated by comparison with the gray scale for color change.
7. Colorfastness to Heat: Hot-pressing
Many disperse dyes, since they have no strong ionic group, exhibit a significant vapor pressure and, when exposed to sufficient heat, will go from solid to gas without passing through a liquid phase. If a fabric dyed with dispersed dye is exposed to high temperature, the dye may sublime and the dye vapor may be absorbed by adjacent fibers. This test method is intended for determining the resistance of the color of textiles of all kinds and in forms to color change and color transfer.
The test method is intended for determining the resistance of color of textiles of all kinds and in all forms to color change and color transfer when subjected to hot pressing. Tests are given for hot pressing when a fabric is dry damp and wet. The textile end-use usually determines which tests should be conducted.
8. Colorfastness to Burnt gas Fumes
For assessing the resistance of color of textiles of all kinds and in all forms to fading when exposed to atmospheric nitrogen, as derived from the combustion of illuminating or heating gas. This test should also be performed after laundering or dry cleaning the sample to check any effect laundering or dry cleaning may have had on its resistance to fading.
9. Colorfastness to Ozone
This method is intended to determine the resistance of the color of all kinds of textiles to the action of ozone in the atmosphere. Fabrics are exposed to ozone in a test chamber at a specified temperature and humidity. Humidity is a definite factor in the rate of color change with ozone, either of the following two conditions may be used.
1. Ambient room temperature, and RH 65%
2.40degree +/- 4 degree and 85 +/- 5% RH
Rating should not be worse than 4
10. Colour fastness test to Seawater
We all love to swim and bathe in the sea. Seawater can cause bleeding in some fabrics. This test assesses how well a fabric retains its color when exposed to seawater.
Conclusion
There are also 20 different Types of Color Fastness Tests for Textile Fabric. Colorfastness tests are an essential part of the textile industry, ensuring that fabrics meet quality standards and customer expectations. By subjecting fabrics to rigorous testing, manufacturers can guarantee that their products maintain their color and quality over time. This not only satisfies consumers but also contributes to the overall durability and longevity of textile products.
Types of Color Fastness Tests of Textile Fabric