Textile Testing of Different Stages: Fiber, Yarn, Fabric, and Garments test
Testing is a process or method through which materials are checked and verified. Any testing is a quality control process for a material. Evaluating the quality of an object by some standard/ method of ISO, ASTM, AATCC, or any other test method. It can be a strength test, performance test, or chemical and physical properties test. This content is about Textile Testing of Fiber, Yarn, Fabric, and Garments.
Textile Testing
Textile is a broad term that has textile fiber, Yarn, Fabrics, and apparel (garments/clothing). Textile testing is a process by which physical, mechanical and chemical properties tests are carried out on textile fiber, yarn, fabrics, and even on garments. For example, different properties tests of fiber, yarn, fabric strength test, fabric performance test, Rubbing Test, Color Fastness Test, Blasting Test, etc. Generally, these tests are done as per the buyer's requirement. Textile Testing is on different stages of textile materials from fiber to Clothing, here explained all stages one by one. Hope you would love this to read. Today we will know about the various tests that are done in the textile and apparel industry.
Different Textile Testing of Fiber, Yarn, Fabric, and Garments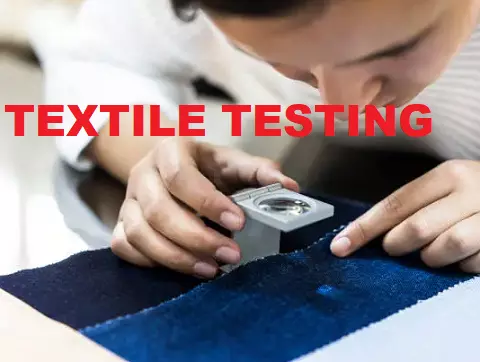 Textile Fiber and Yarn Tests
Identification of fiber
Grading
Fiber length
Strength and elongation; tensile properties
The fineness or linear density test
Maturity test
Trash, neps test, etc.
Yarn count or linear density
Twist per unit length
Strength and elongation i.e. tensile properties
Appearance
Evenness and regularity
Hairiness
Chemical Test of Fabric and Apparel
pH test
Formaldehyde spot test
Nickel spot test
Formaldehyde content
Colorfastness to washing
Colorfastness to water
Colorfastness to perspiration
Colorfastness to saliva
Colorfastness to ozone
Colorfastness to dry cleaning
Colorfastness to seawater
Colorfastness to chlorine / non-chlorine bleach
Fiber content
Phenolic yolks– If a lot of fabric is left for a long time, the fabric lot becomes yellow, usually this problem is seen when the fabric of the lot is left for a long time. So this test is done on the fabric lot and if it passes this test the fabric lot stays good for many days.
Die transfer to storage Chlorinated pool water
Colorfastness test of Fabric and Apparel
Washing fastness test
Perspiration (Acid & Alkali) Fastness Test
Saliva fastness test
Rubbing (Dry & Oil) Fastness Test– This test is done to find out whether the fabric is colored due to friction. This test is done under two conditions. For example: wet and dry. The reason for the test is to know whether the color of the fabric comes out by friction when the fabric is wet and dry. This is respectively called wet dry rubbing test.
Water fastness test
Light fastness test
Organic Solvent Fastness Test
Ozone Fastness Test
Sea Water Fastness Test
Chlorinated water fastness test
Dry cleaning fastness test
Dry heat fastness test
Hot pressing fastness test
Alkali spotting fastness test
Felonious yoling
Bleaching
Chlorine bleaching
Non-chlorine bleaching
Actual laundering
Effect of heat test
Seed variation
Acid spotting
Water spotting
Dimensional Stability (Shrinkage) & Related Tests of Fabric and Apparel
Dimensional stability to washing
Dimensional stability to dry cleaning
Dimensional stability to ironing
Dimensional stability to a free stream
Dimensional stability to felting
Dimensional stability to relaxation
Appearance after laundering
Appearance after dry cleaning
Skewing of Fabric & Garments
Measurement of Bow & Skewness
Durability Wash of Garments
Garment cleaning
Care Label Variation
Care label recommendations
Strength Test of Yarn and Fabric
Tensile strength test
Single thread or yarn strength
Seam performance
Tear strength
Bonding Strength
Tenacity of yarn
Fabric Performance Test
Abrasion resistant
Peeling resistant-The friction of the fabric with the fabric causes the small fibers of the fabric to stick together and form small lumps, called pilling. As a result of this pilling, the quality of the fabric deteriorates, and the buyer does not want to take it because of the poor quality. So, this test is done as per the requirement of the customer.
Water resistant
Fabric stuffiness
Well repellency
Swell release
Bursting strength test
Air permeability test
Water vapor permeability
Winkle or crease recovery
Stretch & Recovery
Winking
Absorbency of Textiles
Water repellency test
Flammability test
Accessories Test of Apparel
Appearance after storage
Resistance to ironing
Zipper Strength
Zipper durability
Zipper operability
Sharing Strength of Hook & Loop Fasteners
Peeling Strength of Hook & Loop Fasteners
Unknapping of Knap Fasteners
Security of metallic buttons, rivets etc.
Security Off Button Nap
Strength of Button
Resistance to wash liquor
Button tension, torque & impact test
Small parts attachment
Button & Zipper Toxicity
Chain cross-wise test of a zipper
Element slippage strength
Element Pool of Strength
Open-end fastener box test
Some test is for garment form only, and cannot be done in the fabric stage.
CPSIA testing
Size fitting test by dummy
Mechanical Hazard/Sharp edges/ small part
Restricted substances Lists (RSL) test
Finally, Textile Testing is on different stages of textile materials from fiber to Clothing, here explained all stages one by one. Hope you would love this to read.
Textile Testing: Fiber, Yarn, Fabric, and Garments test