There is a long manufacturing flow in the export garments manufacturing industry, so various types of departments in the Apparel manufacturing industry have very specific functions in every department.
---
Different Departments of Apparel Industry
1. Human Resource (HR) & Compliance Department
2. Marketing & Merchandising Department
3. Store/Warehouse Department
4. CAD and Pattern Department
5. Design Department
6. Sample Department
7. Quality Control Department
8. Industrial Engineering (IE) Department
9. Supply chain Management
10. Planning Department
11. Production Department
12. Maintenance Department
13. Washing Section
14. Embroidery Department
15. Printing department
16. Commercial Department
17. Accounts and Finance Department
18. IT Department
19. MIS (Management Information System) Department.
Functions of the Different Departments in the Apparel Industry:
Hereunder department-wise job functions are described briefly.
Human Resource (HR) & Compliance
The Human Resources Department is a big part of improving efficiency in the industry. The human resources department deals with several rules, employees' legal rights, laws, and acts to consider, such as the Fair Labor Standards Act, abuse and sexual harassment, anti-discrimination laws, employee's salary, manpower recruitment, and many more. The human resource method is to select the right man in the right place. HRM defines the organization's intentions and plans on how its business goals should be achieved through people. It is based on three propositions: firstly, human capital is a major source of competitive advantage; secondly, it is people who implement the strategic plan & third, a systematic approach should be adapted to define where the organization wants to reach and how it should get there. Key functions of HR are: –
a) Recruitment and Hiring the right people for the right job at the right salary
b) Maintaining a safe workplace and environment for all employees
c) Ensure employee compensation and benefits
d) Handling all disciplinary actions
e) Training and Development
f) Maintaining company culture
Marketing & Merchandising
The main duty of the department is to collect buyers. And then try to negotiate with them about a new order. As the buyers are highly concerned about the fabric they test the sample and deal with the sample testing price and time of shipment. Actually, the responsibilities & duties of a marketing officer begin with getting an order from a buyer & end after receiving the order sheet from the buyer. So, he should be always smart, energetic & sincere.
Key Function of Merchandising: –
a) Development of new garment styles and samples and execution of the same
b) Garment costing based on the order
c) Arrangement of raw materials, accessories, and trims for the execution of an order
d) Production scheduling
e) Approval of patterns and various samples
f) Follow up on preproduction activities
g) Coordinating with inspection agencies
h) Production controlling
i)       Identification of bottlenecks in the process and materials and resolving the same
j) Monitoring of in-house production activities as well as follow-up of subcontract work given outside
k) Reporting the progress of orders to the buyer as well as top management
l) Maintenance of proper records for individual garment styles
m) Ensuring constant production rate by taking preventive as well as corrective actions
Store/Warehouse Department
The defined place where keep all raw materials is called Store or Warehouse garments manufacturing industry. Finished and packed garments are stored in designated racks in the warehouse and are transported to the buyer. Many warehouses have started using robotics to maintain their warehouses. This department usually maintains a book for issuing packing lists – they register details like date, time, lot no., color, quantity, shipping location, etc. There are two types of stores in the garments manufacturing industry, one is Trims and Accessories Store and one is Fabrics Store. The store is the central warehouse for the storage of fabrics and trims required for production. Stores will take care of fabric lots received from the vendor as per the standard procedures. When the fabric is received from the supplier, it is usually received along with an invoice that contains the order reference number and the buyer's name. The fabric rolls/trims boxes are then cross-checked for quantity. The paperwork is followed by stacking the raw material into designated racks in the store.
CAD and Pattern Department
CAD system is mainly for pattern making, grading, and marker making. Most companies use GERBER software for this system; computers, plotters, and a digitizer for using this system. This department is key to the success of a factory. It is equipped with the task of making optimum marker plans for the spreading and cutting department with the help of the patterns received from the pattern-making department. Nowadays, this department uses popular software solutions for effective marker planning.
Design Department
The main task of the design department is to develop products, developing design products category-wise. It is the component that makes a brand and subsequently a garment unique. It positions a brand into the desired market segment. This team is expected to spot trends and analyze the market in order to plan upcoming collections at least two seasons in advance.
Sample Department/ Product development department
This department looks after total factory operation in terms of orders receives through the desired quality of the sample. It has a number of sections namely sample planning, Sample Store, Sample Cutting, Sample Sewing, Sample Finishing, and maintenance section. Each section has several responsibilities. A sample is the prototype or model of the garment, upon which the buyer can decide on how and whether to confirm the order or not. The sample department also known as the product development department has a big contribution to the business expansion of the Company. Doing all types of sampling tasks and getting approval from buying a house is the key function of the sample department. The sample department is full of young energetic people. They have fresh blood to chase continuous improvement, sampling, organizing, and maintaining the overall system. Normally each team member's responsibilities are defined buyer-wise with spontaneous areas of improvement. So they eagerly fulfill their responsibilities and thrive towards success.
Quality Control Department
Quality is an asset that may be offered to the potential customer of a product. There are two aspects of quality that contribute to the ultimate quality of a product. Quality of design is the first aspect which depends on the type of materials used specs specified by the buyer method of production known of the design and skill level of the person. Quality department ensure
Key factors of Garments Quality Control:
a) Proper reporting
b) Strict Materials inspection
c) Approved trim card
d) Keeping pattern log, library, and evaluation report
e) Calibrate machine, process, and manpower
f) Follow SOP and Keep version names
g) Visualize quality tools, samples, and metrics
h) Process audit or AQL inspection
i) Keeping packing approval
j) Zero defects station
k) Review quality results and take corrective action
l) Training and evaluating QC
m) Internal pre-final Audit before Final Inspection
Industrial Engineering (IE) Department
The responsibility of the Industrial Engineering department is to determine the most effective ways to create a product or service in a production line. Their work includes analysis of the sewing method and process, machine, and supervision of the production floor for efficiency improvement. They are also working on preparing the layout, operation bulletin, SMV calculation, trim & accessories consumption, line setting & blanching, capacity study, production study, hourly production report follow-up, etc. Main activity of this department is to reduce effort and cost and improve the environment. Along with it the following activities are done by the IE department, such as SAM, Efficiency, Capacity calculation, Account the production, Reducing the effort of production, Method improvement, WIP control, Line Balancing, Making operation bulletin, etc. The industrial engineering department is strong with the use of modern technology.  This department uses ERP software in a few factories to make any kind of visual reporting and data accuracy. The central team is using logic software to prepare the required operation bulletin and machine breakdown summary. This system helps to prepare standard minute values with accuracy Key functions of the Industrial Engineering (IE) Department:
a) SMV calculation and costing
b) Making operation Bulletin
c) Time and Motion study
d) Capacity study and set the target
e) Increase productivity
f) Process improvement
Supply Chain Management
Supply Chain Management (SCM) is a process of planning, implementing, and controlling the operations of the supply chain for the scope of proper and maximum utilization of human resources that has become easy and wide. Satisfying customer requirements as efficiently as possible. Supply chain management measures all the movement and storage of raw materials, work-in-process inventory, and finished goods. Though there is the management of the supply chain in every section, also there is a separate department called 'Central Planning & Co-Ordination' or 'Central supply Chain' (It varies from factory to factory) to maintain the overall process flow. The central supply team is managed by the deputy general manager and his team. The responsibilities of this team are given below:
a) Manage the overall flow of materials from one unit to another.
b) Rule over unit planning team to ensure the best plan for on-time delivery.
c) Subcontracting of any orders whenever there is a capacity gap.
d) Capacity declaration through considering resources.
e) Integration between merchandising, planning, production & internal SCM team.
f) Knitting, Dyeing, Sewing, shipping & logistics overall supply chain smoothing through integration, reporting & follow-up management by T&A.
g) Avoid the bullwhip effect by proper plan & action.
Planning Department
Production planning means planning of production to make sure on-time shipment. Planning demands a careful and exhaustive study of co-ordinate and related activities which are necessarily performed by a host of different departmental groups. The planning department starts the task after getting the order and ensures every necessary thing is ready to produce garments and continues to follow up every process till shipment. The objectives of planning are capacity utilization and on-time shipment as per buyer demand.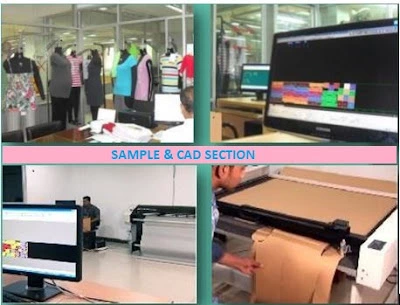 Production Department
One of the most important departments is production in the garments manufacturing industry. Their role is to produce products as per buyer order maintaining the right delivery date. There is 3 section under the production department in the garments industry, which are the cutting, sewing, and finishing section.
Cutting Section
This involves the pre-production process of separating a spread into garment parts that are of precise size and shape of the pattern pieces on a marker. The cutting process also involves transferring marks and notches from the marker to the garment parts to assist operators in sewing. This section is responsible for optimizing fabric usage in order to enhance consumption and profit while reducing waste. It should be noted that excess cutting which results in smaller than required pieces cannot be undone.
Sewing Section
The functioning of this sewing department is quite crucial in the garment industry. This is the place where actual production takes place where several parts are brought together to form a garment with the help of specialized and automated machines.
Finishing Section
It is vital in maintaining the presentation of a garment once it has been assembled in sewing. The machinery range varies by the product type being manufactured in the plant. It usually contains equipment for pressing specific high visibility parts of a garment, for stain removal- touch up, and also carries out packaging for required presentation
Maintenance Department
The responsibilities of the maintenance department are to develop a preventive maintenance schedule, check the machine according to this schedule, and confirm whether the machine is OK or not. If it's not OK, replace or repair it. After that, they collected the paper layout from the IE department, checked the machine quantity and types, and arranged all the machines on the line according to the paper layout. Also, work on any difficult problem solve quickly during machine operation time. It is essential for the smooth operation of a plant, yet many factories do not have a dedicated team for maintenance. This department deals with routine machine maintenance, utility equipment maintenance, and breakdown correction. Preventive maintenance schedules can be implemented the prevention of breakdowns and failures.
Washing Section
Washing is a process that is done in both denim and non-denim garments for increasing its value. It also makes the garment comfortable for the users. Denim without washing is not always user-friendly. Washing also increases the outlook of denim garments. So we can say that washing added extra value in the denim world.
Embroidery Department
Embroidery is a decorative process of a garment, it holds charge of the value addition process, with the help of semi/fully automated machinery. A dedicated department may or may not be available in a factory, it can be outsourced depending on the order requirement.
Printing Department
Color on a garment can be obtained from different methods, one of these is on-garment printing. In this, the printing procedure is carried out after the garment is sewn. For example, the digital/screen printing of a t-shirt.
Commercial Department
The commercial department prepares and executes all the shipping documents (packing list, commercial invoice, Proforma invoice- PI, etc.) of finished garments and import documents of Trims- Accessories, and Fabrics. The commercial department also does custom bond-related tasks, Freight Forwarder management, and all other banking-related tasks of export and import. This department holds the responsibility to retain old and attract buyers for the industry as well as position our capabilities in the market such that they gain visibility.
Accounts and Finance Department
The production of a garment involves the above-mentioned processes and requires raw material, machinery, transportation, power, wages for workers, etc. for the same. The procurement of all these requires financial investment which is overlooked by this department. They also work out the cost and profit margin in an order.
IT Department
IT department is responsible for managing & Maintaining all types of digital devices like Network systems, Servers, Laptop computers, Desktop computers, Printers, Scanner, Photocopier, CCTV systems, Attendance machines, Online meetings Applications, IPBX System of the apparel industry. It is responding in a timely manner to service issues and requests and provides technical support across the company.
Management Information System (MIS)
MIS is a very important department to keep organized and proper reporting system in the Garments industry. MIS is responsible for managing the proper information system of employers through information technology.
There are also some other supporting sections or departments in the Apparel industry, which vary from industry to industry. These are the purchase or procurement department, Compliance department, security & safety department, MIS Department, Data entry (Payroll) department, training and development, QMS department, Electronic Data Processing (EDP), Customer service department, etc.
Different Departments of Apparel Industry and their Functions