The sewing department works on first receiving planning sheets from the planning department, receiving cutting Pcs fabrics from the cutting department, and setting up the layout according to the instructions of the Industrial Engineering department. The sewing department converts fabric into cloth or garments through different sewing machines and different sewing processes. So, the sewing department is the king department in the apparel industry. The main department in the garments industry is sewing.
In the apparel industry, we call the sewing department as sewing section. Then continue sewing according to the mockup. In the sewing line, quality inspector inspection is the critical point in the line, and at the end of the line, 100% inspection of the body. If any part of the body rejects from the body, then it is kept on the red basket, oil sport keeps on the yellow basket, and the altered body keeps on the green basket. Only the altered body sends the line and the oil sports body sends the oil sport removal room. After the end of the quality inspection, body count and bundle, and if the wash is required, send the body to the wash; otherwise, send it to the finishing department.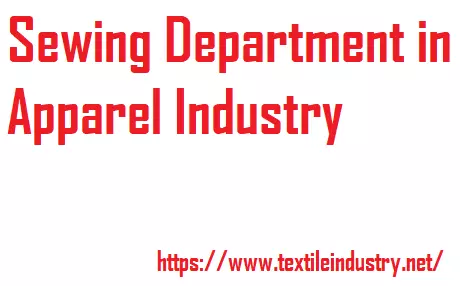 The flow chart of the sewing department is as below:
Receiving cut panel→ Line feeding →Line balancing→ Sewing according to Mockup→ Add care label, shade label→ 100% line inspection→ Continue the sewing process by process→ Thread trimming→ 100% QC inspection of full garments→ QC Pass→ shade wise Bundling → Send goods to washing/ Finishing
Functions of the Sewing department
Collect input material from the cutting section and feed it to the sewing line.
Sew the process of the full garment by process as per line layout and operation bulletin.
Ensure correct sewing thread, label, and shade during process work.
Responsible for all sewing operations in a garment.
Fill up daily production targets as per planning and report.
Responsible for completing all sewing processes and sending to next process washing/ finishing.
100% quality inspection before moving from this department.
Operator by operator efficiency increases and overall productivity improvement.
Follow up on every individual sewing process maintaining good quality.
Handover sewing output garments to the next section.
Taking care overall sewing department and being responsible for this department.
Sewing quality Control
In the sewing section, the quality inspector checks the critical point and critical measurement according to the buyer's approval sample. If the quality is not OK, then take corrective action. Then they are lot audit and body ready for finishing. Generally, quality control of sewing is divided into 4/5 areas, they are front part, back part, garments assembly, waistband sewing/ Sleeve top stitch, and output garments inspection. If the sewing section quality is good in any department, then garments quality is good.
The sewing quality control flow chart is here, you can see: Sewing line input receive → In-line Inspection→ 100% end line inspection→ Critical Measurement→ Output inspection → Lot inspection
Sewing Department in Apparel Industry