Sewing Thread Consumption
Sewing thread consumption is required to know for any apparel industry. Thread consumption is the amount the thread needed for operation at a certain length. So that merchandiser can budget the thread amount against any order. There are different types of stitches used in apparel, and each stitch consumption differs from the other. Factors of thread consumption and you need to know these things to do thread consumption:
Stitching consumption in a certain length of every process.
The number of threads used per process.
Stitching length of every process of shirts.
And keep wastage 5%.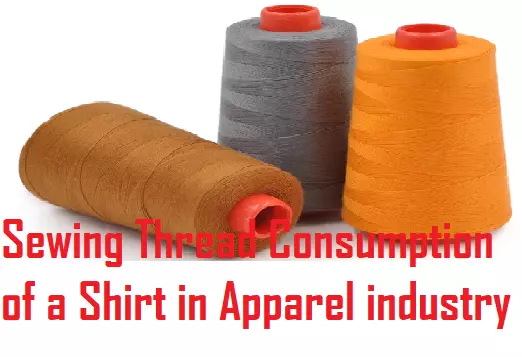 Sewing Thread Consumption of a Shirt– Process stitching consumption/cm
| | | |
| --- | --- | --- |
| Sl.No | Name of the Machine and stitch | Consumption/ CM |
| 1 | Single needle lock stitch (SNLS) | 2.5 CM |
| 2 | Double-needle lock stitch (DNLS) | 5 CM |
| 3 | Feed of the arm (F.O.A) | 14 CM |
| 4 | 3 Thread over lock (3th O/L ) | 17 CM |
| 5 | 5 Thread over lock (5th o/l) | 22 CM |
| 6 | KANSAI | 14 CM |
| 7 | Single needle chain stitch (SNCS) | 7 CM |
| 8 | Double needle chain stitch (DNCS) | 14 CM |
| 9 | Bar tack m/c (BTM) | 24 CM |
| 10 | Button stitch m/c (BSM) | 8/ per hole CM |
| 11 | 4 Thread over lock (4th o/l) | 19 CM |
| 12 | Hole stitch m/c (HSM) | 24 CM |
| 13 | Lap seam | 6 CM |
| 14 | Flat lock | 16 CM |
| 15 | Flat lock (Zig Zag) | 19 CM |
Process-wise Sewing Thread Consumption of a Shirt
| | | | | | |
| --- | --- | --- | --- | --- | --- |
| SL. NO. | PROCESS NAME | MACHINE TYPE | LENGTH (CM) | Consumption/ CM | TOTAL LENGTH (CM) |
| 1 | Collar Make | SNLS(V.M) | 66.5 | 2.5 | 166.25 |
| 2 | Collar Make T/S | SNLS | 63.5 | 2.5 | 158.75 |
| 3 | Band rolling | SNLS | 54 | 2.5 | 135 |
| 4 | Band Join | SNLS(V.M) | 55.5 | 2.5 | 138.75 |
| 5 | Band T/S | SNLS | 46 | 2.5 | 115 |
| 6 | Main lbl | SNLS | 18 | 2.5 | 45 |
| 7 | Back Yoke Join | SNLS | 55 | 2.5 | 137.5 |
| 8 | Back Yoke T/S | SNCS | 55 | 7 | 385 |
| 9 | Pair Tuck | SNLS | 10 | 2.5 | 25 |
| 10 | BTN Placket | SNLS | 78 | 2.5 | 195 |
| 11 | Box Placket | Kansai | 78 | 14 | 1092 |
| 12 | Pkt rolling | SNCS | 16 | 7 | 112 |
| 13 | Pkt join | SNLS | 45 | 2.5 | 112.5 |
| 14 | Bartack | BTM | 3 | 24 | 72 |
| 15 | Front Join | SNLS | 42 | 2.5 | 105 |
| 16 | Shoulder T/S | SNLS | 42 | 2.5 | 105 |
| 17 | SLV Join | 5 th o/l | 132 | 22 | 2904 |
| 18 | A.H.T/S | SNCS | 132 | 7 | 924 |
| 19 | Collar Join | SNLS | 54 | 2.5 | 135 |
| 20 | Collar join T/S | SNLS | 69 | 2.5 | 172.5 |
| 21 | Care lbl | SNLS | 10 | 2.5 | 25 |
| 22 | Side Join | F.O.A | 128 | 14 | 1792 |
| 23 | Slv rolling | SNLS | 90 | 2.5 | 225 |
| 24 | Hem | SNLS | 143 | 2.5 | 357.5 |
| 25 | Hole Stitch | HSM | 10.5 | 24 | 252 |
| 26 | BTN Stitch | BSM | 7 | 32 | 224 |
| | | | | Total Consumption | 10110.75 |
| Thread | Order quantity | Cutting quantity | Length 20% allowance (m) | Cone length | No. of Cone |
| 40/2 | 154500 | 162225 | 121.33 | 4000 | 4920.65 |
Sewing Thread Consumption of a Shirt in Apparel industry