An embroidery machine is an important thing as its function is very important. Selecting the best embroidery machine from a list of hundreds of models and brands is never an easy task. You need to keep a lot of factors in mind or else you will end up buying a machine that does not even fulfill your requirements. So, I have gathered the list of factors that will help you determine the worth of any embroidery machine. So, that your investment can be fruitful.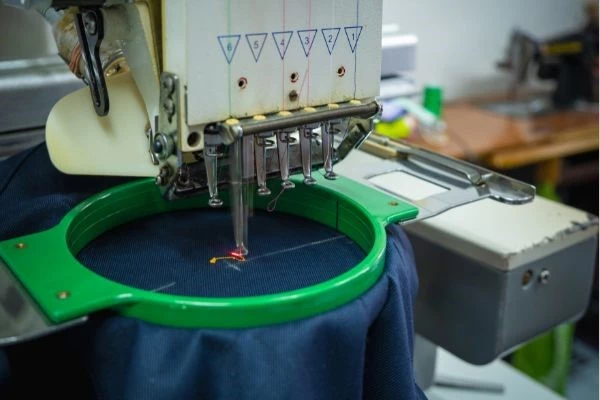 Factors to Consider before buying Embroidery Machine
Following are the important factors that will lead to perfect selection;
Ease of Use
The most important factor is the ease of use. If you are a beginner and do not know how to play with a sewing machine, you much consider buying a machine whose operations are simple and easy to use. However, if you are an expert then you might be able to handle every type of embroidery machine.
Hoop
Embroidery hoops can be expensive if purchased separately. So, look for the machine which offers more embroidery hoops. Or at least the machine comes with enough hoops that can fulfill your requirements.
Brand
Never go for new brands. Always look for a brand that has been manufacturing sewing or embroidery machine for decades. Usually, older brands provide better quality and durable products. Focus on some embroidery machine manufacturing brands to buy.
Machine Usage
Before buying consider your requirements for the machine and how will you use it in the future. If you are looking embroidery machine for commercial purposes then the machine is designed for home-usage. Similarly, a machine designed specifically for monograms won't help you work on hats. And production capacity is a big factor to find out whether the machine would be helpful for your business or not.
Embroidery Field Size
This feature is important if you need a machine for commercial purposes. Because industrial work requires embroidery in a variety of sizes. So, make sure that the embroidery field area is large enough to fulfill your requirement. It is better to buy a machine with more area than to buy a machine with less area because you can do embroidery on any size using a large area of field size.
Accessories
An embroidery machine with all accessories like a presser foot must be preferred. Although you can buy accessories separately, there are some models whose accessories are very difficult to find in the market. And without any proper accessories, your machine will be useless.
Embroidery Software​
Most embroidery machines come with built-in embroidery software. So, you do not have to worry about this feature. However, if your machine does not have proper embroidery software, then you can easily get one from the internet.
Warranty​
Warranty is really important, not only for the embroidery machine but for all the electronic devices. As it secures your investment. Even though you buy a machine from a trustworthy brand, there is little chance that the machine is faulty. So, you can easily claim a warranty and get a refund.
Multi-Needle Embroidery Machines
​Multi-needle embroidery machines have an aggregate of 4 to 10 needles, every one of which will in general hold down its string shading. This can be very tedious. It is currently observed that a significant number of architects have changed from single to multi-needle machines as innovation inside the style of business has begun to become enormous.
Embroidery and Sewing Machine
When looking for an embroidery machine for home use, it is better to get a combo of sewing and embroidery machine. It will be budget-friendly and will not require much space in a home. In short, you could easily use one machine for multiple purposes.
Check out Local Stores
Purchasing electric machines from local stores is way better than buying online. As you can test the machine yourself before purchasing. In addition to this, local machines can be a lot cheaper than branded machines. If you have a low budget then you can also get used to sewing and embroidery machines from local stores and tailors.
Conclusion
Even though you keep these factors in mind, your requirements and expectations from the machine are still most important. If an embroidery machine does not meet your requirement then it is totally worthless. After buying the machine you have unlocked a way to creativity and art. You can test your skill on the machine. Most of the machines come with a complete guide to use them. Always read that before working on the machine. I believe this article would help you to know about how to choose an embroidery Machine.
How to Choose an Embroidery Machine