Sewing Machine
A sewing machine is used to join two or more plies of fabric together by stitching and an operator needs to operate the sewing machine to produce stitching. There are many different types of sewing machines used in the apparel industry for different purposes. All sewing machines are run by electrical power, manual sewing machines are used at home only and do not need electricity to run. Modern sewing machine produces high speed with many others features. As stitching has variation machine types wise, there are many different types of sewing machines used in the garments industry. You will see almost 40 types of sewing machines used all over the world.
---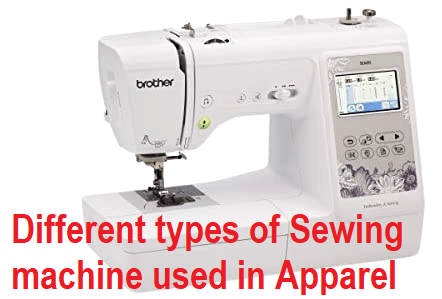 Types of Sewing Machines
1. Manually operated sewing Machine
The machine which not needed electrical power to run is a manually operated sewing machine. Manually operated sewing machines are cheaper than electrical sewing Machines. And speed and production are less than electrical sewing machines. Manually operated sewing machines are used in the home for personal clothing tasks. A manual sewing machine is used for functioning a few limited sewing works.
2. Electrically operated sewing Machine
Electrical sewing machines are industrial sewing used in the apparel industry, higher speed modern sewing machines have computerized control panels that enable to make a thousand stitches per minute, very much useful for mass production. Modern electrical sewing machines have so many features like auto thread tension, auto thread trimming, feed-dog adjustment, etc.
List of different types of Sewing machines used in Apparel industry
Single Needle Lock Stitch machine (Plain machine)
Double-needle lockstitch machine
Three thread Over Lock Machine
Four thread overlock machine
Five thread overlock machine
Six thread Over Lock Machine
Flatlock machine
Two Needle Vertical machine
Single needle Chain stitch machine
Two-needle chain stitch machine
Kansai machine
The feed of the arm
Saddle stitch binding sewing machine
Bar tack machine
Velcro attach machine
Velcro automatic cutting machine
Buttonhole machine
Button stitch machine
Eyelet hole machine
Snap button attach machine
Zigzag machine
Label cutter machine
APW sewing machine
Label sewing machine ( Pattern sewing machine)
Rectangular Sewing machines
Embroidery sewing machine
Automatic 2-needle Belt-loop Attaching Machine
Decorative Stitch Machine
Cover stitch machine
Round hole machine
Fed of the arm (Double chain stitch m/c with three needles),
Interlock machine (twine needle, 5- thread overlock machine)
Lap seaming m/c (for back tape attaching),
Zigzag sewing m/c (one needle
Linking machine
Top and bottom cover stitch flatbed machine
Button covering stitch belt loop making m/c (Kansai m/c)
Bias tape-cutting machine
Blind stitch Machine
Over-edge Machine.
Different Types of sewing machines used in Apparel industry