Cloth is a basic need of human beings. Can you imagine that a man cannot live without wearing a dress or cloth, a sewing machine is used to stitch two or more ply of fabric in order to make a cloth. A sewing machine uses to make cloth by sewing fabrics part together. Modern sewing machines are computerized control panel systems. This article is about Industrial sewing machine Parts Repair, Maintenance, Servicing, Troubleshooting; Problems and solutions/ remedies, and a brief discussion on the history of a sewing machine. Here I present Sewing Machine Maintenance Checklist and Technical Adjustments.
History of sewing machine
Sewing machines have a long history from their invention to the development stage, its modification to the computer-controlled modern electrical sewing machine and sewing machines have reached automation. Sewing companies are still giving their best effort to add automation by reducing human help. British Inventor Thomas Saint first designed a sewing machine in 1791 to be used on leather and canvas. Sewing machine development started in 1807, the first sewing machine was presented by an Austrian tailor, Josef Madersperger in 1817. Lock stitch the sewing machine was invented by Walter Hunt in 1833, used an eye-pointed needle carrying the upper thread and a shuttle carrying the lower thread. In 1945, Elias Howe patented his sewing machine, using a similar method to Hunt's, except fabrics were held vertically. There are many developments that include inventions in this era. I am not going to write complete sewing machine history; this article is not about sewing machine history too.
Types of sewing machines
1. Electrical operated sewing machine (industrial)
2. Manual operating Sewing machine

Electrical operated sewing machine
All Sewing machines which is operated by electrical power, are used in clothing factories as industrial sewing machine with many automatic functions. Different types of sewing machines are used in the Clothing industry, all are electrically operated sewing machines.
Manual operating Sewing machine
The sewing machine which is run by physical power and no electricity supplies are needed is called a manually operated sewing machine. These types of sewing machines are used in tailoring dressmaking and homemade clothing. These sewing machines are not used in any industrial garment manufacturing.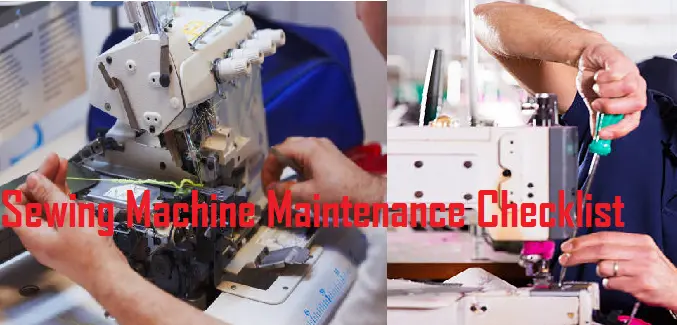 Sewing Machine Maintenance and Servicing
There are many Maintenance tasks for the sewing machine when its service is out of order. Works among repairing are Cleaning, greasing, and Lubricating machine parts; ensuring proper electric safety and supply in sewing, and adjustment of all mechanisms (gear, motor, Sensors) functioning well. The basics of Sewing machine Repair are cleaning it out, parts replacement from old to new, rethreading the machine and Checking your needle and thread.
Sewing machine performance, fitness, and good product quality depend on the sewing maintenance of the sewing machine. Maintenance actions are tasks for retaining, fixing, or restoring an item in a state in which it can perform its required function by the combination of all technical administration, managerial, and supervising actions. Regular maintenance of the sewing machine is Tension spring check; Take up spring check, Bobbin case spring checking, Thread wiper check, Oil level/ oil leak check, and Needle plate/ fee dog check. Sewing machine basic Maintenance is cleaning, oiling, correct threading, needle adjustment, proper thread tension adjustment, stitch length adjustment, placement of fabric under pressure foot, and folder adjustment. Proper Timing and tension are the keys to sewing machine fitness. Maintenance equipment is a small and large screwdriver, adjustable wrench, hammer, cleaning brush, etc.
Sewing Machine Maintenance Checklist
1. Air device
2. Trimmer device
3. Super tension post takes up spring
4. Needle bar, bush and clam condition
5. Needle plate condition
6. Feed dog in condition
7. Winder condition
8. Rotary hook or loopers
9. Oil level/ oil filter condition
10. Machine table in good condition
11. Cleaning and blowing
12. The lubricant in equipment (oil and grease cut)
13. Main shaft, connecting rod, bearing condition
14. Machine head has to be balanced with the base plate
15. Knife slide
16. Power on/ off switch
17. Motor and control box condition
18. Abnormal sound Connecting rod and crosshead

Technical Adjustment of a Sewing machine
1. Basic Machine Practice
2. Technical Specification
3. Installation of needle
4. Needle bar height adjustment
5. Main looper timing
6. Main looper timing
7. Puller adjustment
8. Needle Guard Adjustment
9. Looper Guard adjustment
10. Feed Dog height adjustment
11. Stitch Length Adjustment
12. Spreader Looper Adjustment
13. Stitch Length Adjustment
14. Feed Dog height adjustment
15. Cam Timing (Thread)
16. Needle and looper guard adjustment
17. Needle Bar height adjustment
18. Hook Set Timing clearance
19. Thread trimming or scissors timing adjustment
20. Knife Adjustment and change
21. Panel Programming
Finally, This article will give a clear idea of the sewing machine maintenance checklist. If you have any questions, please put them in the comment box.
Sewing Machine Maintenance Checklist and Technical Adjustments