Fabric is an important and basic element in clothing and fashion. We cannot imagine the world of human Beings with fabric in the era. The fabric has to go through many processes and tests up to the finishing process. There are many types of fabric used for various purposes. Textile and Apparel merchandisers spent a huge time behind fabric sourcing. To make a cloth, first, you need to get needed a specific fabric. Then the cakewalk does a clothing business order. This article is about the details of the Fabric specification sheet.
The fabric specification sheet has the details of the fabric from the technical aspect. It included the fiber origin, the weaving process, design, weight, finishing type, and all fabric testing applications. A long list is there as a fabric parameter in the spec sheet. Knowing fabric specifications is important for a fabric merchandiser, fabric technologist, and anyone related to fabric sourcing. The fabric spec sheet is a very important document in the textile industry. Here we're sharing the Fabric specification sheet template below.
Quality Parameters considered in Fabric Specification Sheet
Name of Fabric
Thickness
Fiber content
Yarn Type
Density (GSM)
Weight (oz/yd2)
Purity Level (SiO2 content)
Total Width
Finished useable width
Warp Count (PCS/CM)
Fill Count (PCS/CM)
Weave type
Finished type
Resin Applied
Dielectric Constant
Loss Factor
Insulation Strength
Resistivity
Thermal Expansion Coefficient
Specific Heat
Thermal Conductivity
Textile Applied Expoxy
Reinforced Expoxy
PTFE Resin
Filament Nominal Diameter
Nominal Linar DensityθTexχ
Nominal Twist(T/m)
Dimensional Stability
Colorfastness to Laundering
Crocking; Wet and dry
Perspiration
Abrasion resistance
Break strength.
Tear strength
Seam slippage
Colorfastness to light
Flammability*
PH Value
Twisting direction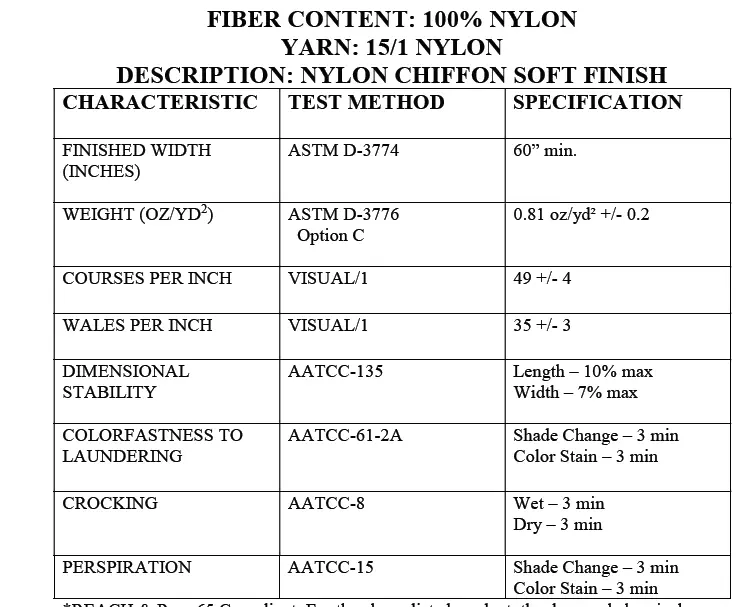 Example of a Fabric Specification Sheet
| | |
| --- | --- |
| Fabric NAME | Quartz fabric |
| Thickness | 0.2mm |
| Density (GSM) | 216±13 |
| Purity Level (SiO2 content) | ≥99.99 % |
| Width | 100cm |
| Warp Count (PCS/CM) | 16 |
| Fill Count (PCS/CM) | 14 |
| Weave | TWILL |
| Resin Applied | EPOXY |
| Dielectric Constant | 3.78 |
| Loss Factor | 0.0002 |
| Insulation Strength | 5×10⁷V/m |
| Resistivity | 1×10¹⁸Ω.cm /1×10⁶Ω•cm (20℃/1000℃) |
| Thermal Expansion Coefficient | 5.5×10-7cm/cm•℃ (20℃-320℃χ |
| Specific Heat | 670J/kg•℃ (20°C) |
| Thermal Conductivity | 1.4W/m•℃ (20°C) |
| Textile Applied Expoxy | 1.0% |
| Reinforced Expoxy | 1.0% |
| PTFE Resin | 4-6% |
| Filament Nominal Diameter | 7-12μm |
| Nominal Linar DensityθTexχ | 13.5~2400 (Hollow Yarn 51~600) |
| Nominal Twist(T/m) | 50~130 (Hollow Yarn 50~75) |
This is just an example, these are the factors considered in the Fabric specification sheet.
You may love to read: Specification Sheet in Garments Industry
What is Fabric Specification Sheet?