A final inspection is a process of measuring, examining, testing, or otherwise comparing the unit of product with the requirement. All final inspection Inspectors had been provided complete guidelines, standards, and specifications including packaging and assortment instructions by the buyer. Audit results are reviewed by supervisors, in order to determine the causes of defects, as well as the process weaknesses allowing defective garments to be proceeded undetected throughout the process. The Independent QA team needs to conduct audits in the garments industry of all shipments effectively to verify compliance with Workmanship, measurement, Packaging, Labeling, and Assortment requirement. It should be proceeded daily and made rectification accordingly. The inspection should have proceeded independently to make sure all aspects of the garments are correct, including style, color, workmanship, and size. So final quality inspection is very important for the garments industry.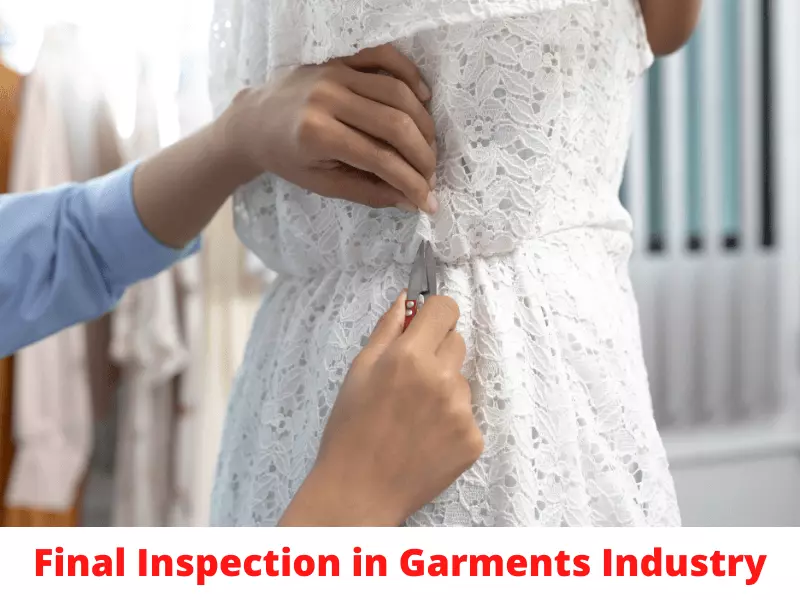 Who does the Final inspection in a Garments industry
2nd party inspection- Buyer QC : For the garments industry, buyers themselves appoint their own QC inspector for doing a final quality inspection. Most of the garment buyers arrange to send their own QC inspector for doing a final inspection.
3rd party inspection- Hire by the buyer: Some garments buyer hires a 3rd party inspection team for doing a final inspection for those who do not have their own QC inspector. Here 3rd party inspection does independent inspection on behalf of the garments buyer.
1st party inspection- factory inspection team: In some special cases some factories get approval to do a final inspection by some assigned inspection team. A team of factories called GPQ also helps customer QC during the final inspection.
Necessary items for Final inspection
During the final audit, need to ensure all the necessary samples and standards which include the approved sample, original washing standard, first batch approval, shade band, trim card, spec sheet, PO sheet, and all required garment test reports are in hand. For final inspection, the garments manufacturer arranges a dedicated inspection room. And requirements for the final audit room must have to be maintained.
How to do a final inspection in a garments industry:
Packing List verification
The first step is to get the packing list merchandising team and verify all quantity is already packed. And the labeling and serial numbers of cartons should also be checked and assured.
Sampling process
Almost all the buyer does AQL audit in a final inspection, very few buyers do 100% inspection. The acceptable level is according to the information of each brand label requirement, set accept/reject level. The level is set by the customer or product brand. At first, randomly select cartons across colors and sizes from the packing list can pick with all colorways and all sizes. Check the packaging details.
Initial Check Points and Packing inspection
Check the carton marking. Check the gross weight and carton dimension to meet the specification. Check the folding method, polybag details, hangtag, and label to meet the specification. Packing error is very critical, one mistake may end the inspection and call for rejection.
Workmanship Inspection
At first, one product can be checked with an approved sample and QC file to ensure the product matched with sample and QC file requirements. And then to check shade by shade band, nowadays garments shade appearance is a big factor for quality. Other checking parameters under workmanship are washing effect, construction, styling, trims, printing & embroidery, stitching details, etc. All stitching placement and stitching errors are arrested in an inspection.
Measurement / fits inspection
Like the workmanship inspection, measurement inspection is more important as well. Because any consumer buys any garment by seeing its size. So measurement out of specification is a definite non-conformance for the garments industry. Product-wise points of measurement set buyer and measurement tolerances are also followed. Key measuring points to be measured during an inspection.
Inspection Result Final Call
Inspection results should also be physically shared with factory management; evidence must have to share if there is any rejection. If the inspection is passed as per the system, then no needs to share any evidence.
Reporting
A final inspection report is an important document and it is working as an inspection certificate (IC). Reporting system varies buyer to buyer, developed software to enter data of final inspection.
Further Action if any inspection fails as per buyer requirement
Whenever rejection, instruct the factory to make the rectification, mark all the details with their follow-up action into the report completely, and arrange the re-audit. Some customers penalize vendors for every final inspection rejection. The penalty might be cutting some money from a payment. As delivery is also very important to a factory and commercial team, audit rejection delays the delivery of garments.
A final quality inspection is an important part of any garments industry, without having a clearance of final inspection, a garments factory is not allowed to ship out a single product to the buyer/customer.
Final Inspection in Garments Industry