What is the QC file in the garments industry?
QC file is the combination of QC needed items like trim card, spec sheet/ tech pack, and PO sheet. QC file is something that is needed for the quality and production department, especially for the quality department to verify all quality parameters ensured in all stages of garments manufacturing. QC file is necessary for starting anything for bulk production. A QC file has a trim card, spec sheet, and PO sheet. In one word, the necessary supporting document needed to handle a full export order quality is the QC file.
---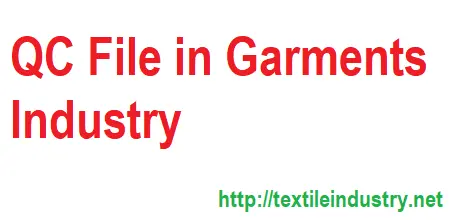 Who provides and when do we need the QC file?
Garments merchandiser is responsible to provide the QC file; QC file must have to submit before the size set sampling. As the size set sampling is the 1st stage before going for bulk production, the QC file has all the related information for making size set samples. So without a QC file, no work starts in the garments industry; which is such an important thing in garments industry.
What are items in the QC file and a short description of them:
1. Trim card or garments Swatch card
A Trim card is a Swatch card that has to be approved by buying house merchandisers. After bringing all necessary items in-house, the factory merchandiser makes a trim card for sending to buying house.
2. Garments spec sheet or PDM
The specification sheet is technical data and has all necessary technical data like BOM sheet, stitching, measurement, folding, packing, and other related data. The spec sheet also has all types of trims and accessories specifications.
3. PO sheet (Purchase order sheet).
PO sheet is a purchase order sheet, issued by the buyer. All order-related information is mentioned there. You can read more about the PO sheet here
Use of QC file in different sections:
Fabrics and Trims Warehouse
Here need a trim card is needed for an exact match of fabric, trims, and accessories items. And Spec sheet has details of size, length, and other information.
Patten and CAD section
For checking finished products measurement specification and list of sizes applicable for specific PO.
Cutting section
Trim card to check fabric to cutting cut the correct fabric. PO sheet to check size-wise order and maintain cutting accordingly.
Sewing section
Trim card used for checking thread and label; sometimes fabric as well to ensure cutting did no wrong.
Finishing section
Finishing cannot be run without a QC file. All labeling stickers and their placement are mentioned in the spec sheet and trim card to match all stickers matched with the exact requirements.
GPQ/ Buying House QC
As these persons are the ultimate decider for outgoing quality control of the garments industry. Buying house QC check and verify everything in the Final quality inspection.
QC file in Garments industry