Production Planning in Textile industry
Not only in the apparel industry, but planning is also necessary for any textile industry like dyeing, printing, and fabric manufacturing. A planning department is responsible for the capacity study, planning, execution, and on-time delivery. The production planning and control department has to play an important role in the dyeing and printing industry to execute orders up to delivery to customers.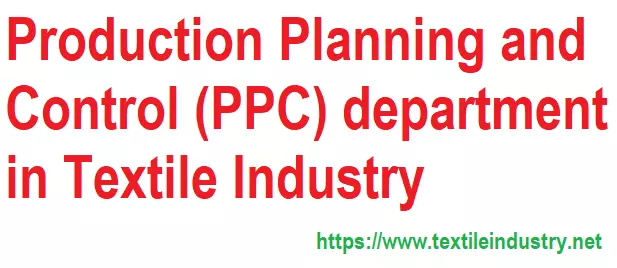 ---
Functions of Production Planning and Control (PPC) department in Textile Industry:
Making Capacity VS Loading Chart Maintain the industrial capacity for up to 30 days.
Making TNA Chart (Time & Action Chart).
Making Batch/TR Plan as per shipment date or Buyer urgency.
Update daily ready batch report for smooth.
Making Machine Wise Dyeing Plan based on the TNA chart.
Receive work orders from the merchandiser and responsible for Buyer wise work order planning
Follow-up approval or c/s submitted shade for every new style and season.
Contact with marketing/merchandising department for approval issue.
Follow up yarn and fabric lot for every new style.
New yarn lot fabrics are submitted lab for re-check in the case of new style and season.
Everyday physical checking Every Process on the floor & then making WIP.
Making Target VS Actual Production Report.
Maintain required database and prepare required reports and presentations.
Coordinate with fabric planning, knitting planning, garments planning, cutting & Sample section for smooth dyeing production.
Follow up with the customer regarding On-time delivery and update production report to customer from time to time.
To circulate monthly plan & forecast of export, continuous follow up on production performances and drive towards scheduled shipments follow up & giving best effort to hit OTD (On-time delivery).
Necessary Qualification and skills of a production planner:
Academic qualification: Bachelor in Textile Engineering preferable or minimum graduated in any discipline.
Software skills: MS Office, Excel, Powerpoint, Planning software, such as Sample manager, ERP, Oracle, Fast React Systems & TMS.
Good communication & group collaboration learning through customer handling.
Good leadership & good communication skills learned from different club activities.
Flexible with Multi-task with proper time management.
Solving software-related issues for worldwide customers.
Should be Positive, Adaptive, Proactive, Energetic, Sincere, Team worker, Punctual, Productive, Innovative, Strategic, Collaborative.
Functions of Production Planning and Control (PPC) department in Textile Industry