How to Calculate Fabric Shrinkage Percentage in the Textile and Apparel Industry
A fabric shrinkage test is a procedure used to determine the extent to which a fabric will shrink after washing or other forms of wet processing. It involves measuring the dimensions of the fabric before and after the washing process and calculating the percentage of shrinkage. This test helps garment manufacturers understand how much a fabric changes in size or dimension, allowing them to make appropriate adjustments in pattern making or care instructions. Here I present How to Calculate Fabric Shrinkage Percentage in the Textile and Apparel industry.
It is a measuring the percentage of dimensional change a fabric undergoes after being exposed to various conditions such as washing, drying, or steaming. This test helps manufacturers determine how much fabric will shrink, ensuring they can adjust patterns and production processes accordingly to maintain the desired garment size and fit. The Shrinkage Rate testing calculation comes in percentage results.
Why do we need to Calculate Fabric Shrinkage?
Fabric shrinkage test is an important quality control measure in the Textile and garments industry. Fabric shrink after the washing process. The washing process of garments is after the sewing; so if you don't know the shrinkage percentage, you will never able to meet finished garments measurement specification. Based shrinkage calculation garments pattern set, cut accordingly keeping shrinkage allowance.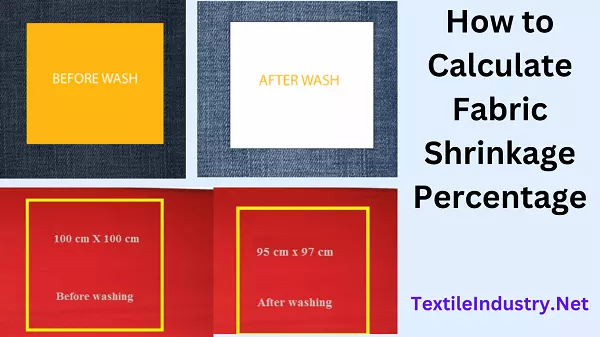 Steps of Fabric Shrinkage Calculation
To calculate fabric shrinkage, follow these steps:
Measure the fabric before washing or any treatment; this process has to do by cutting fabric Length *Width: 25*25 cm, 50*50 or 100*100 cm. It depends one the cutomer Gudieline or SOP.
Wash the fabric according to the washing process of respective farbics (e.g., machine wash, hand wash, cold/warm water, etc.).
Once the fabric is washed, allow it to air dry or use a dryer, depending on the care instructions. Generally, it could be 6-12 hours.
Measure the fabric again after it's dried completely. Measuring in the both Length and width wise.
Suppose a Fabric cut piece length and width was 50 and 50. After wash length become 48 cm, and width 48.5 cm: so here we go the calculation below:
Fabric Shrinkage Calculation Formula: Shrinkage percentage = ((Before wash Measurement – After wash measurement) / Before wash measurement) x 100
Length Shrinkage= (50 – 48)/50*100 = 4%
Width Shrinkage= (50 – 48.5)/50*100 = 3%
Conclushion
In order to get the accurate dimension and to avoid rejection finished garments, the proper fabric shrinakage calculation is very necessary. The most sensative Pattern correction happen based on shirinkage data in agrments industry. Thats all on How to Calculate Fabric Shrinkage Percentage in Apparel industry.
How to Calculate Fabric Shrinkage Percentage in Apparel