A Story of Getting a Job in the Textile Industry as a Newcomer of Textile Engineer
Nowadays getting a job is quite difficult if you are a newcomer and of course, you don't have any work experience & maximum company's first requirement is work experience. And you don't have any lobbying also. So, why authority will hire you? Here I am going to share A Story of Getting a Job in the Textile Industry as a Newcomer of Textile Engineer.
At first, we need to build ourselves from the initial stage of our graduation. When I was a student I did many computer basis courses like MS Office Program, Graphics Designing, Video Editing, Web Designing and I did another govt. certificate course which was database programming. Which helps me a lot to get a job.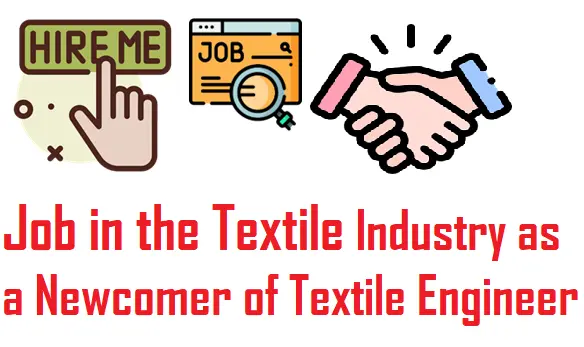 After graduation, I & my friend make our CV but it's not right, now we understand that everyone should make their CV in their study period. My friend only has known about MS Office Program at that time. Though we apply lots of companies through email we didn't get any response. Then we opened a BDjobs account. We hope this time we will have a call but we didn't. Then we discuss this topic. What's the matter? Why we don't have any response? We have enough results to get a job.
We even don't find our faults at all. That would be a discussion. We were quite depressed & lost our confidence day by day. Then look up what is happening. After then we start finding our lacking. We start with our CV. My friend collects the CV of her relatives who already working in the textile industry. We compared our CV with this CV and we got a huge gap on our CV where we can make a huge modification of our information which is enough for it. Then we add some information that helps us to make an efficient resume to get a job.
We added some of our major subjects and textile-related subjects where we have a good idea of these subjects. We redesigned our resume with a simple structure which is also quite attractive cause maximum people like simplicity. And then we worked on our BDjobs account, where we completed our profile 100%, and every week we updated our profile with a little modification. And of course, here profile picture makes the profile more attractive so we did add the most recent and elegant, decent pictures of ours. Sometimes each week we just change our profile pictures. And then we add our video resume which was a great option to express yourself.
After then we got many responses and we got a job, without any thinking we just join. Which were great mistakes. Cause after joining our job we got the better opportunity we got a call from a top high group of industry. After joining a marketing section for 3 months I quit. Cause I thought these experiences were not fruitful for me. In the same way, my friend thought like this and she was also quiet. Cause as we are textile engineers, we want to serve in the textile industry.
After quieting this job, we perform many interviews that increase our confidence level. So, my advice to everyone is to participate in every interview and try to know about your lacking and build up yourself according to job requirements.
After then we interview at another multinational textile industry and quite easily, we got our jobs as Management Trainee Officers (MTO) at the Department of Knitting. As an MTO we are getting all the knowledge of textile and at the same time, it is quite satisfying to do this job as a textile engineering student, because we are on our track and which is related to our study basis.
Getting a job is difficult if you don't have the right skills, enough confidence about yourself and don't know about the related knowledge about your subjects, etc. and at the same time most difficult to continue a job for a certain long time which is most important. Initially, in the textile industry, we need to have the mindset we'll do our best and less our expectations and we'll get our fruitful results at the right time and we need to be patient very much.
Hope we become clear on the Job in the Textile Industry as a Newcomer of Textile Engineer.
Written By:
Nusrat Zahan
MTO at Consumer Knitex Ltd.
PGD-Garment Business, IBA, DU
B. Sc. in Textile Engineering, STEC, DU
Job in the Textile Industry as a Newcomer of Textile Engineer