Production Manager (PM)
A production manager (PM) is one of the key people and is very much responsible in the textile and apparel industry. Responsible for all activities from cutting to shipment & coordinate with all other departments like Cutting, CAD, Sewing, washing, Finishing, Packing, Maintenance, Merchandising, and Store team for the smooth operation of production. PM has the main role find out the best possible productivity from the factory. A production manager works under the general manager and leads all operational staff. So, PM is a big name in the apparel industry. This article is about the Responsibilities of a Production Manager (PM) in the Apparel Industry.
A production floor is huge with a larger number of workmen and staff in textile and apparel, all he has to manage. PM has to solve all production-related difficulties and take immediate action against every problem that occurs. A PM controls the overall production process throughout the factory. He develops and trains the whole production team to achieve up to the mark. Let's see some job descriptions for a production manager.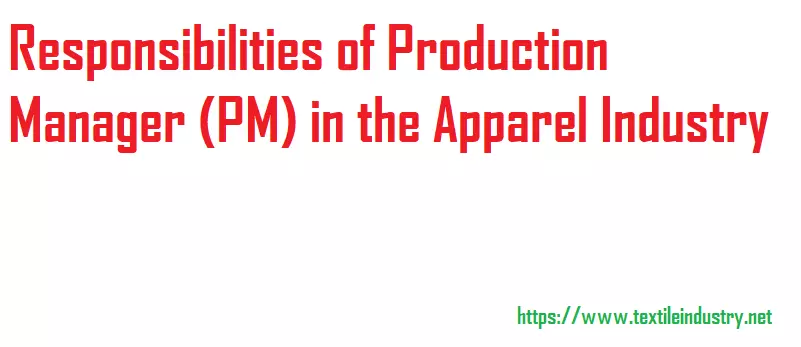 Job Responsibilities of a Production Manager (PM) in Apparel
Handling all types of production issues, section by section coordination, and especially focusing on the sewing and finishing section.
Dealing with garment mills, vendors, buyer QC, and laundries for product improvement and taking on-site training to related partners to accomplish the wash approval process and standard.
Work closely with the production team from the development stage in order to foresee production bottlenecks and quality problems. And troubleshoot them.
Flowing supplier's final piece-by-piece garment checks and ensures conformity with the buyer quality requirements and checks the level of garments being prepared for QCC 1 checks.
Laundry evaluations, making reports and upgrading them as per company standards and SOPs.
Upgrade the technical data sheet and work on different projects and present those to stakeholder's timely manner.
Controlling the audit assessment process of the washing units.
Make risk analysis of new wash effects in order to foresee potential problems. Work on an alternative solution on recipes/work methods/suppliers in order to achieve the best wash results within the best quality/lead-time/price.
Prepare a schedule and plan the daily work for the wet and dry process and delegate the work depending on the workload and priority requirements.
Conduct Pre-production meetings with merchandising team, Buyer representative, and QA department to take over the job as per the style.
Effective follow-up on materials inventory, production process, quality standards & team performance & Finlay making sure that product and procedures are on time and of good quality.
Responsible for bulk approval, bulk production, coordination, and sampling.
To lead the whole production and manufacturing process.
Day-to-day production plan to meet customer delivery date, implement and focus on customer requirements.
Finally, we have given our best to put everything a production manager does. And, if you feel anything missing here, you can add it in the comment box.
In addition, You may Love to read:
Responsibilities of Production Manager (PM) in the Apparel Industry