Store Manager
The store/ Warehouse manager is the highest authority in a warehouse in the Textile and apparel industry.  The store room is supposed to be organized, clean, and with the identification of all materials. The warehouse manager is responsible for storage activity as well as the logistic issue taking care of receiving and dispatching. He is following up on the incoming materials delivery status with the merchandiser. Dispatching is loading goods in a container or cargo for shipping out, the warehouse manager is responsible for that also. Here we are going to discuss the Responsibilities of the Warehouse or Store Manager in the Garments Industry. It is a very vital task being warehouse manager in garments having full responsibility full store room. So, the warehouse manager is responsible for raw materials storage and finished goods storage.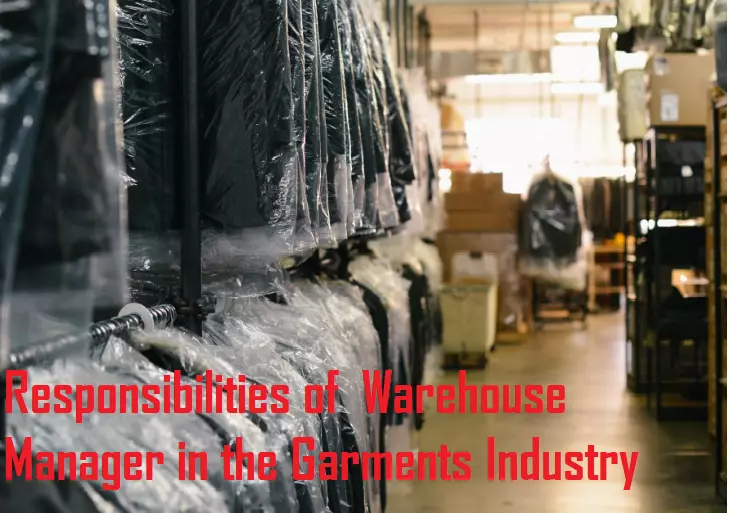 Responsibilities of Store Manager in the Garments Industry
Manage inventory management system conforming to standard warehouse practice (Bar Code, FIFO, re-order triggers, etc.) and apply new warehouse technologies to minimize errors and improve operational cGMP warehouse facility.
Manage to receive, packaging, and shipment system for both products and materials and monitor commercial inventory reports for quantity, lot status, and expiration dates.
Received the approved PO (materials) physically from the suppliers& issues them for Civil, Electrical, Power connection, and HDD projects regularly.
Coordinate with the merchandising, sample department, Quality, and Production team to include the new and revised raw materials in the system.
Ensure the integrity of the Bill of Materials (BOM), PO, and inventory accuracy at all times and manage and control inventory levels and movements.
Take ownership of material planning issues that arise, including over or under delivery, and take any follow-up actions, especially in the event of material shortages that affect production.
All loading and unloading for incoming and outgoing material.
Daily update inventory data to respective merchandisers and management.
Keeping PO-wise material database. And, raw material in PO-wise in the store room.
The job of Store Manager
Store Manager job is available in the textile and garments industry. Because the store is a vital part of the garments industry. Only you need to have experience of handling store.
Responsibilities of Warehouse Store Manager in the Garments Industry