QMS Audit
An audit is performed on the QMS requirement of the respective customer. QMS audit is a technical audit that proves a company's capability in quality control, and quality assurance, and complies with the SOP. Here is a QMS audit guideline on which things factors to audit. An auditor performs the audit for the customer based on a QMS guideline or requirement; initially, a meeting takes place to inform how the audit will happen, and a closing meeting after the audit. The closing meeting is about to describe what are the findings and suggestions to improve for the next audit. And, Audit report is to be published officially and the vendor gets an opportunity to close non-conformance in a certain time. Here we have given QMS audit guidelines about documents needed to show during the QMS audit.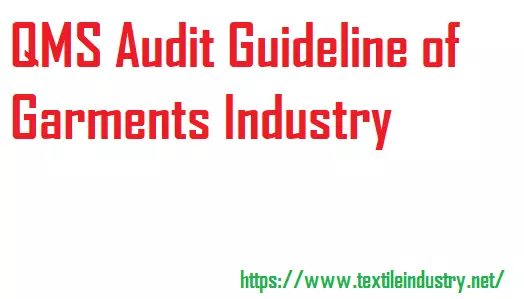 Documents Need for QMS Audit
1. Factory business License, Trade License, Fire License, and other legal documents
2. Boiler License, operation procedure
3. Boiler Operator Competency Certificate.
4. Drinking Water Test Report from any authorized party.
5. ETP and WTP Waste Water Test Report. Internal pH test Report. (If applicable)
6.   Wsatage disposal policy. Product Withdrawal & Recall Procedure.
7. Glass & Hard Clear Plastic breakage procedure. Glass & Hard Clear Plastic Control records.
8. Customer complaint handling procedure and corrective action.
9. Pest Control report and certificate. Signed Pest control Action report including chemical use, Evidence of Paste, work completed, observation and recommendation & Follow up visit record. The license of the service provider from the govt.
10.   Master file- Trim card – Inventory Report, accessories Inspection report, PP Meeting record, Final report, fit comments including PP meeting records with respective customer personnel
11. Proto sample, Red seal & Green seal sample.
12.     Chemical, Yarn, and fabric lab test report and warehouse storage system of them.
13.      Critical path analysis for running order & advanced production plan (Including all sections) with relevant department head signature. 
14.      Spreading control and cut panel measurements.
15. Supplier Selection, Monitoring, and Approval written Procedure.
16. Supplier Selection/ Approval Record and Supplier monitoring record.
17.      Raw materials, trims, and accessories sourcing policy.
18.      Restricted substance list (RSL) code of practice and MSDS of chemicals.
19.      Sharp and broken tools control procedure.
20. Contract deeds with a vehicle service provider (both material transport and staff) with driver's license, fitness certificate & legal documents.
21. Calibration list of equipment and calibration certificate (Washing machine, Dryer, Crock meter, Data color, Metal detector, Fusing Machine, Pull test machine, Lightbox & Measuring Equipment).
22. Calibration matrix and Internal Calibration (weight balance, measurement tape) Register.
23. Children products risk Assessment procedure.
24. Documented children's product risk assessment with product risk assessments form.
25. Training record of metal detector operator by machine Supplier Company.
26. Training record of needle controller and metal detector operator. Also training record of QC personnel and poly packer.
27. New worker list and new workers' job-specific training records.
28. Metal detector service record by a supplier or approved supplier engineer.
29. Waste management procedure and disposal records.
30. Environment policy & internal environment audit report.
31. Health & Safety policy and management review record on Health & Safety policy.
32. Dyes and chemical manufacturer/ supplier list.
33. PPE / Chemical Handling Training Record. Chemical safety risk assessment.
34.      Disposal record of non-conforming stocks (Customer labeled product) and disposal procedure.
35. Quality policy, manual & organizational structure chart.
36. Corrective & Preventive Action taken based on production fault
37. Preventive Machine Maintenance Program for all machines/ equipment with a record of maintenance work.
38.      Quality improvement report and data. And tracking of last 6 months.
39. Broken needle /sharp tools control policy and procedure.
40. Mail or parcel check record with metal objects disposal box at the security post.
41. ETI base code. Last ethical audit report.
42.   Fire safety plan, training, and rescue team.
43. 7-point Inspection. (In bond & out bond).
44. Overall quality and production KPI report.
45. Job description from quality and production head to bottom level.
46. Section-wise escalation procedure and implementation.
47. A complete quality goal and quality manual which includes everything of quality.
48. Final inspection procedure and a system to ensure customers get good quality products.
QMS Audit Guideline of Garments Industry