What is synthetic fiber?
Synthetic fibers are fibers made by humans through chemical synthesis as opposed to natural fibers that are directly made from living organisms. These fibers are made from synthesized polymers of tiny molecules the compounds that are used to create these fibers come from raw materials.
Synthetic fiber is manmade fiber regenerated by different chemical processes, not like natural fiber. It is made by different processes to make. Some Synthetic fibers are polyester, acrylic, nylon, rayon, acetate, spandex, latex, and Kevlar.
Synthetic Fiber examples
Synthetic Fiber examples are polyester, acrylic, nylon, rayon, acetate, spandex, latex, Vinyon, saran, etc. Synthetic Fiber is used in apparel, home textile, medical, construction, and many other purposes.
Synthetic Fiber Types
The synthetic fabric has basic synthetic fiber construction. Some of the synthetic fiber is described below:
Polyester
Polyester was an invention of the DuPont Company. It is currently the most popular fiber in the world. The durability and strength of polyester fabric as well as its cheapness, functionality, and easy care make it selected for most first fashion labels.
Nylon
Nylon fiber is one of the most widely used synthetic fibers. Since it was produced by DuPont as a replacement for silk. It is used in clothing, industry, home decoration, construction industry, etc. Nylon fabric is strong. This fiber is more used for its properties like abrasion resistance, flexibility, quick-drying ability, water resistance, etc.
Acrylic
Acrylic fiber is a synthetic fiber that closely resembles wool fiber. It is made as an alternative to wool. You get acrylic wool yarn that can be woven into the fabric or you can buy acrylic clothing at a fraction of the price of wool but just warm and soft. In fact, the fur you buy can be made of acrylic. Strangers can be easily fooled by their softness and similarity to wool in appearance.
Spandex
Spandex is a synthetic fiber that is highly elastic. It is made of polyurethane. Spandex is an elastic fiber. It can extend up to about 400% of its original length, recovering and returning in the same condition. It is lightweight and has the ability to remove moisture from the body. This fiber is used for flexibility such as in sportswear, exercise costumes, form-fitting clothes, swimwear, etc.
Neoprene
It is a waterproof synthetic rubber (polychloroprene) used in the garment industry. It was invented by the DuPont Company in 1930 as an alternative to natural rubber. It is latex-free, very strong, waterproof, and solvent, well, weather and abrasion-resistant. It is used to make bags, laptop sleeves, scuba suits, weight suits, and sportswear.
Olefin
Olefin fiber is a synthetic fiber made from polyolefins, such as polypropylene or polyethylene." It is not used for any garment fabric but it is widely used in home decoration, rope making, etc. as it is one of the eco-friendly fabrics in synthetic fabric which is recyclable. It is strong, lightweight, and durable and is available in many textures.
Polyester Fleece
Polyester Fleece is a double-sided pile / napped fabric made from polyester fiber. Microfiche is a very lightweight and soft synthetic knit fabric. Polyester fleece fabric has the same insulating capacity as wool, in fact, it is lighter in weight and warmer than wool. It was first created by Maiden Mills USA and marketed under the trademarks of Polar Tec and Polar Fleece.
Vinyl
Vinyl on Companies in Japan and China make vinyl on the basis of petroleum. However, North Korea has no oil reserves. Instead, it makes vinyl from two products that are abundant: coal, and limestone.
Microfiber
Microfibers are synthetic textile fibers made from the finest yarns such as acrylic, polyester, and nylon. The microfiber is 1/20 in diameter of silk fiber, the best of silk natural fibers. It is used as a material for fabric upholstery and home cleaning items. Such as microfiber muff.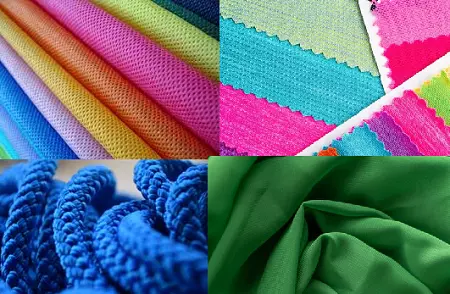 List of some very famous branded synthetic Textiles Fiber Manufacturer
Synthetic textile meaning
1. Lycra is an In vista registered trademark for very resilient spandex fabric. It is a spandex elastic fiber.
2. Gore-Tex fabric is considered one of the most waterproof fabrics. It is produced by W. L. Gore & Associates, Inc. It has a special coating made of polytetrafluoroethylene (PTFE-Teflon) on its surface which makes it waterproof but this fabric is breathable.
3. TACTEL is a very light and soft form of nylon with a crank finish made for making clothes. This fabric has high strength and durability and can be easily maintained.
4. If you are looking for fabric for making bulletproof clothes, there is no better fabric than Kevlar. It is the strongest fiber of all synthetic fibers. In fact, it is 5 times stronger than steel. It was developed in 1971 by the DuPont Company.
5. Polartech is a biodegradable polyester fabric (Polyester fleece Fabric) made from recycled plastic bottles developed by Maiden Mills, USA. Polartec is the registered brand name of this fabric.
6. Artic Fleece is a fabric developed by Men-era Mills. It is widely used in light, insulating, breathable, abrasion-resistant, easy wash and quick dry, and active outdoor clothing.
7. Registered trade name of Dacron DuPont polyester material. Terrylin [ICI], along with Dacron [DuPont], is the first commercially marketed polyester fiber in the United States. These are strong, hypoallergenic, non-absorbent, and mildew-resistant fabrics with high resistance to stretching. Highly resistant to degradation and chemical bleach.
8. Cool max is the brand name for a series of polyester fabrics created and marketed by the In vista company, "These fabrics feature moisture, quick-drying and comfort that these garments bring." This fabric is used to keep the wearers cool and dry to help, they optimize their performance at different levels.
9. Cordura is the name brand fabric of the registered brand of INVISTA Company. Corduros are one of the toughest fabrics today. It is used to make outerwear and military uniforms because of its strength, durability, and water-repellent, anti-friction properties. This fabric is made of high tensile air-jet textured nylon 6.6 filament yarn. It can also be used to blend with natural fiber.
10. Nomex is a heat-proof fabric used to make clothing for firefighters, astronauts, racing car drivers, and those in the petrochemical industry who are exposed to heat and fire. The fabric has a low level of flammability and it does not melt or drip like other synthetic fabrics and is extremely tough and durable.
11. Darlexx is the name of the registered brand of the fabric of Shawmut Corporation. This fabric is windproof, waterproof, and breathable with high tensile strength.
12. Supplex is a 100% nylon fabric developed by INVISTA that gives a cotton-like feel. This fabric offers some extra-functional properties such as anti-abrasion, breathable, dimensional stability, anti-tear, water resistance, drying quickly, color retention, and UV protection.
13. Toughtek is a brand name Toughtek, and abrasion resistance grip fabric owned by Harrison Technologies. T shows the non-slip property in wet, dry, hot, and cold conditions.
14. Dry Sports Fabric is an official trademark registered by In Sport for fabrics used to make sportswear, such as cycling jerseys. It is a double-face fabric blended with nylon on one side and polyester spandex on the other. It removes moisture and keeps the body dry and comfortable. As a result, the skin is not damp.
15. Solarmax is the fabric used to make flags and banners that the product always stays out of sunlight due to the resistance of excess ultraviolet rays. This is a 100% nylon fabric.
16. Rhinotek is a high-grade abrasion resistance water-resistant fabric coated with a Harrison Technologies patented copolymer.
17. Scholar keprotec is a group of tear-resistance and abrasion-resistant fabrics used to make protective clothing made of strong Kevlar fibers. This fabric was made for Schoeller Textile AG in Switzerland and motorcycle racing. They have other trademarked textiles like Schoeller-stretch light, high functional fabric like Schoeller.
18. Nano Care is a range of stain-resistant fabrics from non-textile textiles. The fabric is coated with a special textile finish called Nanotex that uses nanotechnology to increase the resistance to spills and stains.
19. Lurex is the registered trademark name for one type of yarn is Lurex. This yarn is made from a thin strip of aluminum sandwiched between two plastic films. The metallic sheen is used to highlight fabrics made with this yarn. The best thing about the fabric made with this yarn is that the metallic sheen doesn't fade or get dirty. Gold or silver will no longer be used to make your outfits look durable and luxurious and a part of the cost.
20. Dyneema & Xylon are the most powerful fiber dynamo is made from a combination of high-end laminated non-woven fabric composites. Xylon (PBO fiber) Synthetic fiber was invented by Toyobo Corporation. These are considered to be the strongest of all synthetic fibers.
21. Avora is the INVISTA (DuPont's new name) is a trademark name for fire flame resistant polyester fiber. It is used to make flame-resistant fabrics with durable flame resistance.
Among all synthetic fiber manufacturing companies; DuPont, In VISTA, and Lenzing are leading in the world.
Synthetic Fiber: Types, Manufacturer