Who doesn't know palazzo if you are a girl or a woman? Palazzo pants are made with cotton, chiffon, rayon, crepe, and many natural fabrics. It is extremely comfortable for formal, semi-formal, and casual wear. Women don't forget to make their wardrobe collections without these pants. In this era, there you will find a few rare women who do not like to wear a palazzo. There are different types of palazzos we see. This content is about 30 Different Types of Palazzo Pants for Women. We will give you details in this post on the most popular palazzo. So keep reading!
What Is Palazzo?
Palazzo is a women's pant that is long enough. It is designed with a loose, extremely wide leg that flares out from the waist. Palazzo is made from jerseys, silk crepe/crape, chiffon, cotton, and many others. These pants are loose, flattering, and flowing fabrics, so there are benefits of breathing in hot weather. Women mainly wear palazzo pants for both comfortable and aesthetic purposes. Like a summer season fashion, these pants are perfect for you.
Are Palazzo Pants Popular?
Yes. When you are searching for breathable, comfortable pants in summer, there is nothing as compared to the palazzo. Not just now, women have added these pants into their fashion from the 1930s. In the 1960s and 1970s, this became a popular trend for women. Famous actresses like Greta Garbo, Katharine Hepburn, and Marlene Dietrich styled palazzo as wide-legged cuffed pants.
Difference Between Palazzo Pants and Gaucho Trousers?
Palazzo pants evenly flare out from the waist to the ankle. But gaucho Pants extend only down to mid-calf length.
Difference Between Palazzo Pants and Harem Pants?
Though both pants are loose-style pants, there's a snug cuff around the ankle in harem pants. There are many other types of pants like wide-leg pants and cigarette pants. These pants are also different from palazzo pants.
List of 30 different types of Palazzo Pants 
Pleated Palazzo
Lounge Palazzo
High-Waisted Palazzo
Straight Cut Palazzo
Trouser Palazzo
Flared Palazzo
Layered Palazzo
Culottes
Slit Palazzo
High Slit Palazzo
Dhoti Palazzo
Ruffle Palazzo
Petite Printed Palazzo
Salwar Palazzo
Wrap Palazzo
Pocket Palazzo
Denim Palazzo
Skirt Palazzo
Tassel Palazzo
Tiered Palazzo
Formal Palazzo
Tie Side Palazzo
Belt Palazzo
Foldover Palazzo
Bootcut Palazzo
Bordered Palazzo
Tuck Palazzo
Sheer Palazzo
Double Layered Palazzo
Plus size palazzo pants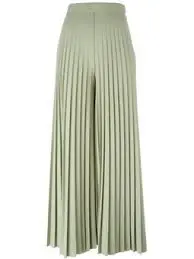 Pleated Palazzo
This type of palazzo pants has creases on the front and almost looks like skirts. Its pleated vertical flattering lines create an elongated impression. How to wear: Choose a light fabric like georgette and crepe for pleated palazzo pants. You can pair this with heels and Kurtis, crops.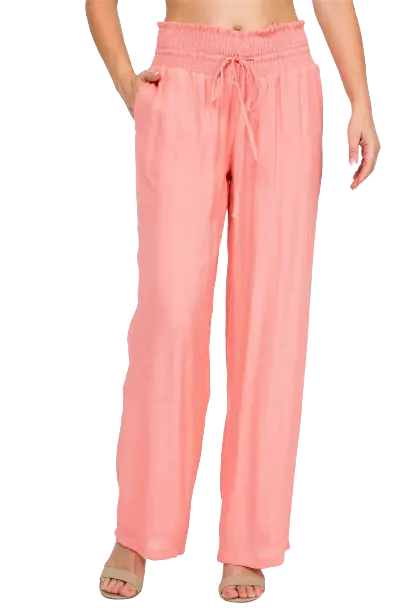 Lounge Palazzo
Lounge palazzo is like home wear casual clothes. It is loose-fitting and has a very comfortable purpose. If you want something that gives you ease with fashion at home, then go for a lounge palazzo. How to Wear: Pair these pants with any comfortable tops. And choose your favorite color for the pants.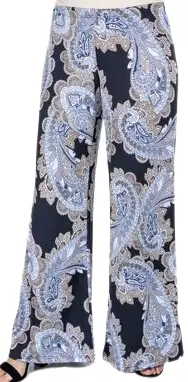 High-Waisted Palazzo
If you want huge flattering fashionable pants, then this is for you. High-waisted palazzo pants will give you the most flattering fashion with super comfort. It is best suited for short and slim women. Because it creates a tall effect when someone wears it. How to Wear: Choose any colors for creating this look.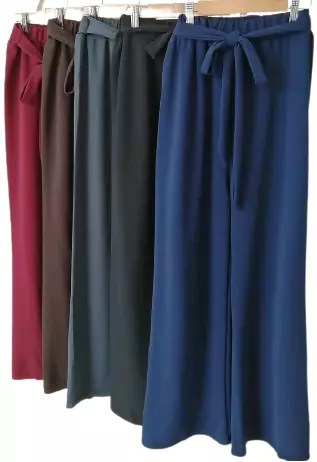 Straight Cut Palazzo
Straight-cut palazzos are the basic and most common pants among these. For regular wear, women choose these straight-cut pants. It has a simple, no-pleat design with a little flare. It goes well with every woman's shape. If you like the simple design and not too much flare, then go for this straight-cut palazzo. How to Wear: Select a neutral color palette for creating this look to wear with any type of top. You will find it with viscose, linen, and cotton fabric mostly.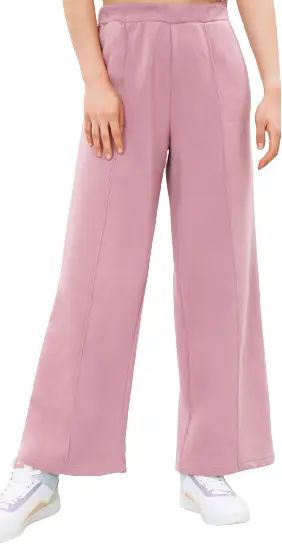 Trouser Palazzo
Look like trousers with extra flare. The difference between these pants and others is that it has buttons in the waist while others have elastic. It is more than casual, creating a formal fashionable look. How To Wear: Take fine cotton or melange for the design of these pants.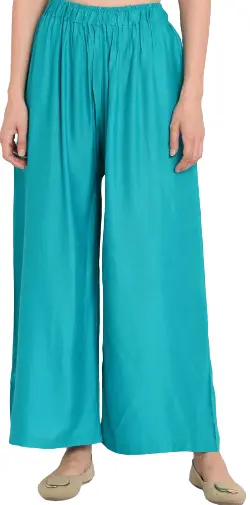 Flared Palazzo
Flared palazzo is also a regular one but a little bit different. It is loose, flowy, and very wide waist down. For its wide feature, it is best suited for plus-size and slim women. It almost looks like a big skirt. How to Wear: You can wear this on your casual, ethnic, or other summer occasions. Cotton and rayon fabrics are chosen for creating this design. Pir the pants with your favorite tops and shirts.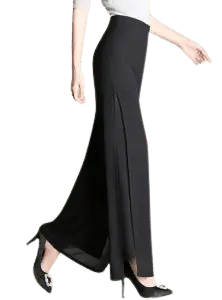 Layered Palazzo
With one or many layers, designers create this unique layered palazzo. You may find some similarities with the dhoti. As for many layers, it creates a stylish look by itself. You can create a different look on any occasion by wearing this. How to Wear: Cotton, Rayon will be perfect for the design. Wear this in your semi-formal or casual outing. Pair with tops and kurtas.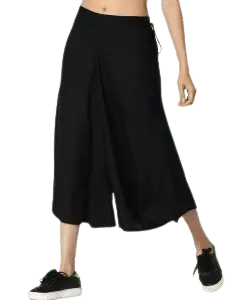 Culottes
Culottes are like a short palazzo. It is designed from waist to knee or calf length. You may be confused with short trousers but culottes are palazzo. It is super comfortable for home wear and summer outings. How to Wear: Choose cotton, crepe, khadi, linen, and denim for creating the design. Pair any tops with culottes pants.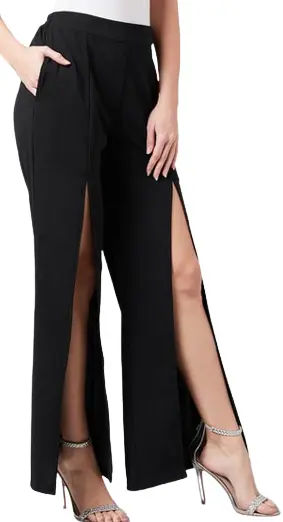 Slit Palazzo
Slit palazzo is very similar to the regular wide, flared pants. But the difference is it has a slit on the sides. How To Wear: You may find chiffon, viscose, rayon, georgette, crepe fabrics for the slit palazzo pants. Wear this on your hangouts and beach parties. Pair the pants with any tops.
High Slit Palazzo
High slit palazzo is a thigh-high design. When you want to focus more on modern fashion, wear these pants. How to Wear: Pair this with the buttons, downs, and tops at parties. And if you want to make these pants, then choose rayon, polyester, and cotton.
Dhoti Palazzo
You may have seen dhoti in Indian culture. They wear this on casual outings. The Dhoti palazzo almost looks alike. It is flared at the top but tapered at the bottom. It can be a different look for you. How To Wear: Pair this with any shirt, top, or Kurtis for any ethnic function.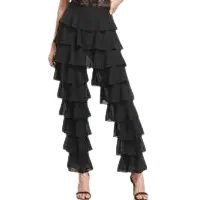 Ruffle Palazzo
What about adding some fashion fusion to the palazzo? Ruffle Palazzo is like that. When your friends wear high-fashion pants, you can amuse them by wearing these ruffle pants. You can choose how many ruffles will be there as you wish. It creates a different look than other palazzos. How To Wear: Wear this at parties with your favorite tops. And for fabric, choose georgette and chiffon for the design.
Petite Printed Palazzo
When one-color pants bring a little boringness to your dress, exchange that with a petite printed palazzo. You don't need to do a lot of designs if you print over them. It will automatically add a unique style to its prints. You can save time and add different styles by wearing this. How To Wear: Choose any of your tops or shirts for pairing with them.
Salwar Palazzo
Salwar palazzo is named like this because it is paired with salwar. Many Asian women wear these pants as their daily casual look. Salwar palazzo is very popular in South Asia. How To Wear: Wear this with your salwar and rock the fashion. With jewelry, your looks will be so good.
Wrap Palazzo
When wrap skirts are on trend for women's wardrobes, you can bring a little bit of a different style with a wrap palazzo. The wrap palazzo almost looks like wrap skirt. The difference between them is just that you will find drawstrings forties along the waistline. There are also buttons instead of drawstrings in recent wrap palazzo designs. How To Wear: Wear this with tops, Kurtis, and add some jewelry with them.
Pocket Palazzo
People change; fashion changes. Palazzo fashion is not a new fashion. It has changed a lot with people's tastes, views, styles, and more. Like this, the pocket palazzo is one of modern fashion among all palazzo pants. How To Wear: You can wear it as both a casual and formal outfit. Pair it with Kurtis, tops, shirts.
Denim Palazzo
When you are a denim lover and don't want to lose comfort, then go for a denim palazzo. Denim palazzo is more perfect than normal regular palazzo for outings. You can even make this at home for your customized size. If you really want to make it, then choose cotton denim for better comfortness. How To Wear: Wear this in your hangouts, picnic with white, sky blue gray shirts.
Skirt Palazzo
What if something looks like a skirt but doesn't? Skirt palazzo is for those who want to wear both skirt and palazzo. This skirt palazzo pant is designed to look like a skirt shape. And if there is the right fabric pattern then it will create one of the best looks for you. How To Wear: Pair the pants with Kurtis, tops in festivals, and for choosing cotton fabric.
Tiered Palazzo
Fan of the 2000's disco era? Want to add those 2000's styles in your style? Then this is for you. Tiered palazzo is designed like disco outfits. It will fit from the waist and will go floral from the knee. How To Wear: Use any type of fabric as you want to design these pants. You can add accessories also to create a more old fashion look. Wear this in your casual outings.
Tassel Palazzo
Tassel palazzo is for those who want a fitting palazzo with a tassel. It looks so uncommon and stylish that it pulls everyone's attention. How To Wear: It is also suited for your casual outings like shopping. And pair this with both loose and fitting tops.
Tie Side Palazzo
You may have got an idea about what a side palazzo is. This type of palazzo has tie- ups on the side and almost looks like a dhoti. How To Wear: It is suited for festivals, parties with your favorite Kurtis, tops.
Belt Palazzo
Belt palazzo is designed with a belt in the waistline and can be found in different styles. It can be straight-cut pants, normal regular pants, pleated pants, and petite printed pants. How To Wear: Pair this as like others.
Formal Palazzo
For formal use, looking you formal in this outfit. For your office outings, a formal palazzo is best suited, looking like men's pants. How To Wear: Choose cotton, rayon fabric for this design. And pair with formal shirts.
Foldover Palazzo
The foldover palazzo is almost the same as the other palazzo, just with a fold in the waist. Having fold in the waist, looks you gorgeous. How To Wear: Wear these pants in your maternity time with tops.
Bootcut Palazzo
Bootcut palazzo is more in bootcut design than usual flare design. How To Wear: It can be worn for both formal and casual outfits.
Bordered Palazzo
Bordered palazzo has lace in its border line that makes a Palazzo very attractive. How To Wear: It's casual outfits with shirts, tops.
Tuck Palazzo
Tuck palazzo is designed with a tucked design. Tuck is under the waist area. How To Wear: Suited for casual wear.
Sheer Palazzo
In a word, the sheer palazzo is a see-through pant. It is made with transparent fabric. How To Wear: For wearing, choose night parties and pair with different types of tops. You may find sheer palazzo pants in mostly chiffon, net fabric.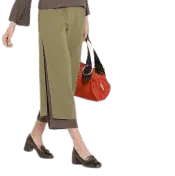 Double Layered Palazzo
Double Layered palazzo pants have attached two layers of fabric, not always attached. But both layers are easily visible, color/ shade does not match with each other. Usually, cotton or rayon fabric is used to make a double-layered palazzo. How To Wear: For wearing, you can use to go outside shopping, and to parties. As it is very attractive, can be used for both casual and formal.
Plus size palazzo pants
Plus sizes for women who are generally fattier than normal-size women. Plus size palazzo's waist and knee measurements are much wider. Those can be any type, only size is more by number.
When you choose fabrics or ready-made garments, you should prioritize your comfort. And Palazzo pants are best known for their comfort. You don't have to stick to just one type of palazzo, many types are available for women. Read the article thoroughly and know all the 30 different types of palazzo pants, wearing guidance, and their use.
30 Different Types of Palazzo Pants for Women