Wastage Disposal Policy
In order to reduce waste and increase the recycling system, a waste disposal management policy is necessary. The management of the garments industry has to reserve to apply the environmental management policy or environment system inside & outside of the factory when product is consumed, built up & wastage transmit from the factory to outside. The management is committed to applying all the policies of helpful area base environment and domestic side to our factory. We have made a standard policy. Here we can see the Waste Disposal policy in the Garments industry below.
Waste Management
Waste processing and disposal must not affect the environment and avoid the pollution of water, air, and soil. Waste must be managed in a responsible manner, and in compliance with applicable laws. Storage areas must be secure and controlled regularly. Waste must be differentiated by category according to its possibility of recycling. Workers who handle hazardous waste must be put in the conditions to understand the risk associated with hazardous waste and protect themselves and the environment from damage caused by its improper management.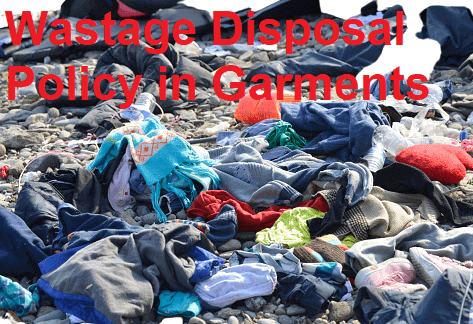 Sterile working environment & environment security protection to ensure that policy applies in our factory are given below:
Wastage is piled in a permanent box on a daily base & after finishing the work carries that wastage outside to our unchanging garbage.
When goods are manufactured in our factory that time move toward some small cloth, tread & other reject wastage that things also kept to a safe place.
This wastage was sold to local traders. Traders convert cotton from this wastage & make many necessary things whose does not harmful to our environment.
There is so many sufficient sewerage & safety tank in our factory to send out rough water, wastage & others wear and tear.
The person who works they are sufficient knowledge to work & protection in safety side from that's harmful side because they are trainee from us.
There is no use in our factory in any detrimental chemicals. Else whoever use this chemical they are so much trainee & conscious to use. The chemical warehouse is separate from other items.
Old tube lights & other discarded materials are sold to a recycler.
Every wastage policy is recorded in the register book in the administration department.
All medical consumption is kept in a cover box. That's things also burn out a predetermined place, of out of the factory.
Waste Disposal policy in the Garments industry