11 Reasons why do we Wear Clothes
In ancient times, people used to wear tree bark. With the evolution of human civilization, people have been tuning into clothing. Wearing Clothes is mandatory for civilized society. Now we wear clothes mainly to protect ourselves, reduce shyness, Fashion, and Professionalism; ultimately we are humans of a civilized era. Clothing functions as a safeguard for the body. And, our society considers an animal without a dress, actually, the dress is the only difference between humans and animals.
Clothes are worn for various reasons, most importantly to cover themselves. This helps them to be safeguarded from any kind of physical violation whether it could be harmful to the body or mind. Also, it ensures safety from cold or hot weather. Ultraviolet rays which are very harmful to human beings are disrupted by clothes. Clothes indicate the civilization of humans which sperate them from other creators of the world. Another function of clothing is to express culture because different culture shows different clothes. It demonstrates the taste of individuality in clothes. Revealing the identity of one culture's clothes helps us to know about ourselves.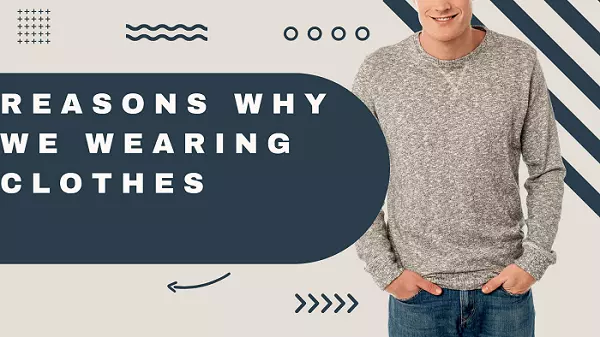 11 Reasons why do we Wear Clothes
Protection: Clothes provide protection from environmental factors such as the sun, rain, wind, and extreme temperatures. Protective apparels save skin in surgical work and chemical lab.
Modesty: In accordance with societal and cultural norms, it certainly helps to cover the body and maintain modesty. Various clothing kinds serve various functions.
Identity and Personality: One can use fashion, color, and design, for example, to express their individuality or the identity of a group.
Safety: In dangerous situations, specific clothes can promote safety, such as protective gear or fluorescent clothing.
Comfort: In dangerous situations, specific clothes can promote safety, such as protective gear or fluorescent clothing.
Fashion and Style: A key component of fashion is clothing, which can be utilized to reflect one's personal style or make a statement. We all want to look attractive to other people.
Professionalism and Uniforms: The dress code is there in government defense jobs, security staff, and many places. Schools have their own uniforms.
Hygiene: By limiting the spread of germs and providing protection from pollutants, clothing can aid in maintaining hygiene.
Social norms: Clothing can signal social status, role, or membership in a particular group.
Rituals and traditions: For particular rites or traditions, certain attire is worn, such as bridal gowns or religious garb. There is a separate cloth for the marriage. Separate clothing for prayer and religious leaders.
Functionality: Clothing can be designed for a specific function, such as athletic clothing for sports or work clothes for manual labor.
Overall, clothing serves a variety of practical, social, and cultural purposes and is an integral part of human culture and civilization. Clothes are part of our life. There is nobody in this world who does not Wear Clothes.
11 Reasons why do we Wear Clothes