If you have fabric, what more do you need to make a garment? Trims and Accessories are the items used to make cloth in the garments industry apart from fabric. You find can this list what are materials needed in the BOM sheet in the garments industry. These items help some fabric cut panels to turn into garments, and there use sewing machines and many other types of machinery in the manufacturing process. Trims are the basic items that are attached to a garment by sewing or fusing. Accessories are not directly attached to garments by sewing. A basic question is being asked almost everywhere, what are the differences between Trim and Accessories? Here we discuss below so that can identify the differences between the two.
Trims
Trims are essential to manufacturing a garment. So trims items that are directly attached to the fabric to make a garment are called trims. Moreover, we can say that the materials used in the sewing room apart from fabric, all are called trims. Examples of Trims: Sewing thread, buttons, Care labels, lining, etc.
Accessories
Accessories are majorly decorative items. They are also different stickers, tags, and packaging items. All come in as garment assembly before packing. Accessories are not functionally needed in a garment, but add from an aesthetic point of view. Examples of Accessories are Cartons, Hantag, polybags, hangers, etc.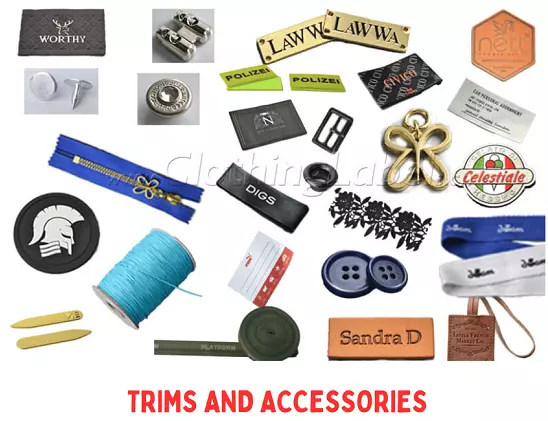 Differences between Trims and Accessories
| | | | |
| --- | --- | --- | --- |
| Sl No. | | Trims | Accessories |
| 01 | Technical Definition | Directly attach with garments body | The materials which are not directly attached to the body of garments by sewing, only used for garment finishing and packing are termed accessories |
| 02 | Non-Technical Definition | Trimmings are the ultimate materials that are attached to the garments while used by the end-users. | Accessories are the ultimate materials that are not attached to the clothing while used by the end-users. |
| 03 | Use | Trimmings are used for functional purposes. | Accessories are used for decorative and branding sticker purposes. |
| 04 | Example | Sewing Thread, Button, Interlining, Lining fabric, Interlining, Logo print, Elastic. | Carton, Gum Tape, Polybag, Price tag. Barcode Sticker, Hanger, Tissue paper, Plastic clip. |
In conclusion, I Hope now we are very clear on the difference between Trims and accessories
What are Differences between Trims and Accessories