Apparel production is the core of the supply chain system. The management of apparel manufacturing means a huge responsibility for any production team. Nowadays it's easier to get more efficiency in production with the help of technology. The application of technology also helps to reduce product development costs & time consumption. This content is about the apparel manufacturing mgt system.
Apparel manufacturing Mgt system
Apparel Production Management deals with the combination of apparel manufacturing technology, quality management, Information technology & Artificial Intelligence for better productivity and efficiency. The apparel manufacturing mgt system is the overall control and execution process of the full manufacturing unit.
Importance of Production Management
Production Management is very important for cost & time reduction of developing any product. According to Management Study HQ, there are 3 reasons for managing production as
Motivates an apparel manufacturer to accomplish its objectives.
Boosting manufacturing business reputation & goodwill.
Reduces the cost of production.
These are the main reasons for considering production management as an important part of business growth. By managing the production floor, one can achieve the following goals:
Improving factory performance through utilizing resources.
Increase product quality by applying lean six sigma & kaizen system.
Reducing delivery time.
Improving the production KPIs.
Controlling material consumption, controlling the manufacturing cost.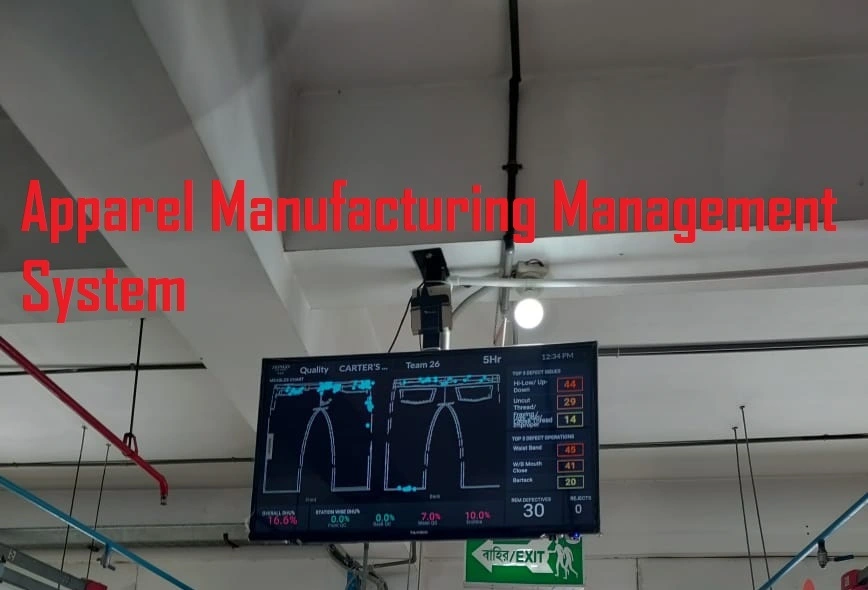 Latest technology solutions for managing Apparel Production
Digitalization of shop floor data in improving factory performance.
Internet of Things (IoT) is a way of connecting all the sewing machines & equipment for sharing data.
Artificial Intelligence tools are used to get projections in various production areas using collected data through digital solutions.
Business Intelligence is a tool that helps in preparing the customized report, and KPI dashboards from collected data from the data system.
Augmented Reality (AR)
Real-time PMS (Production Management System) is a key part of the apparel manufacturing mgt system.
MES (Management Execution System) is a tool that is a combination of IoT, real-time tracking of orders from each stage through bar code, QR code/RFID kind of tags.
Mobile Applications is increased recently with the development of an application-based solution for managing shop floor activities. It is used in production tracking, MIS report reviewing, Quality control & machine maintenance. Giving access to the tech pack & operation video to operators & line supervisors through tablet & mobile applications.
Smart Sewing machines are IoT-based sewing machines such as Juki Smart solution, Brother NAXIO
Production Floor Management Hierarchy
• Line Leaders
• Line Supervisors
• Industrial Engineers
• Production Co-ordinators
• Floor-in-charge
• Production manager
• Production GM
• Quality Team

Tasks Done by the Production Team
• Establishing SAM
• Defining OB & Layout
• WIP management
• Displaying Production KPI data
• Line Balancing
• Operator training
• Continuous Improvement
• Data collection & report preparation
• Measuring Operation Cycle time
• Garment quality checking & inspection.
• Incentive calculation.
• Piece rate payment calculation.
• Capturing non-productive time.
Tasks of an Apparel Production Manager
• Managing 5Ms (Man, Machine, Material, Method & Money)
• Production planning, scheduling & controlling.
• Running the production floor smoothly at the desired level of performance.
• Meeting the production demand & delivery date.
• Attending problems & issues raised in the production line.
• Resolving the problem on the production floor as soon as possible.
• Managing employees & convince them through paying fair wages, considering performance bonuses, and providing all necessary tools that can encourage them to do their jobs better.
• Take decisions according to the availability of resources.
Production process flow & technology solution
| | |
| --- | --- |
| PRODUCTION PROCESS FLOW & TECHNOLOGY SOLUTION PROCESS | TECHNOLOGY SOFTWARE SOLUTION |
| Order Receiving | PLM & ERP |
| Fabric & Trim store | ERP, Inventory management software, material consumption & procurement |
| Pattern making & garment sampling | CAD system, 3D sampling, virtual prototyping, and Online 3D sample. |
| Production planning & control | Production planning & scheduling software. |
| Cutting | Marker planning, Auto spreader, Auto cutting. |
| Sewing | SMV estimation, Line balancing, Production tracking, Visual display, and Quality applications. |
| Quality inspection | Quality control Applications, Mobile/Tablet, Quality data display |
| Finishing, Packing & Quality Audit | PLM, ERP, QA applications |
Conclusion
There are many problems in apparel production factories which is related to the production floor, where the number of processes is more in order execution.in such occurrences, the application & utilization of the right technology can be the solution. Any obstacle can be handled through information sharing using the latest technologies. In this article, the tech solution has been suggested for the obstacles to production floor efficiency.
Finally, Hope got an idea here about an apparel Manufacturing Management System, if you have anything more please write it down in the comments box.
You may like to read: Management levels and their functions in the Textile and Apparel industry.
Author:
Malaz Rahman Khan
B.Sc. in Textile Engineering (Bangladesh University of Textiles)-2017
M.Sc. in Management of Technology (Bangladesh University of Engineering & Technology)-2020
Former Lecturer, Dpt. Of Textile Engineering, World University of Bangladesh. From 2018 to 2020
Former Content writer & Assistant Editor, Textile Today. From 2020 to 2021
Former Merchandiser, LinkTex Sportswear Limited. From 2020 to 2022
Apparel Manufacturing Management System