Stitch can be defined as the needle movement with a thread during the sewing process to penetrate the fabric in order to join the fabric. The purpose of stitching is to join at least one or more ply of fabric together. Stitching requires clothing, footwear, and many things. Many types of stitching are used for different Processes for clothing, home textile, medical textile, and any sewing process. Chain stitch and lock stitch are the most used sewing process regardless of the product. 90% sewing process is of these two sewing processes in the garments industry. Technically lock stitch [301] is different than the chain (401). Very often, I get questions about the difference Between Chain stitch and Lock Stitch, here we go below.
Chain Stitch
Chain stitch is formed by two or more sets of those threads called needle thread and looped thread. Here one side looks like a chain and another like a lock. Chain stitch gives flexibility to the sewn part vs lock but consumption is high. We can increase production by moving the lock to the chain stitch. Because chain stitch has automation features like auto hemming process. The machine can do chain the stitch only. In the garments manufacturing process generally chain stitch is mostly used in hem sewing operations for both Shirts and pants, inseam and outseam of pants and trousers, side seam of shirts, and decorative purposes.
Lock Stitch
The very familiar and common stitching process is used everywhere where the use of sewing machines. Lock stitch is formed by two sets of threads those are needle thread and bobbin thread. Two threads are used during the stitching process, one for the bobbin and another needle. Lock stitch is mostly used in most of the sewing operations in garments manufacturing like collars, front pockets, bottom hem, pocket rolling, jackets, and undergarments.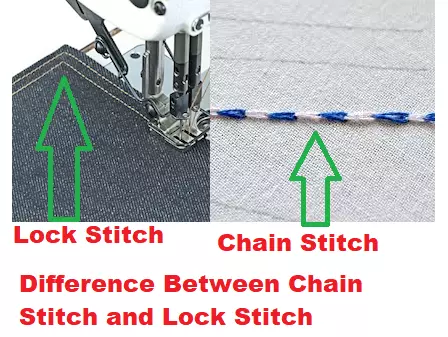 Difference Between Chain Stitch and Lock Stitch
| | | |
| --- | --- | --- |
| SL No. | Chain Stitch | Lock Stitch |
| 1 | Chain stitch is formed by two or more sets of threads named needle thread and looper thread. | Lock stitches are formed by two sets of thread named needle thread and bobbin thread. |
| 2 | Thread Consumption is higher than lock stitch. | Thread Consumption is lower than chain stitch. |
| 3 | One side of the stitching is in chain form, another side exactly looks like a lock stitch. | Both sides have similar appearances as lock stitch. |
| 4 | Puckering possibility is very high in Chain stitch | Puckering possibility is very low in Lock stitch |
| 5 | The chain part of the chain stitch could be sharp because of high tension and machine adjustment. | The lock stitch is not sharp. |
| 6 | Production capacity is more than lock stitch. | Production capacity is less than Chain stitch. |
| 7 | Chain Stitch Machine speed can be 800 to 1000 RPM | Modern Lock Stitch Machine speed can be 5500 to 6000 RPM |
| 8 | Thread bound process is Interloping and interlacing. | Thread bound process is Interlacing. |
| 9 | Generally, the Sewing Speed of the Chain Stitch Sewing Machine is up to 8000 SPM. | Generally, the Sewing Speed of a lock stitch Sewing Machine is up to 6000 SPM. |
| 10 | Backstitch is not required to secure chain stitch at the end of the stitching line | Backstitch is required to secure lock stitch at the end of the stitching line |
| 11 | The chain stitch strength is higher than the lock stitch. | The lock stitch strength is lower than the chain stitch. |
| 12 | Chain stitch extensibility is higher than lock stitch, it can reach up to 30%. | Lock stitch extensibility is lower than chain stitch, it cannot reach up to 30%. |
Difference Between Chain Stitch and Lock Stitch