Wash technician is a technical person in wet and dry Processes of the garments industry. The person involved has practical involvement in every process of washing, from preproduction to Post-production. A wash technician's core responsibility is taking approval of washing standards, 1st batch from the buying house so that the washing factory can follow the standard for the washing process. The technician ensures that the proper wash recipe and requirement has been followed. The role is determining quality control standards to ensure customer requirements.
A washing technician has knowledge of all types of washing like Enzyme wash, Stone enzyme wash, Enzyme bleach wash, Bleachwash, Acid/towel wash/sustainable wash Processes. And, an expert in innovative business & research development-related activities. The technician does troubleshooting & rectifying any problems in Denim and non-woven Wet, and the Dry Process & taking care of style-wise recipes, Follow up & guidelines for the right quality. – Quickly learn procedures and methods. A wash technician understands the color, outcome & hand-feel in washing and Testing related issues solved like rubbing, color Fastness, Tearing, Lycra breakage & Elasticity behavior under the product categories of Denim, Non-Denim, Knit, and Flat, etc.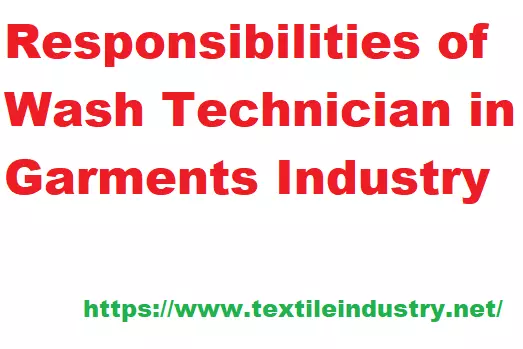 Job Responsibilities of Wash Technician
Assessment from preproduction and customer comments implementation to the bulk.
Make sure the bulk production feasibility and the required quality dry process and wet process.
Responsible for approval lots regarding the Garment Dry process (Whisker, Scraping, Laser).
Participate in Garment PPM meetings and make comments related to Dry process issues.
Doing a project on making whiskers and scrapping from Roller brush and comparing its results with a manual.
Also, look after Spray Quality Section in order to minimize defects and control spray issues concerned with quality and production.
Monitoring all reports related to Quality, Measurement, and Shade related issues daily.
Daily attend meetings regarding approval lots and notify issues of garment washing chemical effects.
Involvement in the measurement process control system and monitoring the consistency of the laundry measurement control.
Process controlling in the production area and rectifying the issues on time before the final for minimizing the reprocess or re-wash and rejection elements.
Shade band reviews before submitting to the customer, washing evaluation subsequently.
Evaluate the shade bands and take approval from the buyer wash technician who works in the buying house.
Process controlling in the production area and rectifying the issues on time before the final for minimizing the reprocess or re-wash and rejection elements.
Periodic process audits in the laundry.
Touch base with AI testing compliance.
Mid-process product audits, lab testing & pH testing.
Calibrate with quality washing teams on finish aesthetics.
Involvement of first bulk review and participation for approval. Or providing the FWL approval.
Make the analysis report of washing performance.
Sharing the comment which has to be improved during the bulk or further process improvement.
Communication with GGT / finishing related to the measurement further improvement.
Align the laundry measurement controls with the finishing measurement process control.
Monitoring the shad consistency at finishing and providing the guideline for shad-wise
packing based on the customer's requirement or commercial decision.
Daily finishing and washing issue involvement and giving guidance.
Updating relevant bulk issues to respectively washing and sewing-related personnel.
Involvement and development stage to understand customer wash concept.
RFC / Pilot run audits review along with customer-approved representative (FKR / NQC /NFE) & participate in PPM.
Closely monitor shade blanket and shrinkage test reports.
First bulk lot production review.
Wash Technician Job in the Garments industry
Washing is a chemical process, chemistry. Here technician has the scope of engaging in research and development work. So you can be good at research & development of washing technique. In the garments industry, just a washing factory or could be in buying-house, a career can start there as a junior wash technician, then a wash technician, and then a senior wash technician. This job is very highly demanding.
Responsibilities of Wash Technician in Garments Industry