When we think about clothing irrespective of gender, we buy pants, shirts, jackets, Denim, and Jeans both are very common words for us when we think about fabric and cloth, almost everyone Heard at least one or both words. As we can see denim and jeans both are two different words. I have been asked in many places about the differences between the two. Actually, both are near to each other and have differences technically. To avoid confusion, I am presenting here writing about the distinction between these two. Are there any differences between denim and Jeans? Let's find it out below.
Denim
Denim is a fabric, 100% durable cotton twill, where warp and weft yarn are interlaced together. A twill weave fabric, a sturdy cotton twill fabric with a rough surface, color is blue or black. Denim is a type of fabric that is made from cotton and has a twill weave pattern. It is known for its strength, durability, and comfort, which makes it ideal for garments, accessories, furniture, and vehicles. Denim is blue or black in color, but it also is found in a variety of other shades in these colors. There are also variations within the category of jeans that are made from denim. For example, raw denim refers to jeans that have not been pre-washed or treated to give them a softer, more broken-in feel. This type of denim is often stiff and dark when it is first purchased, but it will gradually soften and fade with wear. On the other hand, pre-washed or treated denim has already undergone a process to give it a softer, more worn-in appearance.
Jeans
Jeans are cloth for wearing. Jeans, on the other hand, are a type of pants that are made from denim fabric. They are characterized by a snug fit around the waist and hips and are worn casually or for work. Jeans are available in a variety of styles and cuts, including straight-leg, skinny, flared, and bootcut. They are also available in some colors, including traditional blue and black, as well as other shades are sky blue, Navy blue white, red, and green.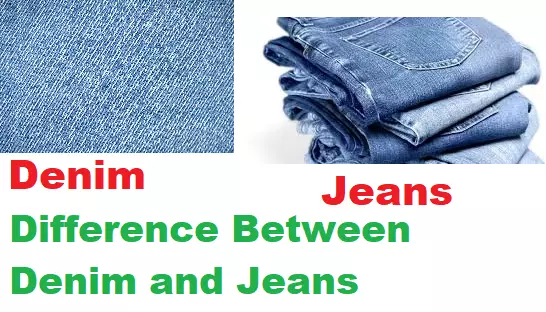 Difference Between Denim and Jeans
| | | |
| --- | --- | --- |
| SL No. | Denim | Jeans |
| 01 | Denim is of fabric name that is made from 100% cotton or Cotton-Stretch mixed Yarn. Fabric weave is twill. | Jeans are a type of garment that is made using denim fabric. |
| 02 | Denim is a fashionable fabric, by which different types of garments style can be produced. | Jeans are only a particular style of garment. |
| 03 | Denim can be defined as a jacket, skirt, pants, shorts, etc. | Jeans are specially defined as denim pants. |
| 04 | Denim is used not only for making pants but also for jackets, skirts, shorts, etc. | Jeans are such type of clothing which is made only from denim fabric. |
| 05 | All denim is not jeans. | All jeans are denim |
| 06 | Denim is a fashion fabric to make many things. | Jeans are made of only one garment. |
| 07 | Denim fabric is produced through a complex process that involves dyeing the yarns before they are woven into the fabric | Jeans are made by cutting and sewing pieces of denim fabric into a specific pant shape |
In conclusion, while denim and jeans are closely related, they are not the same thing. Denim is a fabric that can be used for different types of garments, accessories, and home textiles while jeans are a specific type of pants made from denim fabric. Here we have seen the differences between the two. And we understand, both are related to each other as well.
You may love to read: Top 10 Denim Jeans brands in World
Difference Between Denim and Jeans