Denim is a textile fabric, which is made of two types of Yarn, warp, and weft. Cloth made of denim is called jeans; for example Jeans pants, jeans shirts, etc. If you love jeans clothes, definitely you love some of the top brands making very high-quality denim jeans. Those are not country-centric, shop is available around the world. This article is about the top 10 Denim Jeans brands in World.
Denim Jeans are a part of our life from kids to old, male to female, and top to bottom for any type of clothing purpose. So many denim brands have come into the market in the last 100 years. The majority of denim jeans brands the USA and European country based, those countries are USA, UK, Italy, Japan, Sweden, France, and a few others.
Most of them are American, and Levi's is leading among them. Wrangler is also doing good in the USA and other countries' markets, having 2nd top position after Levi's. Lee is taking 3rd place, a brand of a similar company (Kontoor, Ex: VF) of Wrangler. Japan has a very good reputation and long history of premium denim construction. So Levi's, Wrangler, and Lee are top in the jeans denim market.
Top 10 Denim Jeans Brands List
Levi's
Wrangler
Lee
Diesel
Calvin Klein (CK)
Pepe Jeans London
True Religion Jeans
Armani
Gucci
Guess Jeans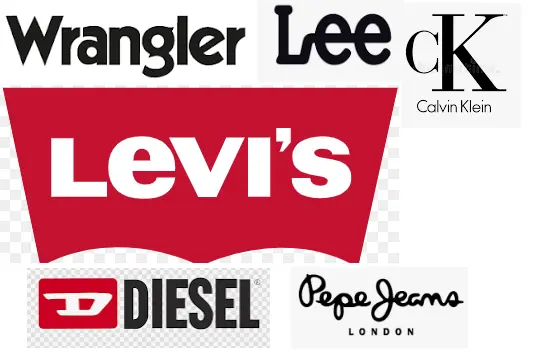 Top 10 Denim Jeans brands around the world
Levi's
Levi's is very popular and the first choice for any age in denim jeans, the number one worldwide jeans-selling company. Levi's is the brand that is credited for popularizing blue jeans in the twentieth century. Levi's has the best collection for people of all ages.
Wrangler
Wrangler is a very famous American Apparel retail brand that has stores around the world. Their types of denim clothes are men's jeans, Women's jeans, Women's jeans, Men's shirts, Women's tops, Women's tops, Men's jackets, Men's jackets, and Women's jackets. It is established in 1947. Wrangler is a Brand of Kontoor Brand Inc. (mother company). The majority of stores are located in the USA, approximately over 50% sell in the USA, rest is around the world but recently it's increasing.
Lee
Another very famous jeans brand of a Brand of Kontoor brand Inc. (Ex. VF Corporation) is in the top list which is established in 1889. They are selling 100% cotton, cotton+ stretch, high stretch cotton denim jeans of very premium quality. Lee is focusing on fitting jeans of human body shape with high-stretch denim fabric. The clothes of the Lee brand are very comfortable to wear and also used long-lasting high-quality fabric.
Diesel
Diesel started the business in the market in 1978 and it is a very expensive jeans brand. So, the price is a little high and elite-class people love this. It is well known for exclusive quality jeans clothing.
Calvin Klein
There are very few people who don't hear Calvin Klein. Calvin Klein (CK) demonstrates the brand's popularity over the years, this is one of the most popular jeans brands in the world. They are sourcing jeans and clothes from some Asian countries like Bangladesh, China, and Vietnam. Quality has been excellent of this American denim brand CK, which is founded in 1968.
Pepe Jeans London
This denim brand well known skinny tight-fit jeans. So those are made of stretch denim fabric. Pepe jeans are very popular in the women's market for having trendy jeans. Their jeans are not very expensive, we can say moderate level price. Pepe Jeans London was founded in 1973 in London, UK. Pepe is famous for denim and casual wear trendy jeans.
True Religion Jeans
Another one of the leading jeans brands has popularity in the market. True Religion Jeans is an American brand that started in 1922. They have very very unique designs and premium quality jeans which make the difference from other jeans brands.
Armani
Armani jeans brand owner is Armani Fashion, established by Giorgio Armani. The best thing about the Armani is the price is lower than other top brands. Apart from some countries in Europe, Aamani is also very popular in Asia.
Gucci
Gucci is also listed among the top 10 brands being one of the best denim brands in the world. It is an Italian brand that started in 1921. This is one of the well-known famous denim brands having various fashionable collections.
Guess Jeans
Another USA-based jeans brand launched in 1981. Guess become the top because of its unique design, and fashion trendy. It is a luxury brand so fashion lover always keeps this jeans brand on their choice list.
List of other Top Denim Jeans Brand apart from the first 10
| | |
| --- | --- |
| 11. Versace Jeans | 31. Express, Inc. |
| 12. Nostrum Jeans | 32. Tommy Bahama |
| 13. Killer Jeans | 33. Salsa Jeans |
| 14. Spykar | 34. Juicy Couture |
| 15. Balmain Luxury pants | 35. Gloria Vanderbilt Jeans |
| 16. 7 For All Mankind, | 36. Marc by Marc Jacobs |
| 17. Lucky Brand Jeans | 37. PRPS |
| 18. G-Star | 38. Lois |
| 19. Dolce & Gabbana | 39. Siz Fashion |
| 20. Americal Eagle Outfitters | 40. Mustang |
| 21. Abercrombie & Fitch | 41. Ben Sherman |
| 22. Nudie Jeans | 42. Apple Bottoms |
| 23. Carhartt | 43. Rich and Skinny |
| 24. Arizona Jeans (J.C Penney) | 44. James Jeans |
| 25. Citizens of Humanity | 45. Plain Pockets. |
| 26. Rock & Republic | 46. Tommy Hilfiger |
| 27. United Colors of Benetton | 47. Lacoste |
| 28. Tough Jeansmith | 48. Jacob Cohen |
| 29. Uniqlo | 49. Hugo Boss |
| 30. John John Denim | 50. Silver Jeans |
Conclusion
Jeans brands are very demanding in this era, which is why we shared the Top 10 Denim Jeans brands in World. These are considered as best jeans brands and best denim brands. Love denim? Buy among these most popular brands.
Top 10 Denim Jeans brands in World