Pant
There is nobody in this world who does not know what is pant. Pant is a bottom wear garment, used in the bottom part of the human body which covers from the waist to the ankle area, and important clothing wear at the waist. It is a very common dress for both gender male and female, nowadays a vital part of fashion which manufactured in any garment industry. Pant is the most common cloth you can buy from anywhere in the world, just go to any clothing market. So we need to know about it. A pant has many parts, generally 12-13 types, here we are discussing the parts of it. There are many types of pants found in the market, we have- discussed the parts of basic pants.
Trouser is synonymous with "pant", pant is used for formal meaning. This article is about parts of a trouser having the same meaning of it.
Different Parts of a Basic Pant
Waist Band
Belt Loop
Back Yoke
Back Rise
Side seam
Bottom hem/ leg opening
Inside Label
Coin pocket
Front Pocket
Fly
Inseam
Button
Zipper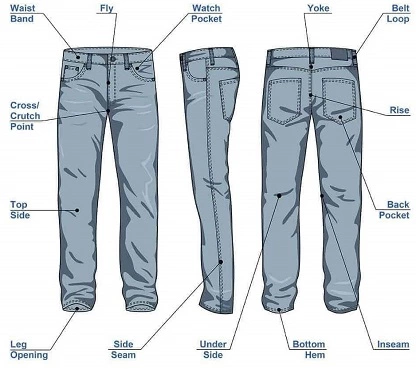 Different Parts of Pant with Picture
Waist Band
The waistband is the top part of a pant, waistband size defines pant size. People having different waist sizes need perfect desired sizes for themselves, so you can understand its importance
Belt Loop
There is about 4-7 belt loop in every pant waistband area to hold the belt we wear. A belt loop is there so that belt can be adjusted properly. If by mistake pant isn't fitted fully then there is scope to make it right with just one belt. So there is some hook for the belt
Back Yoke/ Riser
It is the joining part for making a pant and it's done by stitching. The back yoke is also called a riser located at the back side of the pant, curved shape.
Back Rise
It has a certain area from the crotch point to the waistband on the backside.
Bottom hem/ Leg opening
The bottom part of the pants is folded and attached by the sewing process.
Inside Label/ Care label
A label is used inside of pants called a care label which has all care and laundry information.
Coin pocket/ Watch Pocket
A small tiny pocket at the edge of the front pocket opening is set by a rivet called a coin pocket also known as a "watch pocket".
Front Pocket
Two pockets on two sides of the front part to keep hands or necessary phone or other daily needed item, important pocket.
Fly
The Fly is the area where the zipper is located, and one flap is used to cover the zipper.
Inseam and Out seam/ Side seam
Joining of two parts of pant, Outer side joining is outseam.
Button
A button is used to tie the pant, the button positioned at the waistband closure point. Different types of buttons are used in a pant like plastic buttons, shank buttons, and many others.
Zipper
A zipper is used in every male pant, the zipper is very rare in female pants. Some jeans have buttons instead of a zipper
Back Pocket
There are always two pockets on the back side of every pant, those are the back pocket. We can keep a money bag in these pockets.
Reference: https://ordnur.com/jeans/different-parts-of-jeans-pant/
Different Parts of Pant with Picture