Cargo pant is so established in everyday fashion that you probably don't give them a second thought. You undoubtedly have at least one pair in your closet right now, and you've probably worn a variety of cargo pants in your life. It is used as casual wear clothing, not worn for formal purpose.
However, there are many distinct varieties of cargo pants that put a unique spin on this classic style. What kind of cargo pants should you wear? Cargo pants are no longer just for labor or rough environments. It's time to learn how cargo pants have evolved and how they continue to do so in the fashion world. Here I present 7 Different Types of Cargo Pant You Would Love to Wear in below.
History of Cargo Pant
Anyone can now wear cargo pants, and almost everyone has done so at least once. Cargo pants, however, were originally worn only by troops. These pants were created for British Armed Forces soldiers. The pants' deep, easily accessible pockets were used to carry additional munitions, wound bandages, and other battlefield goods. That may have been a bleak beginning for cargo pants, but the style has since become a fashion staple for both men and women.
What is Cargo Pant?
Cargo pant is distinguished by cargo pockets. These are huge pockets on the pants' upper legs. They are worn on the outside thighs, just above the knees. Cargo pockets are often expanding, meaning they grow larger as more objects are placed inside them, and have flap closures. Velcro, buttons, or even magnets sewn into the cloth can be used to secure the flaps.
In cargo pant types, the big cargo pockets are rarely the only pockets. Cargo pants typically contain at least six pockets. This features the traditional back and hip pockets featured in many pant styles. Cargo pants are typically designed to be loose-fitting and comfy. Traditional cargo pants are made in khaki or camouflage patterns as a nod to their military heritage. Cargo pants, on the other hand, have evolved and changed dramatically since those early military days.
Who Wears Cargo Pants?
Cargo pants are still utilized in uniforms and are widely used by professionals who need to keep stuff readily available because they are fantastic for storage. Military soldiers and police officials continue to wear cargo pants styles. They are commonly used by first responders and other working professionals. They're popular among construction workers, plumbers, electricians, and other manual laborers. Cargo pants, on the other hand, can and often are worn by anyone. This is a trendy appearance that is appropriate for both work and a day of relaxation. After all, everyone has items to transport.
7 Different Types of Cargo Pants You Would Love to Wear
Cargo pants are pants with cargo pockets. However, there are numerous designs and styles of cargo pants. A close-up of a male medical first responder dressed in dark cargo trousers.
1. EMT pants
EMT trousers are cargo pants developed exclusively for first responders. These trousers are typically produced from a blend of polyester and cotton materials, resulting in a durable, machine-washable material. These pants are frequently strengthened in high-wear regions such as the knees. EMT cargo pants have numerous pockets. Dividers are frequently used in large pockets to make it easier to store medical supplies. EMT cargo trousers are frequently made in typical uniform colors like as dark blues, grays, and blacks.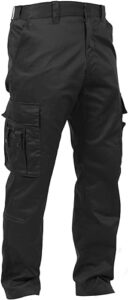 2. Tactical cargo pants
SWAT team members and other police personnel use tactical cargo pants. Tactical cargo pants are designed to be extremely tough. These cargo trousers have concealed pockets, which are tiny pockets hidden inside the huge cargo pockets. Tactical pants are typically strengthened and constructed with multiple stitching techniques to increase wear resistance. Tactical cargo trousers are commonly made in gray, black, green, khaki, and blue colors.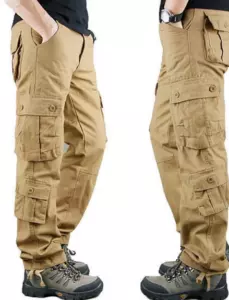 3. Hiking cargo pants
Hiking cargo trousers are designed to endure the weather while also providing plenty of pocket space. Hiking cargo pants are made for toughness, weather resistance, and storage capacity, and are ideal for outdoor lovers of all types. These pants are ideal for fishing, camping, and other outdoor activities. Hiking cargo trousers in camouflage patterns and other natural Earth hues, such as brown and khaki, are popular.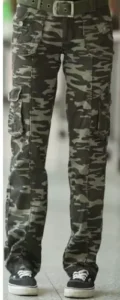 4. Slim-fit cargo pants
Slim fit cargo pants are one of the more recent styles of cargo trousers available. This style differs from regular cargo pant styles in that it is designed to be form-fitting rather than loose. Other than that, narrow fit cargo pants are just like any other style of cargo trousers, with plenty of pockets and strong fabric.
5. Cargo jogging pants
Cargo jogging pants are athletic apparel in the conventional cargo pant style. These cargo pants are often composed of soft, breathable fabric with contouring and comfy drawstring or elastic waistbands. These cargo trousers still include leg pockets, however, unlike classic cargo pant styles, they are lightweight and not constructed of heavy fabric kinds.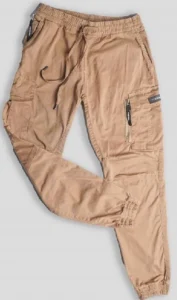 6. High end cargo pants
High-end cargo pants are also now a thing. Cargo pants are now available in a wide range of materials, from silk to leather, and in straight-leg, flare, and slim forms. High-end fashion designers have created their own pricey versions of cargo pants, which have been worn by celebrities from all walks of life. High-end cargo pants come in an incredible variety of colors and patterns.
7.Denim cargo pants
When it comes to cargo pant styles, denim cargo pants are another relatively new invention. Cargo pant styles have now made the transition to denim and are now considered a real blue jeans style. Denim cargo trousers contain the conventional big leg pockets as well as multiple more pockets throughout to accentuate the cargo pant pattern.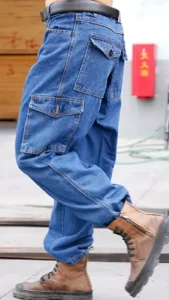 Cargo pants are extremely versatile and can be created in any fabric. Cotton ripstop is commonly used in tactical and camping cargo pants. This fabric is intended to prevent tearing. The fabric is woven in such a way that tears are literally stopped. As a result, ripstop was born.
Conclusion:
Cargo pants are appropriate for all seasons. Some types are thicker and more insulating for colder weather, but others are lightweight and breathable for warmer weather. Cargo pants can be worn with nearly anything, although they are most commonly paired with casual clothes, such as T-shirts, and casual shoes, such as boots and sneakers. Check out our article on what shoes to go with cargo trousers.
There is no longer a necessity for cargo pants on the battlefield. These pants have permeated every facet of fashion. They can be worn as rough outdoor wear, as part of a business uniform, as a casual style choice, or even as a completely pricey and high-end item.
Cargo pants can be worn by anyone, including A-list celebrities, and they look excellent on everyone. Find the best cargo pants for you and start stuffing things into those very helpful pockets. After all, the purpose of cargo trousers is to store goods.
7 Different Types of Cargo Pants You Would Love to Wear