Fabric inspection needs for the finished fabric manufacturer and garments maker. As garments manufacturer buy finished fabric to cut for making garments. To determine the quality of the fabric the inspection report can give all the answers to the questions regarding fabric quality. There are few other fabric inspection systems, but the 4-point system is the most used fabric inspection system in the Textile and apparel industry. The fabric inspection method is ASTM D5430-93 recognized by AAQC.
Fabric inspection in 4 point system is for checking width, length, visual, and shade inspection. The inspection occurs in rolled conditions of fabric. The Fabric inspection machine unrolls, passes through some roller, and becomes visible in the fabric inspection machine under a light. So the fabric inspector can catch defects easily. All colors & shades must be checked in a light box against the color slandered & the approved sample by two people (D65, TL83, & UV Light). Overhead & transmitted lighting should be a minimum of 1000 lux.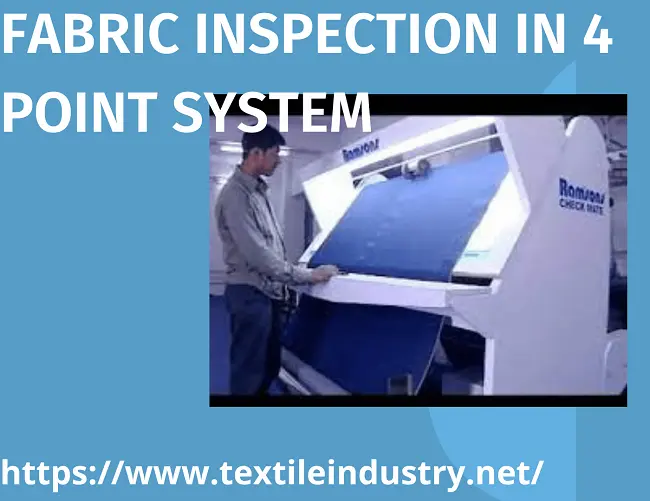 Steps of Fabric inspection in 4 point system of Finished fabric
Roll Selection: Finished fabric supplier inspects 100% rolls. The textile industry does the dyeing and finishing process. And then check 100% rolls before giving delivery garments industry. The garments industry selects rolls in the AQL system or 10% random roll selection.
Fabric inspection: At fast Fabric received, Chillan, Packing List & Inventory Report. Then Collect Lab Dip, Order Sheet, and Approve Trims Card & Counter Sample. Receive 100% Fabric Inspection Report of supplier & 3rd party Fabric test report. Roll to set in the fabric inspection machine for opening and inspection. When we find a defect, there is category-wise point distribution, here given below:
Defects Length of Fabric
Point distribution
Defects up to 3" inches
1
Defects from 3" to 6" inches
2
Defects from 6" to 9" inches
3
Defects of more than 9" inches
4
The volume of Holes and Openings
1" inch or below
2
More than 1" inches
4
Calculation Formula of total points per yard in 4 Point System
In the 4-point system inspection, fabric quality is the calculation formula that comes by unit points/100 sq. yds.
Total defect points per 100 square yards of fabric = (Total defect points in the roll x 36 inches per yard x 100 yards) / (Fabric width in inch x fabric length in yards).
Let's calculate fabric inspection data, suppose a roll point is 38 is acceptable in 100 square yards as per buyer requirement. For some fabrics, 40 is acceptable. For example, A fabric roll 140 yards long and 60 inches wide contains defects of 35 points.
So, Points / 100 square yards = (35 x 36 x 100) / (140 x 60)= 15 points per square meter.
The inspection result is acceptable as the points limit is 38.
Reporting: If the report is acceptable, then it is okay. If the defect rate is cross the limit, do not deliver to the garments industry. The garments industry needs to raise the vendor through merchandising. If both parties agree to cut, the loss needs to compensate by the vendor.
You may love to read: Fabric Sourcing Factors for Apparel Business
Fabric Inspection in 4 Point System