Fabric is the main material converting Fabric to cloth. Fabric color is exactly the cloth color, the appearance of the fabric is the cloth's visual appearance. So storage is very important to keep the quality. There some certain rules and procedures we have to follow for fabric storage. Here I present key Fabric Storage Procedures in the Warehouse of the Apparel Industry.
Due to the existing business demand Raw materials and Finished goods require deep storage, repercussion of deep storage may lead to these bad things: Mold/mildew, Elusive Yellowing, Elongation, Fold creases, Packaging marks, Odour, Pesticides, Corrosions, Other storage issues. These are industry best practices set out as guidance for good storage of fabric warehouses.
How important are Fabric Storage bins and Rack?
The garments warehouse must keep fabric rolls on a metal rack, which gives a better result. You can check the below picture. Fabric-cut panels should be kept in bins in the cutting section. Store fabric rolls either on shelves or on palettes. Fabric rolls should be laid down parallel on top of each other on pallets and not crossed over.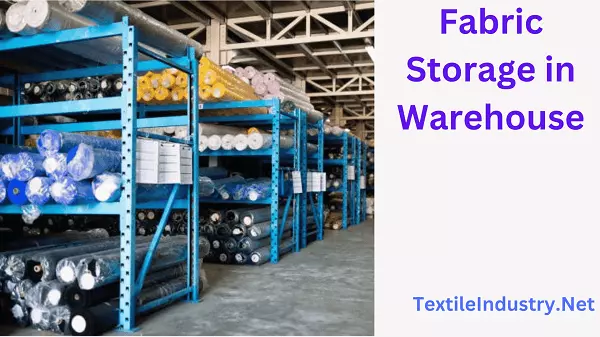 Key Fabric Storage Procedure in Warehouse of Apparel Industry
Temperature and Humidity of Fabric Storage
Storage temperature should be controlled and kept at 18-21°C. (NOT over 25°C, especially if the moisture is over 60% Relative Humidity to avoid mold growing). The warehouse area should be dry, and moisture controlled (<=60% Relative Humidity). Have daily checks on condition humidity control. A dehumidifier is necessary to install in the finished goods warehouse.
Dust and pollution
Fabric/Yarn should be stored in areas away from Dust and pollution, as some storage facilities have transport loading bays or forklift trucks used in proximity, NOX (oxides of nitrogen) burnt gas fume exposure should be avoided.
Silicone and oils
Silicone and oils could be applied to elastane and synthetic yarns during spinning. This may cause fabric yellowing issues and some dispersion issues, especially in the inner parts of the yarn bobbins which may cause breakages later in processing. Seek advice from the spinner about storage conditions and times.
Pest Control
Pesticide control should be carried out every 4 weeks. Keep all windows of the warehouse/finished goods warehouse closed, it is better to have a screen window. Avoid excessive storage on one pallet to reduce pressure on bottom rolls being crushed and will help to prevent mold and pest contamination.
Following FIFO
Stock rotation should be rigorously employed when these stored bobbins are being used for production. (First, in the First Out the system should be used in the warehouse).
Labeling/ Tracking in Fabric Warehouse
Make sure box labels with date codes are maintained and visible for proper product tracking. All yarn boxes should be kept closed even if they are partially used.
Fabric Packaging
Polybags should be heat sealed (Not tie them or tape them). Weekly checks on the packing materials such as if the cartons/polybags are secure, not breaking, crashing, or pressing. Check the PH and ensure it is around PH 5,5-6 to avoid yellowing. (not in alkaline conditions). Required tests should be applied to check yellowing risk. Check the consistency of yarn whiteness and dispersion of silicon/oils on yarn bobbins before knitting/weaving.
Conclusion
Fabric storage is a very important thing for warehouses in the apparel industry. These points would help you to fabric quality well in the warehouse of the garments industry.
Fabric Storage Procedure in Warehouse of Apparel Industry