Unstitched Chiffon Dress
The unstitched chiffon dress is a major fashion favorite for feminine charm and classic beauty. It's a canvas of elegance and a symbol of versatility. The unstitched Pakistani chiffon suits provide a blank canvas for creativity and individual expression, allowing you to craft a style statement that's uniquely yours. From the delicacy of the fabric to the latest acrylic nails designs, the suggestions in this article will serve as the ultimate style guide to guarantee that your unstitched chiffon attire makes an unforgettable impression at any event, whether it's a festive gathering or a night event.
An unstitched chiffon dress refers to a piece of clothing made from chiffon fabric that hasn't been sewn together yet. This allows the wearer to customize the design and fit according to their preferences. Unstitched dresses are popular in many cultures, as they offer flexibility in terms of style and size. In the world of fashion, one trend that continues to captivate the hearts of fashion enthusiasts is the unstitched chiffon dress. This versatile and elegant garment allows wearers to unleash their creativity, personalize their style, and revel in the luxurious feel of chiffon. From its origin to its popularity today, let's delve into the allure of unstitched chiffon dresses.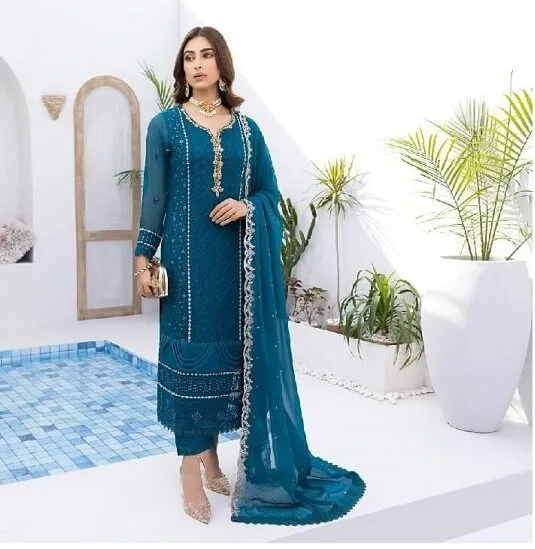 8 Different Points on How to Style an Unstitched Chiffon Dress
Embrace Ethereal Hues
The selection of colors is crucial in creating the dreamy and ethereal vibes that unstitched chiffon gowns are known for. Choose delicate pastel hues like blush pink, powder blue, and mint green to add sophistication to your dress. Alternately, for a bolder, more dramatic look, use jewel tones like royal purple, emerald green, and deep blue. Always keep in mind that the right color can define the mood of the overall ensemble.
Play with Embellishments
Unstitched chiffon dresses provide the ideal base for elaborate decorations that improve the appearance. A plain chiffon garment may be converted into a work of art with delicate embroidery, sequin work, and bead details. A bit of sparkle can be added to the neckline, cuffs, or hemline without detracting from the natural beauty of the dress.
Unique Silhouettes
Unstitched chiffon is attractive because of its draping and flowy nature. Consider selecting silhouettes that highlight this feature. When people move, a flowing Anarkali or an A-line dress produces an alluring appearance. To enhance the sheer beauty of chiffon, experiment with layers, asymmetrical hemlines, and flexible cuts.
Mix and Match with Bottoms
Although matching bottoms are often paired with unstitched chiffon dresses, people should be open to experimenting with mixing and matching. To add an unexpected twist, wear your dress with contrasting pants or a flared skirt. While a patterned dress can be matched with a solid-colored bottom for a balanced look, a single-colored dress can be paired with printed or embroidered pants.
Sheer Sleeves or Sleeveless Chic
The choice of sleeves has a great impact on the overall look of the dress. Choose sheer sleeves for subtle elegance. Elaborate embroidery or delicate lace trimming can add a whimsy touch to the dress. On the other hand, if you want to appear more fashionable, think about wearing a halter-neck or a sleeveless dress.
Accessorize Thoughtfully
With chiffon dresses, less is frequently more when it comes to accessorizing. A bold necklace or a pair of chandelier earrings can add some glamour without overwhelming the ensemble. The outfit can be finished off with a clutch or tiny handbag while still emphasizing the dress. Keep in mind that the goal is to complement the outfit, not to overshadow it.
Footwear Finesse
The choice of shoes plays an important role in elevating or diminishing the look of the chiffon dress. The lightweight and airy quality of the fabric can be enhanced with strappy sandals or delicate heels. While neutral hues can produce a smooth appearance, metallic tones provide depth. Avoid wearing clunky shoes or boots because they may interfere with the dress's subtle elegance.
Hair and Makeup
Hair and Makeup should complement the overall aesthetic of the dress. The delicate design of the dress can be complemented with gentle waves or a sophisticated updo. Choose a makeup style that brings out your best facial features, with a focus on radiant skin and understated eye makeup. Always keep in mind that the goal is to achieve a balanced and coordinated look.
Consider the Occasion
Before choosing the chiffon dress and accessories, think about the event you'll be attending. While a casual daytime gathering calls for lighter colors and simpler details, a formal evening affair might require richer hues and elaborate embellishments. Adjust your attire to the environment and mood of the gathering.
Confidence is Key
True style emanates from within, regardless of how perfectly you are dressed. Any chiffon dress concept can shine with the right accessories, and confidence is the ultimate one. Let your inner confidence shine as the center of your ensemble as you move with grace and poise.
Conclusion
The unstitched Pakistani chiffon dress is a classic canvas that lets you show your flair while exuding grace and elegance. You can create a captivating appearance by embracing light colors, experimenting with embellishments, picking the ideal silhouette, and accessorizing carefully. The ongoing Independence Day sale offers a fantastic opportunity to explore a variety of options and upgrade your wardrobe. To get a well-balanced ensemble, remember to coordinate the choice of hairstyle, cosmetics, and footwear, along with considering the occasion. Wear your chiffon dresses with confidence, as that is what truly completes a fashion statement. So that is all about How to Style an Unstitched Chiffon Dress.
How to Style an Unstitched Chiffon Dress