Welcome to our guide on stylish denim skirt choices for plus-size individuals. In this journey, we'll explore the versatility of denim skirts while emphasizing the importance of confidence in fashion. Denim skirts offer a canvas for self-expression regardless of body type. Let's delve into the art of styling denim skirts methodically. In this article, we will discuss A Beginner Guide on How to Style a Denim Skirt Plus Size.
A Beginner Guide on How to Style a Denim Skirt Plus Size Step by Step
Finding the Perfect Fit for Denim Skirt Plus Size
A-line denim skirts cinch at the waist and gently flare out, creating a balanced silhouette. They are ideal for hourglass figures or those aiming to emphasize curves. Alternatively, consider wrap-style skirts for a similar waist-defining effect.
Pencil denim skirts, preferably with some stretch, accentuate curves and exude sophistication. For an alternative cut, explore flared midi skirts offering a comparable curve-enhancing effect.
To achieve a balanced look, opt for knee-length denim skirts that hit just above or below the knee, elongating the legs. Maxi skirts provide a relaxed, flowy vibe. Substituting knee-length for midi skirts offers a slightly different look with a similar impact.
Darker washes like deep indigo or black are renowned for their slimming effect. Nevertheless, don't hesitate to experiment with lighter washes for a more casual style. The ultimate goal is to feel comfortable and confident in your choice.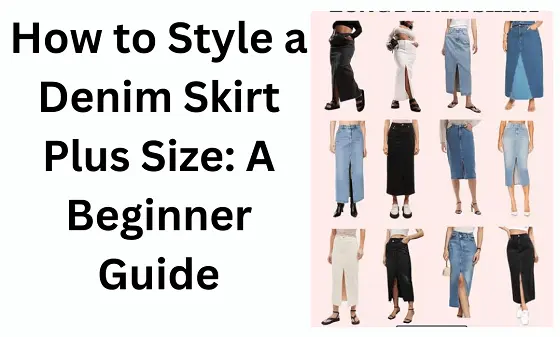 Crafting Your Denim Skirt Ensemble
Casual Chic
Begin by pairing your denim skirt with a classic white graphic tee and comfortable sneakers, achieving effortless style. Elevate your look by adding a denim jacket and a chunky belt. Finish off with a cross-body bag for flair.
Boho Vibes
For a relaxed, beachy vibe with a touch of class, opt for a flowy printed blouse that tucks neatly into your skirt. Ankle boots or gladiator sandals can complement this boho look, depending on the season. Layer on beaded necklaces and stackable bracelets for a carefree, artistic feel.
Business Casual
For professional occasions or office settings, a knee-length pencil denim skirt is the go-to choice. Tuck in a crisp, white button-down shirt to convey professionalism with elegance. Define your waist and add sophistication with a slim belt. Complete the look with pointed-toe flats or low-heeled mules for comfort during a busy day. Classic stud earrings and a structured handbag provide the final touch of professionalism.
Night Club
Opt for a high-waisted, fitted denim skirt to showcase your curves at nightclubs. Pair it with a slinky, satin camisole or a sequin top for that extra touch of sparkle. Elevate your look further with strappy heels or block-heeled sandals to dance the night away. Don't forget statement earrings and a clutch bag to add that extra oomph and make a lasting impression wherever you go.
Effortless Elegance
Creating an effortlessly elegant outfit with a denim skirt is simpler than you think. Start by choosing a maxi denim skirt for a relaxed and comfortable base. Pair it with a tucked-in, fitted tank top or a cropped blouse. Slip into espadrilles or simple sandals – perfect for a leisurely day out or a beach vacation. Layer with a wide-brimmed hat and oversized sunglasses to add a touch of elegance while staying cool under the sun.
Embracing Fashion Trends in Denim Skirt Plus Size
Here are some fashion trends you can try and incorporate into your own outfits. Mix and match to see what fits your sense of style.
Vibrant Prints
Don't shy away from mixing your denim skirt with patterned tops – think florals, animal prints, or geometric designs. The key is to balance bold patterns with denim's classic neutrality.
Athleisure
Pair your denim skirt with a sporty graphic tee and sleek sneakers for a modern, active-inspired look. It's a fusion that's both fashionable and comfortable.
Boho Chic
Layer on accessories like layered necklaces, fringe bags, and wide-brimmed hats to create that free-spirited, bohemian vibe. Floral prints and earthy colors complement denim skirts perfectly.
Minimalist
The minimalist trend emphasizes clean lines and simplicity. Try a monochromatic outfit with a denim skirt as the centerpiece. A white or black top, minimalist jewelry, and sleek footwear can create an effortlessly elegant look.
Old Money
Embrace the timeless allure of "old money" style by pairing your denim skirt with preppy essentials. Think a classic white button-down shirt, a tailored blazer, and polished loafers. Incorporate heritage prints like plaid or houndstooth for an aristocratic touch. Don't forget to accessorize with pearls, a string of pearls, or pearl earrings, to elevate the look and exude refined elegance.
E-Girl
To capture the edgy essence of e-girl fashion, opt for a high-waisted, distressed denim skirt as your base. Layer it with a playful graphic tee featuring bold colors or anime characters. Experiment with fishnet stockings, combat boots, and layered chokers to add an alternative flair. Finish with dark, dramatic makeup and hair accessories like barrettes or hair clips for that signature e-girl look.
Achieving Balance
Achieving a balanced silhouette with your denim skirt is about knowing how to complement your body's proportions. One key principle is to define your waist. Regardless of your body shape, using a belt to cinch the waist can work wonders. A well-placed belt not only accentuates the narrowest part of your body but also adds structure to your outfit. Opt for a statement belt with an interesting buckle to draw attention to your waist.
A-line denim skirts are particularly beneficial for creating balance. The gradual flare from the waist to the hem helps balance out your proportions. This style is particularly flattering for those with curvier hips, as it adds volume to the lower half and creates a harmonious shape.
Layering is another fantastic technique for achieving balance. Consider adding a lightweight cardigan or kimono over your top. This not only adds visual interest but also creates vertical lines that elongate your figure. Experiment with layering to find what suits your personal style and body shape best.
Pay attention to the length of your denim skirt. If you have longer legs and want to create a more balanced look, opt for a skirt that hits just above the knee. This length helps to break up the visual line and avoids making your legs appear disproportionately long.
Wearing a denim skirt in a monochromatic outfit, where your top and skirt are of the same color or a similar shade, can create an illusion of length and balance. Monochromatic looks provide a cohesive and streamlined appearance. Look for denim skirts with vertical details like stitching or seams. These vertical lines draw the eye up and down, creating a slimming effect and adding to the illusion of balance.
High-rise denim skirts are particularly beneficial for those who want to elongate their torso and create balance. By sitting at or above your natural waistline, helps create a more proportional figure.
Completing the Look
Introduce some versatile hairstyles like loose waves, high ponytails, or braids to finish the look. These styling choices can add a polished touch to your overall appearance.
When it comes to makeup, a bold lip color, such as a striking red or a deep berry shade, can instantly boost your confidence and make you feel ready to conquer the world. It's all about adding that pop of color and emphasizing your smile.
For a more natural look, focus on achieving a healthy, radiant complexion. Opt for lightweight foundation or tinted moisturizer, and don't forget to add a touch of highlighter to your cheekbones for a youthful glow.
Your eyes can be the focal point of your makeup. Define your brows, apply a few coats of mascara to make your lashes pop, and consider adding some drama with a subtle smoky eye or winged eyeliner. It's all about captivating gazes.
The Power of Accessories in Denim Skirt Plus Size
Accessories are the finishing touches that can elevate your denim skirt ensemble. Think about statement earrings that draw attention to your face, adding a touch of glamour you crave. Consider layering necklaces for a trendy and effortlessly chic look. Belts are not only practical for cinching your waist but also add a pop of style, whether it's a wide belt with a bold buckle or a sleek skinny one.
Scarves are versatile, too. You can tie one around your neck for a classic touch or use a lightweight scarf as a headband to channel a boho vibe. Crossbody bags are both fashionable and practical, leaving your hands free while adding a modern edge to your outfit.
Sunglasses, beyond their sun protection function, make a fashion statement. Whether you prefer classic aviators, oversized frames, or retro cat-eye styles, they can add a dash of sophistication and mystery to your look.
Hats are not just for the beach; they're a fashion statement. A wide-brimmed hat can give you that bohemian or beachy look, while a fedora adds an elegant touch.
Lastly, your choice of footwear seals the deal. Sneakers lend a casual vibe, ankle boots offer an edgy feel, and sandals create a laid-back look. Your shoes bring the entire outfit together.
Where to Find Your Perfect Denim Skirt Plus Size
For plus-size individuals, specialized retailers cater to a wide range of sizes and styles. Consider brands like Torrid, Lane Bryant, and ASOS Curve as your go-to destinations for denim skirt shopping.
Online shopping provides convenience and access to a vast selection. When shopping online, pay attention to detailed size charts and customer reviews to ensure a proper fit. Always check the return policy in case the fit isn't as expected.
If you have favorite brands, visit their websites. Most brands now offer a plus-size section where you can explore their latest denim skirt collections.
Social media can be a valuable resource. Instagram and Pinterest are filled with plus-size fashion influencers who share their favorite finds and styling tips. It's an excellent way to discover new brands and stores you might not have heard of.
When shopping, reading reviews is crucial. Other shoppers often provide valuable insights into how a denim skirt fits, its comfort level, and overall quality. Since sizing can vary between brands, always refer to their specific size chart.
If you prefer in-store shopping, don't hesitate to try on multiple sizes and styles. Sometimes, a different cut or wash can make a significant difference in how a denim skirt looks and fits you.
Embrace Body Positivity
Throughout the entire shopping experience, remember to embrace body positivity. Your unique body shape is beautiful, and the right denim skirt will complement it perfectly. So, go out there, explore, and find that denim skirt that makes you feel confident and fabulous.
In Conclusion
In our journey of exploring how to style denim skirts for plus-size individuals, we've uncovered valuable insights:
– Denim skirts are a versatile and fashionable choice for people of all body types.
– Finding the right fit and style is key to feeling confident and comfortable in your denim skirt.
– Embracing your unique style and personality is the secret to looking and feeling your best.
– Fashion trends, body positivity, and self-confidence go hand in hand, and denim skirts are a canvas for your self-expression.
Remember, your unique style is a source of power and confidence. Embrace it, celebrate it, and let your fashion choices reflect the incredible person you are. Share your denim skirt styling tips, experiences, and success stories with us. Your insights and creativity can inspire others on their fashion journey. Don't forget to spread the love by sharing this blog post with your friends and inviting them to join the conversation. Let's create a community of fashion enthusiasts who celebrate diversity, body positivity, and the joy of expressing ourselves through style.
How to Style a Denim Skirt Plus Size: A Beginner Guide