Internal Auditor is a good option export garments industry. The independent internal auditor helps the industry with assessment. Internal auditors utilize external social compliance auditing experience in the internal assessment in the manufacturing/garment industries. The internal Auditor for Social Compliance is an independent auditor who helps the garments industry for assessing all Compliance issues' effectiveness and address all the findings in the report.
Social Compliance auditor
The garments industry needs to comply with the Social Compliance and housekeeping requirements of their customer. Garments buyers do the periodical audit to see the status. Those audits are important for a garment supplier to do business. The top management gives high priority to getting audits passed. An independent Auditor can audit on an everyday or weekly basis and give reports to management. So management has the scope to improve all the internal findings and take a better preparation for external audits.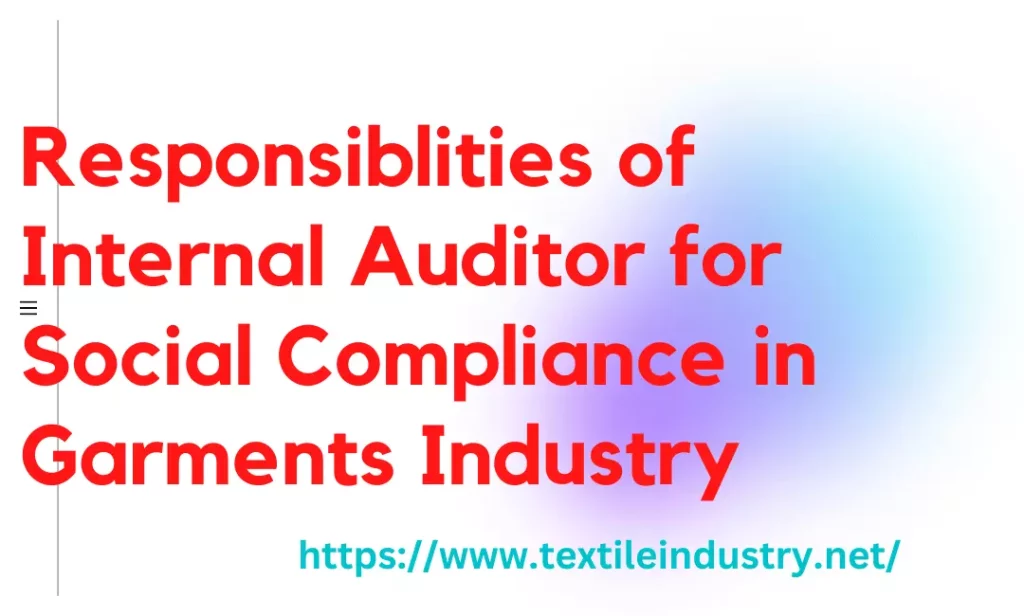 Responsibilities of Internal Auditor for Social Compliance
Programs prepare and maintain audit and compliance documentation.
Ensure floor monitoring for all types of compliance and housekeeping issues.
Ensure fire safety, fire prevention, fire equipment, and a comfortable environment at the workplace. Ensure compliance with social ethics, health, and safety requirements
Find non-compliance issues in light of labor laws and conduct audits.
Monitor compliance certifications (BSCI, SEDEX, ACCORD, Alliance, etc.) and follow up on their audit
findings. Ensure adaptation and implementation of environmental and chemical standards.
Ensure awareness of existing employees regarding all benefits and compliance requirements.
As Internal Auditor for Social Compliance, be part of all works related to safety, and compliance.
Help the HR administration department to improve the industry.
Train up all the people in the factory, and make a training calendar with the participant's list, so that any people do not miss the training.
Publish internal audit reports to all factory executives, managers, and top management.
Ask for corrective actions of every internal audit and follow up monthly.
Skills required to be Internal Auditor for Social Compliance
The person doing this job is responsible for his report. An auditor must be graduated, and skilled in auditing. Minimum 3-4 Years experience working in social compliance and faced at least 2 external audits. Many reports to do for an auditor, so employees should be advanced in reporting.
Additionally, You may love to read: Responsibilities of HR Manager in the Garments Industry
Responsibilities of Internal Auditor for Social Compliance in Garments industry