Production planning is the controlling part of any manufacturing process to schedule, execute the tasks scheduled, and deliver the demanded quantities in a timely manner. This is the heart of any manufacturing unit to have a snap of every activity needed to secure the merchandise. It acts as the center that gathers all the information and distributes it all along the sections to secure the tasks. One of the most commonly said thumb rules in the department is "If you could manage your planned activities 80-85%, as the best plan you did ever". Here I write a comprehensive discussion on Production Planning and Control in Apparel Industry, have a look below.
It's not only paperwork that after receiving the order sheet you will manage some schooled tasks, it's more than that. It's a work where you need to manage your capacity, your machines, your manpower, your materials, your time, and all along landed in the costs you need to manage to secure your orders and give a good feel to everyone that you could manage some profit from this. So, it needs your competence while receiving the order about its costs, productivity, man hours needed to secure the costs and delivery.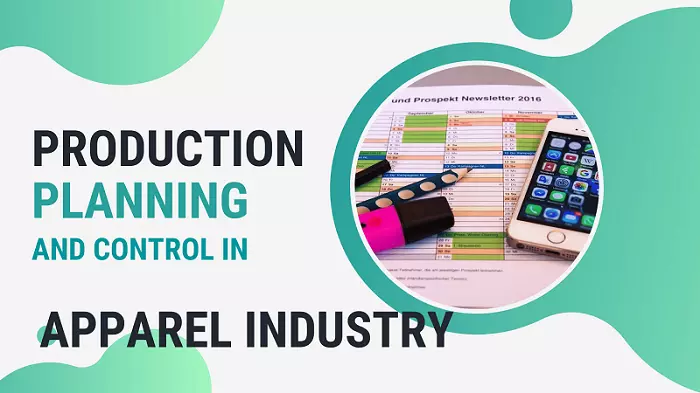 Let's play with the real cases of Production Planning and Control in the Apparel Industry
You have 1000 sewing operators in your production unit, where your monthly listed capacity is around 450k pcs. You confirmed for the upcoming 6 months this capacity but experienced lower work and heavy pressure for shipments that need extra overtime to manage. What's wrong with that?
You confirmed the 50k order quantity which has smocking works, but you were not aware of how many machines you have for that, and the experienced worker is available for that. Now how will you manage the costs of this order?
You confirmed your monthly capacity very carefully but were not aware of how much % of the work will be a solid color or check or stripe. The results you landed on your cutting section can't provide the required quantities you need for your sewing lines. Resulting in extra overtime, low capacity in sewing, and delayed shipments.
You are mostly aware of your capacity for sewing lines, well managed on that but didn't focus more on pre-production activities. Results show delayed in cutting and as well as sewing was not completed on time which costs air shipments.
Factory capacity was full and suddenly you need to accept some excess quantity from one of your customers. What should be crisis management?
Some materials did not reach on time or failed in quality inspection, what will be the management procedure for that?
You don't have any costing idea of your factory, so can it be possible to identify what are you planning will bring a profit margin to the production unit?
Product knowledge and characteristics are not known, how can it be possible to have a profitable plan for your production unit?
You as a planner not aware of the importance of data management, can it be suitable for production units to plan without past analysis?
Your daily planned KPI and the achievements are not getting similar, how you will adjust the deviations?
For a big order with a different country, assort pack plan can be executed as normal planning, or must follow some different techniques for that?
With a less product variety production unit compared with a higher product variety, can run with the same technique?
How much aware are we managing the competency of the different departments to identify and management of risk factors for orders?
What will be the scenario of managing production lines based on the characteristics of product types?
All of the above are the real scenarios of Production Planning & Control in any Apparel production unit. A planner must need knowledge of products, manufacturing procedures, inventory management, quality procedure, basic IE functions, production management, finishing knowledge and procedure, shipping instruction, and finishing management to have the proper execution of any order. In a bigger sense very important to have the proper capacity idea and methodology to define it. A production unit consists of complex structural bone, ones need to have the proper idea and methodology to judge and measure every KPI and scenario to cope with any situation. A basic thumb rule, one needs to have a structured way of working that can figure out and manage every minor and critical issue, have the positive mental strength to guide and lead, cost consciousness to every step, the methodology that can lead to measuring the output in terms of customer satisfaction.
Central Capacity Planning
Before starting with any details of how it works, its definition, process chart & types; one just needs to know how to start firstly with the identification of capacity that really exists in the facility. It's not only that someone said, but this unit has X pcs of capacity. It's a function that really works with calculation rather than assumption. One incorrect piece of information can mislead into a wrong calculation which in long run can make financial losses to the Apparel Industry.
so, this task is very important to identify its true existence. For this purpose, one needs some historical data analysis, product knowledge, productivity, efficiency level identification, product level SMV, direct manpower, etc. The term "Capacity" is generally used for two different purposes in this market. For example:
Central Capacity: Only if one company has several production units for the same types of products in different locations. And this may be such several buildings under one premise.
Plant Capacity: Used where the company has only one production unit.
Under this capacity calculation part, judgment should be very clear and transparent. Under the capacity calculation, we use two types of activity here. Such as,
Central capacity plan
Floor/Line capacity plan.
Central capacity: Central capacity is a part of base. We use central capacity as it leads the total capacity distribution among the production units. It's more about collecting information and distribution among subsections through a plan on a bigger level.
Production Planning and Control in Apparel Industry